Take Action to Help America's Loneliest Elephants
Elephants are highly social animals who form strong, lasting bonds with their families. They work together to solve problems and rely on the wisdom, judgment, and experience of their eldest relatives. In the wild, the elephants featured on this page would have spent their entire lives with their families. Captive elephants forced into isolation often exhibit abnormal and potentially self-destructive behavior. The elephants below are held in isolation by zoos and circuses without other members of their species.
TAKE ACTION TO HELP SOLITARY ELEPHANTS NOW!
LEARN MORE ABOUT THE ELEPHANTS:
Lucky   Shirley   Happy   Asha   Nosey   Anna Louise   Bubbles
Lucky is lonely and appears to be severely depressed at the San Antonio Zoo, where she is frequently observed swaying and rocking—abnormal behaviors that are never seen in the wild. World-renowned elephant expert Dr. Joyce Poole wrote the following about Lucky:
"The swaying of confined elephants like Lucky … is extremely disturbing because it is so symptomatic of a life of social and physical deprivation. With nowhere to go and no one to see, no new smells to investigate and nothing to strive for, elephants become bored and frustrated. The result? They stand in one place, rocking back and forth, slowly losing their minds."
Lucky must be retired to an accredited sanctuary where she'll have the opportunity to live in the company of other elephants and have the space and enrichment that she needs and deserves.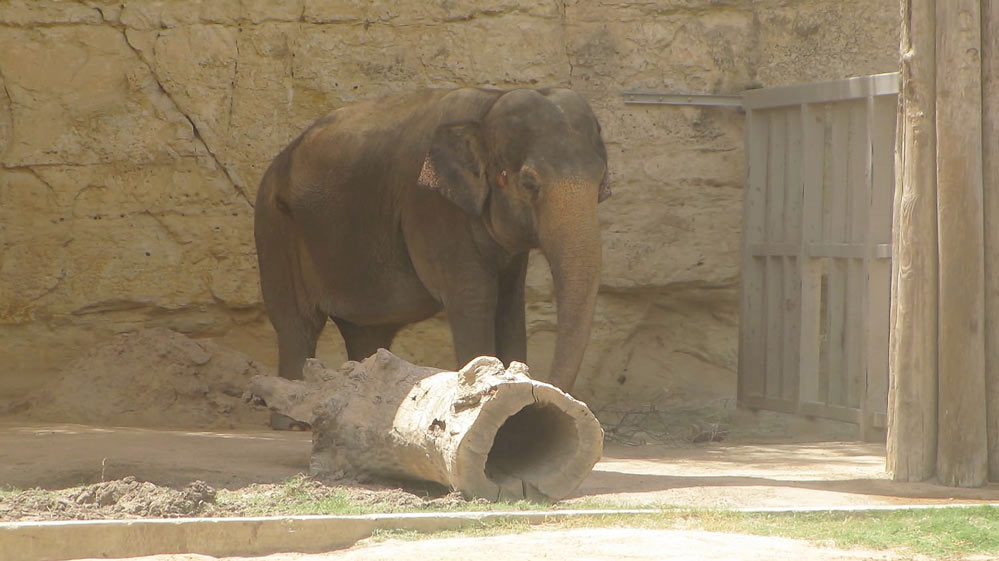 Shirley: Alone Since 2011
Shirley is a 71-year-old elephant who was forced to perform in several circuses before reaching Wild Adventures Theme Park in Valdosta, Georgia. There, she's confined—without any other elephants—for tourists to gawk at while on a "safari tour" of the facility.
Asha: Alone Since Approximately 2005
The Natural Bridge Zoo in Virginia holds Asha in deplorable conditions and has denied her the companionship of other elephants for years, which is devastating for such a highly social animal.
During the long, cold winters, she is exposed to frigid temperatures, snow, and ice, and she is routinely confined to a barn that has damp concrete flooring—conditions that are harmful to her welfare and can lead to debilitating arthritis and deadly foot problems. In the summer months, she is forced to give rides for hours in the sweltering heat and humidity while at the mercy of her handler. In 2013, a Virginia state trooper reported witnessing a handler at Natural Bridge jab a bullhook into Asha's mouth eight times while yelling obscenities at her. Bullhooks are sharp weapons resembling fireplace pokers that are used to beat elephants and force them to perform.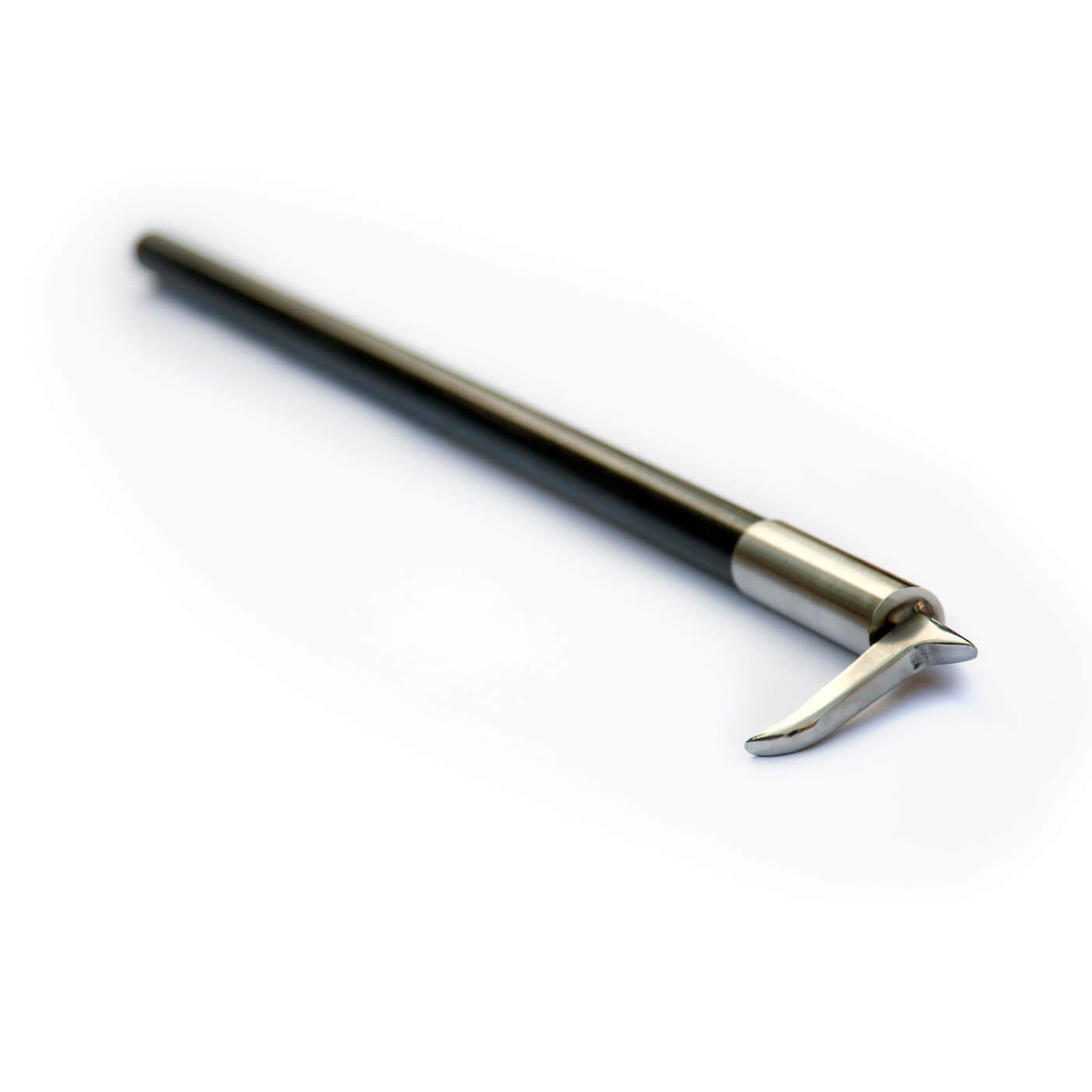 Video footage from January 2015 shows Asha standing alone in a snow-covered paddock as she rocks back and forth, displaying what Natural Bridge owner Karl Mogensen admitted was stereotypic behavior—an indication of her profound deprivation. The facility is currently under investigation by the U.S. Department of Agriculture (USDA). It has already had its license suspended twice and has been ordered to pay more than $22,000 in penalties over the years.

Asha has endured a life of loneliness and deprivation. Below, you can speak up for her to help ensure that she spends the remainder of her days at an accredited sanctuary, where she will have the space, companionship, and care that she deserves.
Nosey: Alone Since At Least 1997
More than 30 years ago, 62 wild baby elephants watched in horror as the government of Zimbabwe violently slaughtered their mothers, aunts, sisters, and cousins to make room for human development. The orphaned babies were rounded up, shipped to the U.S., and sold to circuses and zoos.
Nosey is the last of these orphaned elephants still being carted around the country and forced to perform at seedy flea markets and fairs. Records show that she may have had the company of another elephant for a little while in the 1990s, but she has spent most of her life totally alone.
Nosey's exhibitor, Hugo Liebel, has an extensive history of animal-welfare violations. In 2013, he was ordered to pay a $7,500 penalty after the USDA sued him for denying Nosey necessary veterinary care and repeatedly chaining her so tightly that she could barely move—among numerous other violations.
Constant chaining and the rigors of performing are known to result in arthritis in captive elephants, and these grueling conditions have taken their toll on Nosey.
Often made to stand in mud and waste, she is now showing signs of chronic pain. A veterinary expert has warned that she is likely suffering from arthritis, a medical condition that's agonizing for captive elephants—and can also be a death sentence for them.
Liebel's treatment of Nosey is cruel—and it's also dangerous. She has already attacked at least one person, who was sent to the hospital, and the USDA has cited Liebel again and again for endangering the public, yet his handling practices haven't changed. He continues to use a bullhook—a sharp weapon that's known to trigger aggression in elephants—to jab and strike Nosey in an attempt to control her.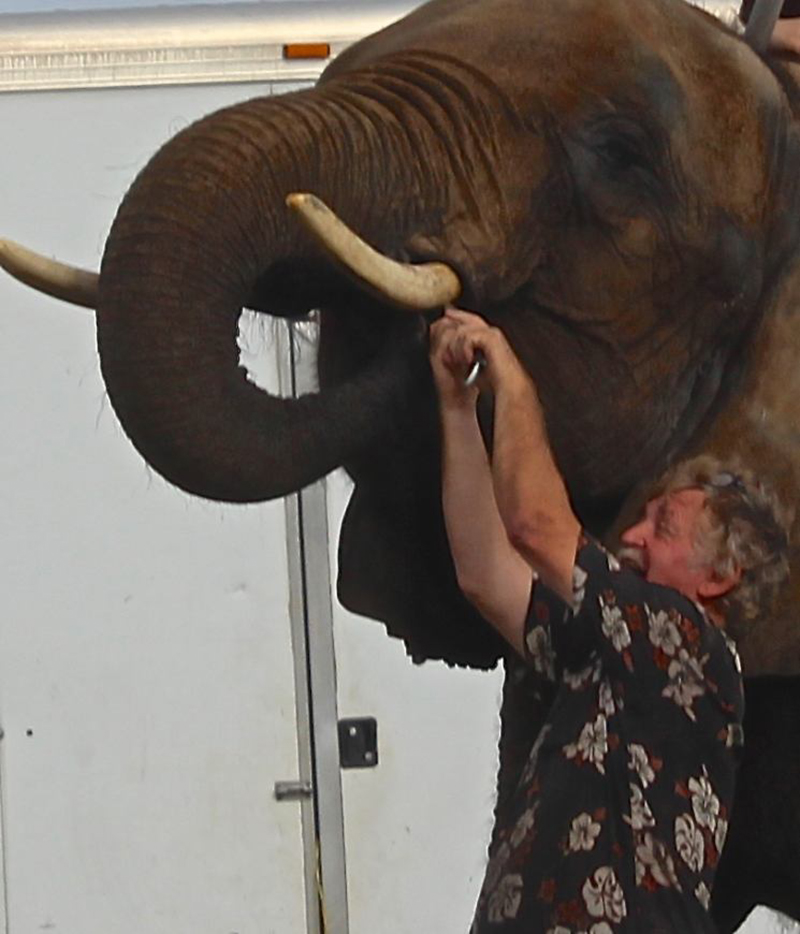 Nosey's misery and pain are obvious and well documented, yet the USDA still hasn't confiscated her. Any elephant who's forced into captivity and used for entertainment has a sad story, but Nosey's might be one of the saddest.
Anna Louise: Alone Since 1988
Anna Louise is a 34-year-old African elephant exhibited by Tom Demry and currently under contract with the Kelly Miller Circus. She was wild-caught from Zimbabwe and shuffled around from zoo to zoo until Demry acquired her in 1988. She has been alone ever since and is forced to "dance" and carry a tambourine with her trunk.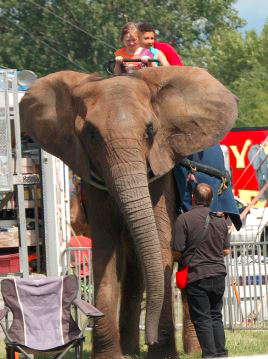 You can take action for Anna Louise via the form at the bottom of this page.
Help get elephants to reputable sanctuaries.
Take Action Now!
Speak up for the elephants on this page by urging the facilities confining them to relinquish them to reputable sanctuaries immediately!
Enter your name and e-mail address, and simply click "Take Action."
There are multiple opportunities to help. The second you take action for Nosey, the opportunity to help Asha will automatically appear, followed by the remaining elephants listed above. You can speak up for all of them!
Just keep clicking and make your voice heard! Then share this page with all your friends and family—let them know that these elephants need their help. Want to do more? Read Annette's story and find out how you can help her.