NIH Rains U.S. Dollars on Overseas Monkey Laboratory—Apparently Without Ever Seeing What a Mess It Is
Two Colombian organizations owned by a husband-and-wife team have secured more than $17 million in NIH contracts since 2003. Former employees and troves of documents speak of questionable business practices and filthy conditions for monkeys.
Update (January 9, 2023): Progress! It's hard to keep up with how many agencies in Colombia are now investigating the organizations run by the couple responsible for this nightmare of a laboratory where small owl monkeys live amid their own waste in rusty cages inside a makeshift outdoor pen.
Following PETA's sweeping investigation into this facility (details below), probes have been launched by the Office of the Attorney General of Colombia; the Colombian Ministry of Science, Technology and Innovation; and the Colombian environmental agency Regional Autonomous Corporation of Valle del Cauca (CVC). The CVC has also begun legal action with the aim of taking custody of the monkeys—some of whom may have been abducted illegally from the forest—and relocating them to a facility where they can receive urgently needed care.
The U.S. National Institutes of Health (NIH) thought it was a swell idea to hand over millions in taxpayer funds to this shady operation. In fact, the agency is funding its experiments right now. So what have we heard from NIH about this animal abuse, let alone the bad science it produces? Not much. One NIH official says it's not their problem. Another replied saying they care about animal welfare.
NIH should take a cue from the Colombian agencies that know abuse and illegalities when they see them. Take action below to urge NIH to stop funding this operation.
Originally published on January 1, 2023:
A sweeping PETA investigation involving thousands of pages of documents and the testimonies of 11 witnesses reveals a scheme so fraught with greed, lies, and misery that it borders on pulp fiction. And American taxpayers are left holding the bag for all of it.
For nearly two decades, the National Institutes of Health (NIH) has been raining money on two Colombian organizations to develop a malaria vaccine that still doesn't exist. PETA has found that despite receiving millions of dollars in taxpayer money in the last two decades—including two current grants from Anthony Fauci's agency, the National Institute of Allergy and Infectious Diseases (NIAID)—these institutions, which operate beyond the reach of U.S. animal protection laws, have been experimenting on Aotus monkeys—also known as "owl monkeys" or "night monkeys"—and breeding them, possibly illegally, for years.
They have used unsupported information on NIH grant applications regarding what their "consortium" really is and how it operates, violated animal care and use guidelines, kept monkeys in filthy conditions, and allegedly mishandled human samples and manipulated data. And they apparently did all this while collaborating and publishing with top scientists, including Carole Long, the chief of malaria research at NIAID, and in conjunction with major institutions in the U.S., France, and Switzerland, including the Centers for Disease Control and Prevention, Emory University, the Georgia Institute of Technology, the Harvard T.H. Chan School of Public Health, Johns Hopkins Bloomberg School of Public Health, Université de Montpellier, and Université de Lausanne.
Troves of government documents and interviews with nearly a dozen former employees paint a disturbing picture of rogue operations tap-dancing around laws of two countries while lining their pockets with U.S. taxpayers' money, with deadly consequences.
PETA first heard about a facility in rural Colombia in which owl monkeys, some possibly abducted illegally from forests in the northern part of the country, live amid their own filth, in rusty cages in a makeshift pen made of backyard fencing and plastic sheets. They're deliberately infected with the malaria parasite, and their spleens are surgically removed.
This facility is part of a "consortium" that hosts several biomedical companies with questionable management practices.
The "consortium" is owned by a husband-and-wife team, who years ago formed one of their biomedical companies by installing themselves and their three minor children—the youngest of whom was 12 years old—as the sole members of its board of directors.
These Colombian Organizations are Messy and Murky
The Caucaseco Scientific Research Center (Caucaseco) and the Malaria Vaccine and Development Center (MVDC) are both located in Cali, Valle del Cauca, Colombia, along with the Primate Center Foundation (FUCEP) and other businesses operated by husband-and-wife team Sócrates Herrera Valencia (Herrera) and Myriam Arévalo Ramírez (Arévalo) and their family. Herrera and Arévalo sit on the boards of all three organizations.
In addition to the compositions of the boards, the various organizations appear to overlap in other ways that raise questions about their business practices. One former employee alleges that MVDC is "100% an only-on-paper organization." Former employees' contracts obtained by PETA indicate that employees of FUCEP may at any time be requested to work for other organizations, with a different set of responsibilities, while maintaining their current positions, salary, and contracts. Two former FUCEP employees alleged that they performed activities related to Caucaseco and MVDC projects. Another FUCEP-hired employee said they were never allowed to enter the FUCEP area.
Furthermore, the minutes from board meetings indicate that Herrera and Arévalo have at least on one occasion combined the meetings of two different organizations.
This is where NIH has sent checks so far totaling more than $17 million in American taxpayer money since 2003. Herrera and Arévalo have published scientific papers with scientists at more than 40 leading institutions around the world, but apparently none of them bothered to check into Caucaseco or the primate facility.
U.S. Taxpayer–Funded Colombian Hellhole Apparently Skirting Requirements for Experimenting on Monkeys Since 2012
NIAID is currently paying Caucaseco to run two separate sets of experiments at its associated primate center, FUCEP, a festering hellhole for monkeys that has violated Colombian animal welfare laws and where—according to the state environmental agency—experiments on these animals have been conducted without the required permit since 2012.
A November 24, 2021, inspection by a state environmental agency showed that the "primate center" in which the monkeys used in NIAID grants are confined is actually nothing more than a makeshift enclosure made of chain-link fence topped with construction mesh and plastic sheets.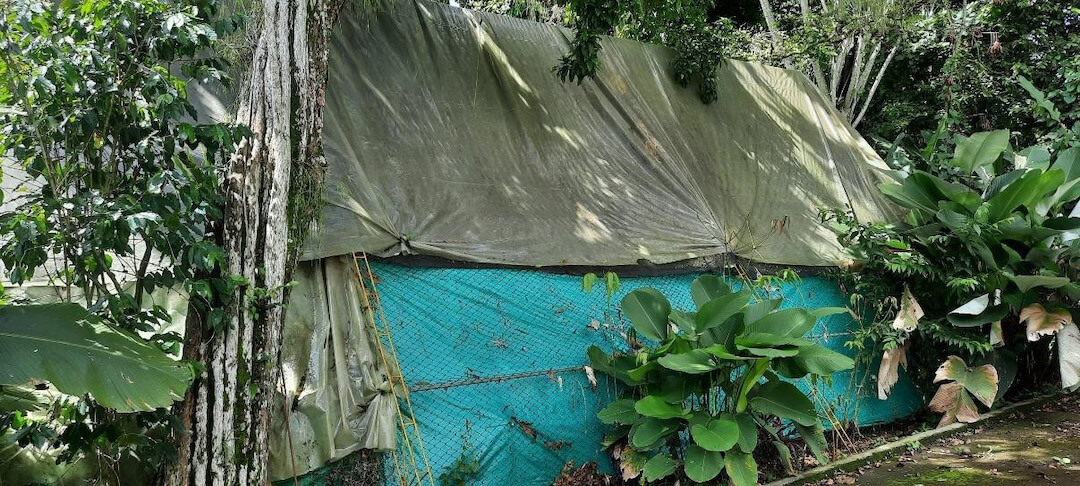 There were no windows. No airflow. The cages were caked with feces and growing fungus. The inspector found that the monkeys were fed dog kibble soaked in sugary water, and there were no records of how their diet was adjusted based on individual needs or age. The monkeys were given a human mineral supplement weekly, according to the inspection report PETA obtained.
There was no veterinarian on staff. There were no medical records. The only document available at the inspection was a provisional approval form issued by what was then called the University of Valle's Institutional Committee of Ethics Review for Animal Experimentation. It was dated July 2015 and signed by a former FUCEP board member.
Some of the monkeys were suffering from hair loss and exhibited abnormal body posture, the report said.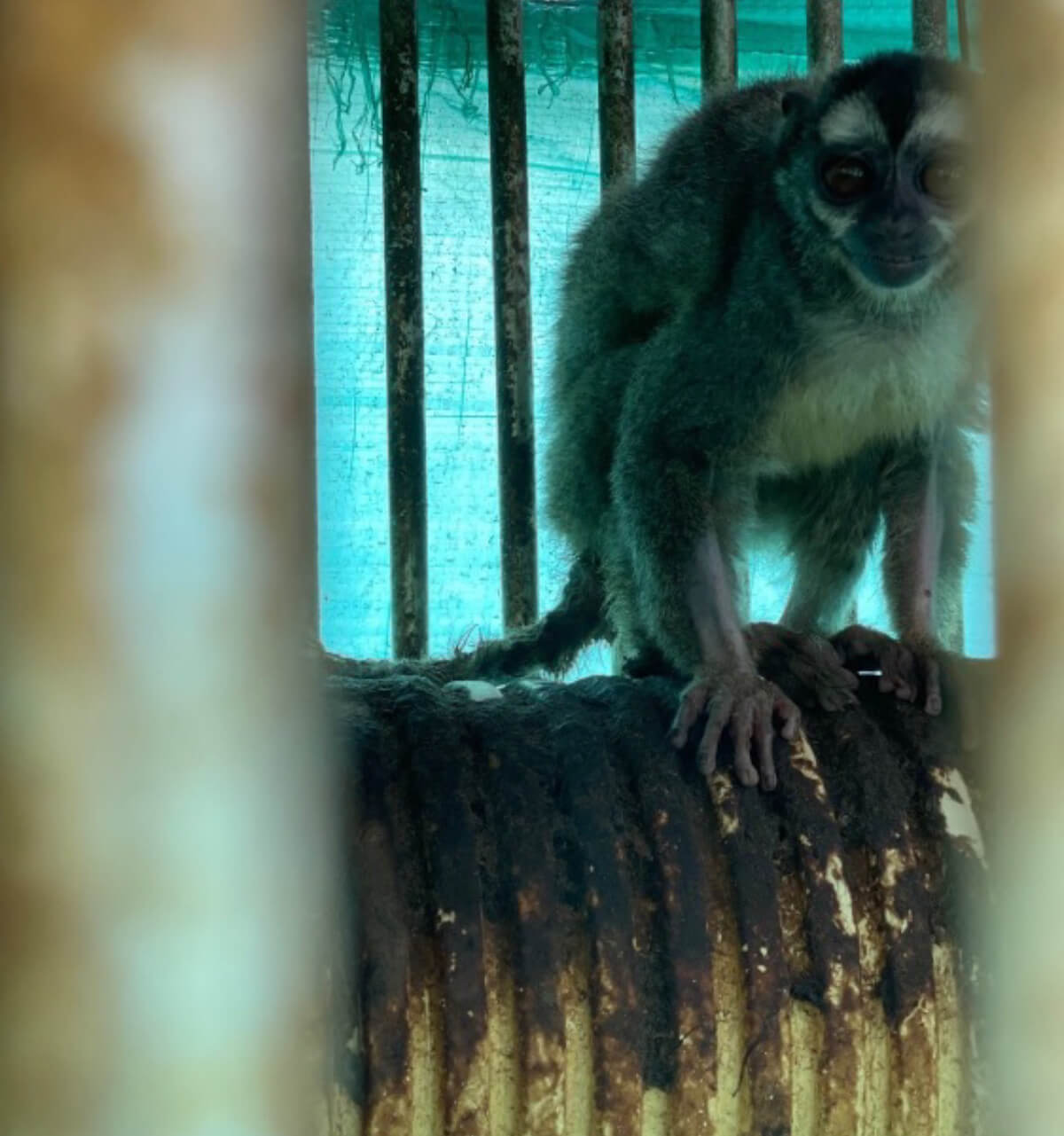 There was only one room to perform necropsies (nonhuman autopsies) and medical procedures such as sutures and wound cleaning—a single room that Herrera, Arévalo, and their staff likely barely used since, according to former employees, monkeys were left to die from their infected wounds. Just three necropsy reports were available to the inspector, not one of them signed by a veterinarian. Although the reports said that organs and tissues had been sent for pathological analysis, an employee alleged that this didn't happen because "there are no resources to do this type of analysis."
The state environmental agency that conducted the inspection—which also found that Herrera and Arévalo never bothered to get a permit to breed the monkeys—later decided to take legal action against FUCEP for failure to obtain permits and informed the local judiciary police about their findings for possible prosecution for mistreatment of animals. Later, after PETA filed a complaint, the office of the Colombian attorney general opened an investigation. The scope of the authorities' actions is unclear.
PETA has also obtained waste management records showing a discrepancy between the number of recorded monkey deaths and the weight of animals the facility apparently has disposed of. In the months of March, May, July, and August 2020, FUCEP disposed of an undetermined number of animals in bags weighing a combined total of 9 kilograms, or close to 20 pounds. If these were monkeys, which would be a logical conclusion given that FUCEP only confines monkeys, the bags would have held the bodies of nine to 18 monkeys, creating a discrepancy in the number of necropsy reports available and the number of animals who died at FUCEP and whose bodies were apparently disposed of around the same months.
Former employees paint a morbid picture of the conditions for the monkeys, alleging, among other atrocities, that monkeys are often exposed to the elements because the construction mesh shifts in bad weather. Eyewitnesses said that the monkeys were not properly protected and that area cats wandered freely around the enclosures, putting the monkeys at risk of toxoplasmosis.
The rusted monkey cages were never cleaned, witnesses said. The employee only rinsed the trays with water to remove feces. The area smelled strongly of urine and feces. Rats, cockroaches, and other insects were often seen in the monkey area and tall weeds, and snakes also surrounded the enclosure.
These former employees report that there were no records for any of the monkeys. Only some of the monkeys had a microchip, and it contained only a number that indicated the animal's sex. Witnesses said there was no way of knowing whether the monkeys had been used in experiments—a basic piece of information.
Mice Forced into Cannibalism
Former employees allege that because someone failed to separate males from females, the mouse population exploded to 700 between summer and fall 2021 and that as a result, there were up to 30 mice in boxes designed for a maximum of five mice. The mice didn't have enough water and some resorted to cannibalism, witnesses said.
Allegedly, Herrera and Arévalo ordered that more than half of the mice be killed. According to statements obtained by PETA, without appropriate euthanasia protocols, employees were asked to use cotton balls soaked with chloroform in a fish tank, where the mice were placed until becoming sleepy. At that point, according to former employees, they killed the mice by pulling their heads and tails at the same time, snapping their spinal cords.
Possible Illegal Capture of Monkeys
Herrera and Arévalo are not into getting permits, and their record of getting the proper authorization to trap monkeys is spotty and points to a possibility that they are illegally abducting monkeys from their homes in the Colombian forests. Although Herrera told NIAID that FUCEP has a breeding program, he apparently doesn't have a proper permit. According to one of these former employees, "When they said that there had been a birth in captivity, it was a lie. It wasn't that a baby had been born—it was that a baby had been captured."
Staff Fed Mosquitos Their Own Blood
Herrera and Arévalo also have a mosquito colony. Former employees reported to PETA that the person in charge of the mosquito colony for many years became ill with malaria several times because of biosafety failures. Mosquitoes were allegedly fed blood drawn from malaria patients, but when this blood was unavailable, staff drew their own blood to feed the mosquitos, former employees said.
NIH Must Turn Off the Spigot of Cash to These Colombian Organizations Immediately
NIH awarded both Caucaseco and MVDC a Public Health Service Assurance, which means Herrera and Arévalo committed—on paper—to meeting basic animal welfare standards. But NIH never bothered to check whether what Herrera and Arévalo were saying was true. It seems nobody at NIH ever asked them to back up—with the appropriate records—all the information they presented in grants. They shouldn't receive more American taxpayer dollars.
NIH is supposed to be funding science. But the conditions under which these monkeys are captured, transported, confined, poorly treated, and neglected at FUCEP clearly would render any experiments—particularly those involving the immune system—utterly useless. Continued funding of these experiments only perpetuates an already nonsensical enterprise and emboldens the willfully incompetent.
Take Action
What You Can Do to Help Stop These Colombian Organizations
PETA, in a letter to NIH officials, has demanded that any association with these companies cease immediately. We seek the cancellation of the current NIAID contracts and the return of any money paid to Caucaseco and MVDC. We're also asking for an investigation into the credible claims of lack of scientific integrity.
Please take a minute to TAKE ACTION and send a letter to NIH officials, demanding the same.