PETA Presents:
The Global Compassion Fund Fireside Chats with Ingrid Newkirk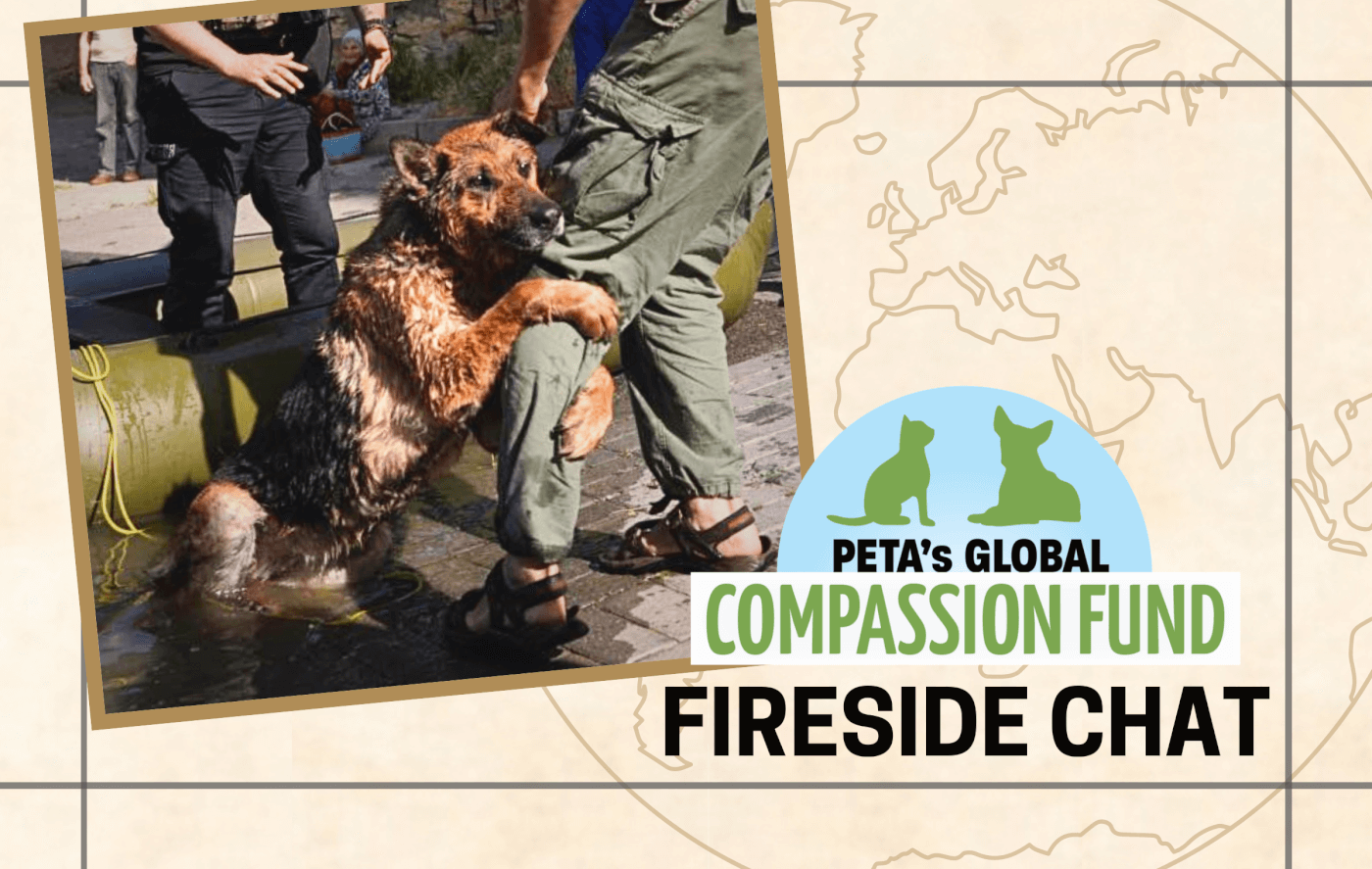 Get an intimate look at vital work for animals around the globe.
Aired August 15, 2023: PETA President Ingrid Newkirk will take you as close to the flood in Ukraine as you can get without needing a boat, but that's just the beginning of this inspiring journey. Tune in as she also escorts us to South America, the Middle East, and India to behold the riveting, lifesaving work of rescuers. You'll meet teams who are busting animal abusers; retiring exhausted donkeys, horses, and other long-suffering working animals; running successful mass spay/neuter drives in impoverished communities; and more!
Aired May 16, 2023: After one of the most devastating earthquakes to tear through Syria and Turkey, countless abandoned dogs and cats were left to somehow survive on dust and debris when their food sources disappeared under the rubble. Come along to hear their stories and how a team of dedicated Global Compassion Fund—supported rescuers bravely rushed into unstable buildings, scrambled up damaged staircases, and kicked down doors to save injured and starving animals in the nick of time.
Aired February 15, 2023: It's been one year since the war in Ukraine began, and every day PETA-supported rescue teams receive urgent reports of animals in desperate situations. Join the teams as they brave bombs and crater-packed roads to pull animals out of the war and deliver them to safety. We'll take you as close to the fighting as anyone can get without a flak jacket!
Aired November 15, 2022: Ingrid will introduce you to PETA Asia rescuers who put their lives on the line to save hundreds of animals from a deadly volcanic eruption in the Philippines and to PETA fieldworkers helping animals and rebuilding damaged shelters in Puerto Rico just before a second hurricane hit. We'll continue our virtual adventure in Mexico for a peek at how PETA Latino is tackling that country's raging homeless-animal crisis, and finally, a visit to the frontlines in Ukraine for an update on PETA Germany's lifesaving work there.
Aired July 21, 2022: Meet the brave rescuers in Ukraine who are risking everything to get animals out of that war-ravaged country, and learn how teams are moving mountains to prevent thousands of animals there from starving. You'll see how PETA Latino is taking on the homeless-animal crisis in Mexico with spay/neuter marathons and visit a free veterinary clinic in Jordan that's rescuing donkeys, camels, and other sorely neglected animals.
---
Donate Now!
---

PETA's Global Compassion Fund is funded exclusively by the contributions of kind individuals like you. Your gift is helping entities and partners create positive, sustainable change in corners of the Earth where animals desperately need us—and may have no other hope.
Your generous support helps make the world a better place for all beings. Please, give what you can today.