THEY TRY TO CLIMB OUT, BUT THERE'S NO ESCAPE
Eli Lilly's CEO Refuses to Ban Near-Drowning of Small Animals
Pharma giant Eli Lilly has put mice and rats in water-filled beakers and forced them to swim for their lives.
Update: January 13, 2020
Eli Lilly CEO David Ricks must think that by letting his company make misleading statements, he can get PETA and our compassionate supporters to ease up on the pressure to ban the cruel and discredited forced swim test.
He should think again.
In recent public statements, Eli Lilly has said that it hasn't used the test "for some time." Here's a reality check: In published papers, the company has documented its use of close to 3,500 mice and rats in the forced swim test. That's almost 3,500 animals made to swim desperately for their lives, terrified that they'll drown, in an experiment that's no more predictive than a coin toss. And the company published about engaging in this torment as recently as March, 2019. Since these are just the published reports, it's likely there were many more forced swim tests conducted that were never reported in papers.
Ricks needs to stop misleading the public, follow the lead of his wiser competitors, and immediately ban the forced swim test. Will you tell him that by taking action below?
The so-called "forced swim test" is a widely used experiment that's as cruel as it is worthless. In this test, experimenters put mice, rats, guinea pigs, hamsters, or gerbils in inescapable containers filled with water. The panicked animals try to escape by attempting to climb up the sides of the beakers or even diving underwater in search of an exit. They paddle furiously, desperately trying to keep their heads above water. Eventually, they'll start to float.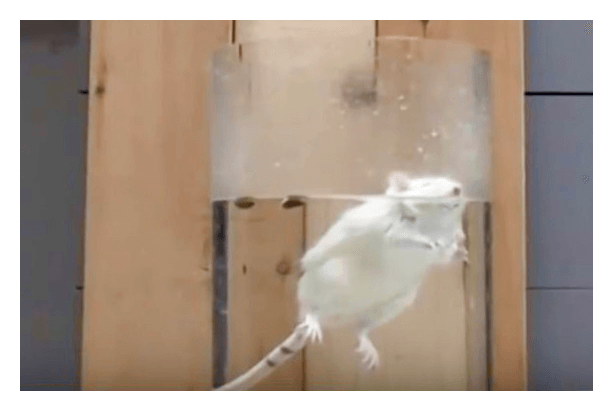 In this episode of The PETA Podcast, Research Associate Jeremy Beckham discusses the useless and cruel forced swim test.
Some form of this test has been carried out since at least the 1950s, when notorious Johns Hopkins University experimenter Curt Richter forced rats to swim in cylinders of water until they drowned. It was popularized in 1977 by an experimenter named Roger Porsolt, who called it the "behavioral despair test." Porsolt found that rats who'd been given human antidepressant drugs would struggle and swim for longer than other rats before starting to float, and he concluded that those who swam for less time were in a state of "despair." But the test has been heavily criticized by other scientists who argue that floating is not a sign of despair but rather a positive sign of learning, conserving energy, and adapting to a new environment.
More than 40 years later, in university and pharmaceutical laboratories, animals are being dosed with drugs and then dropped into cylinders of water so that experimenters can measure how long they struggle.
Together, pharmaceutical giants AbbVie (formerly part of Abbott Laboratories), Bristol-Myers Squibb, Eli Lilly, and Pfizer have subjected at least 5,461 mice, 1,066 rats, 748 gerbils, and 305 guinea pigs to the cruel forced swim test—as documented in 45 published papers and 16 patent applications over the past 30 years. PETA scientists identified 47 compounds that were tested on the animals and found that even though 36 of them showed promise as having antidepressant characteristics using the outdated forced swim test, none of these compounds is currently approved to treat human depression.
The forced swim test doesn't accurately predict whether a drug will work as a human antidepressant. It yields positive results for compounds that aren't prescribed as human antidepressants, such as caffeine, and negative results for compounds that are. Importantly, antidepressant compounds that could work in humans may be mistakenly abandoned based on the test. Even Eli Lilly's bestseller, Prozac, hasn't yielded consistent results in forced swim tests.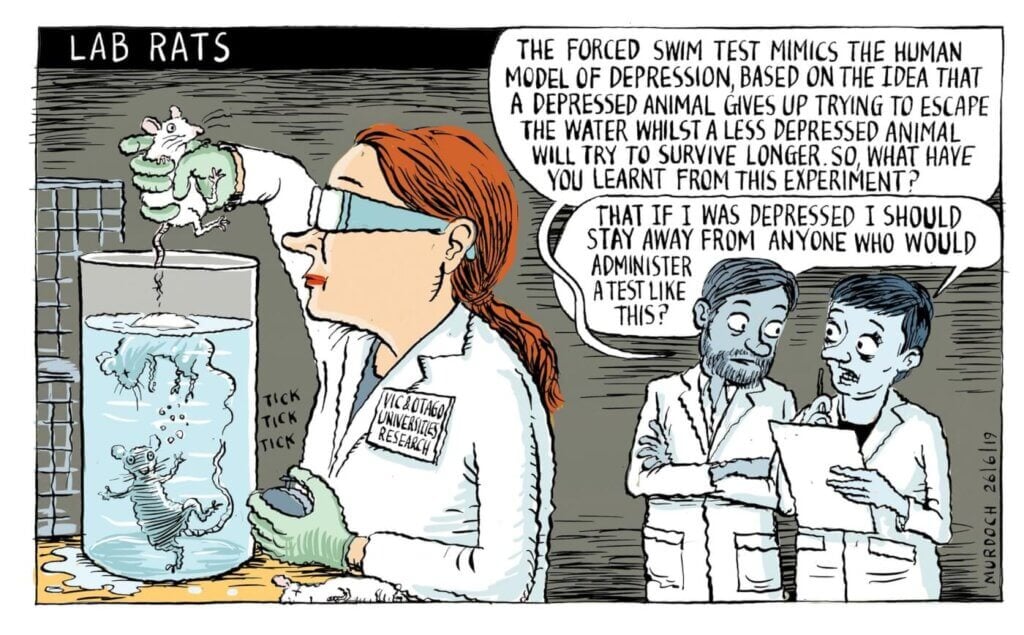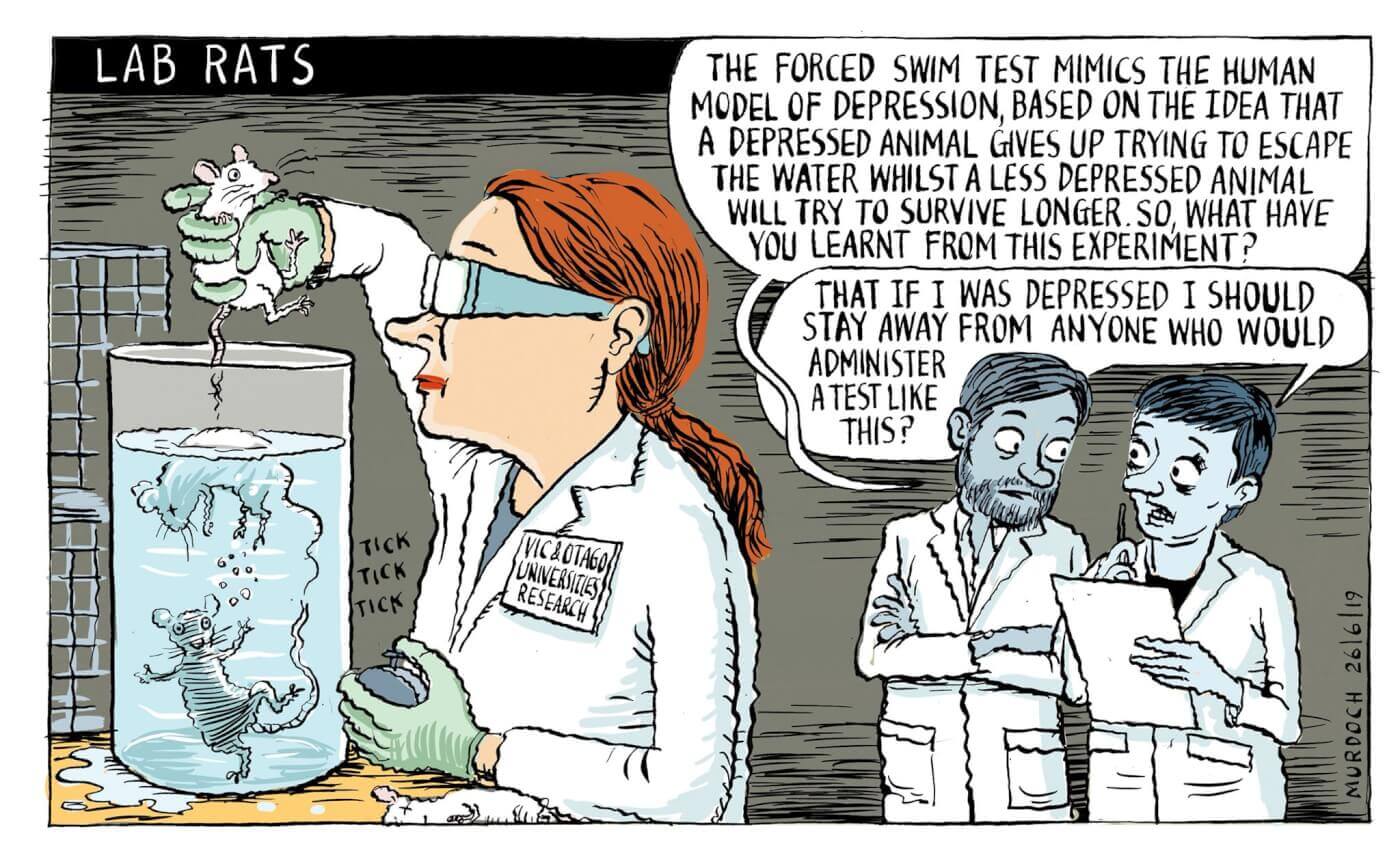 The forced swim test is bad science. These experiments do nothing more than terrify animals and delay development of new effective treatments that are so desperately needed.
Not only do rats express empathy when another rat or a human is in distress, they also exhibit altruism, putting themselves in harm's way rather than allowing another animal to suffer. These sentient beings feel as much anguish as we would when they're thrown into water-filled, inescapable containers. There is no moral justification for it.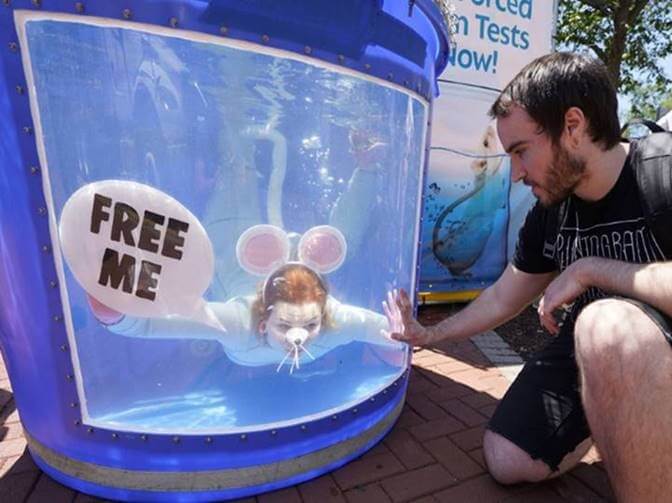 After discussions with PETA, Johnson & Johnson, Bayer, GlaxoSmithKline, AbbVie Inc., Roche, AstraZeneca, Novo Nordisk A/S, Boehringer Ingelheim, Pfizer, and Bristol-Myers Squibb announced that they would no longer conduct or fund this cruel test!
But David Ricks, the CEO of pharmaceutical giant Eli Lilly, continues to reject modern science by clinging to this ridiculous test. Please let him know what you think about that by taking action below.
Then post a comment on his Instagram account, @davearicks, urging him to ban the test.
If you take one of the following medications, please click here to take action as a customer of Eli Lilly.
Alimta
Basaglar
Cialis
Cymbalta
Cyramza
Emgality
Erbitux
Forteo
Humalog
Humulin
Jardiance
Olumiant
Prozac
Strattera
Taltz
Tradjenta
Trulicity
Verzenio
Zyprexa