:: SYNFROG ::
This Is the Future of Frog Dissection
This new state-of-the-art technology will help spare millions of frogs worldwide, improve student learning, and eliminate exposure to toxic chemicals!
PETA has joined forces with SynDaver—the world's leading manufacturer of hyper-realistic, synthetic human and animal surgical trainers—to develop a new simulated whole-body frog model called a SynFrog™, which can replace the use of frog cadavers completely in K–12 and collegiate classroom dissection exercises. In 2018, we approached SynDaver with the idea of making a life-like frog that could be cut into just as students would cut into a real frog. Well, great minds think alike! SynDaver was already working on this concept, and PETA agreed to become a major funding partner to help the company kick it into high gear.
As educators, TeachKind staffers know that "hands-on" activities are an important part of the kinesthetic learning process, but killing millions of animals each year so that students can handle them during classroom dissection exercises is indefensible.
Let's be real: Animal dissection is messy. It reeks of death and cancer-causing chemicals, and students are increasingly choosing to opt out of cutting apart animals who were killed for the dissection tray.
Each year, at least 3 million frogs preserved in cancer-causing chemicals are dissected by school students in the U.S. and then thrown out with the trash. This practice—which hasn't changed much in a century—fosters a callousness toward animals, poses an unnecessary health risk, and discourages some students from embarking on careers in science. It's hard to imagine what discoveries the world loses as a result.
The SynFrog boasts external and internal anatomical landmarks in a high-fidelity, realistic dissectible model, without exposure to cancer-causing chemicals.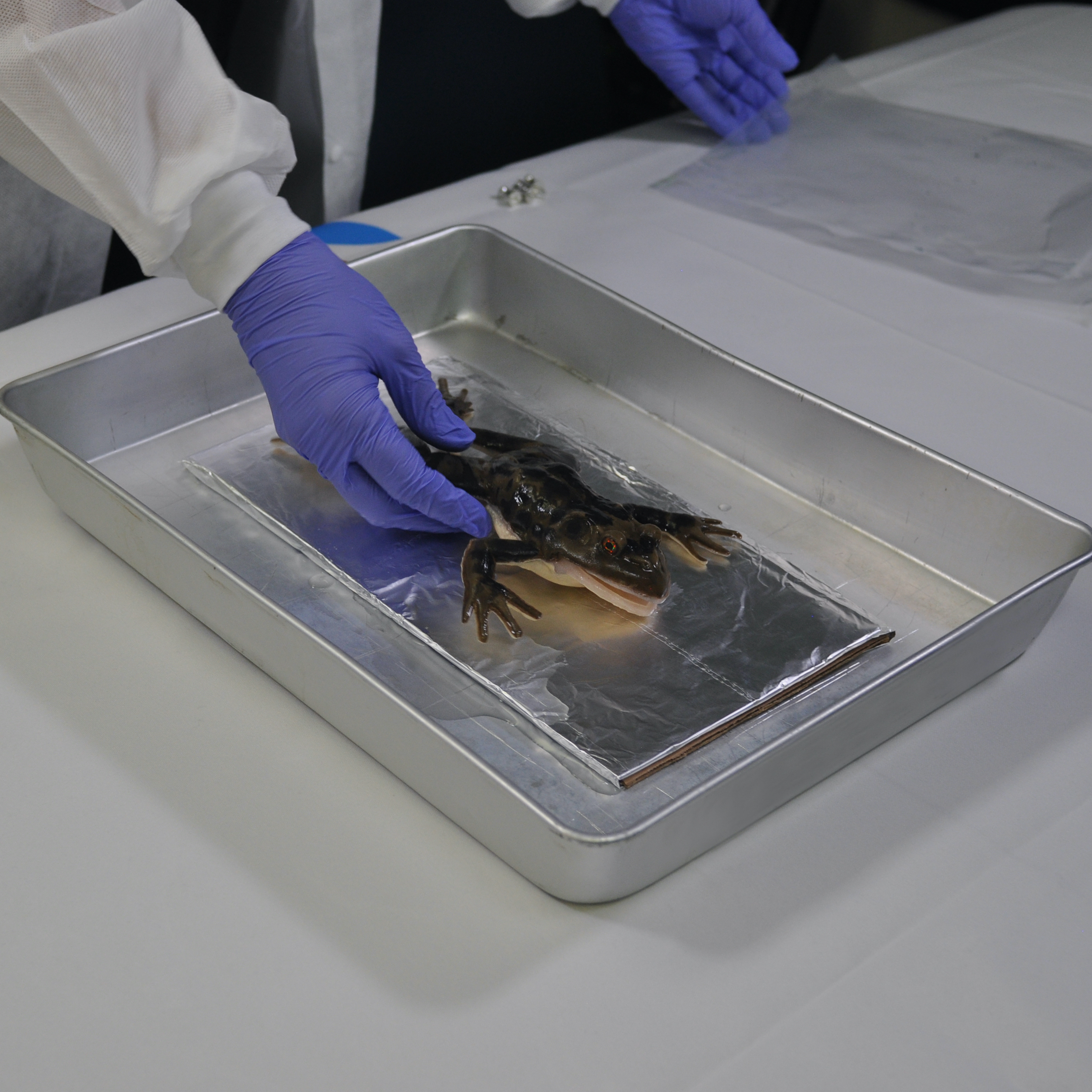 Here's what to expect from the SynFrog:
Female frog model
"Gloved" exterior skin with incision along dorsal aspect
Soft tissue representing a layer of muscle underneath the skin and a visible mesentery layer
Circulatory system: posterior vena cava, anterior vena cava, arterial trunk, systemic arch, and dorsal aorta
Organs: esophagus, trachea, lungs (with bronchial tubes and larynx), heart, liver (right lobe, left anterior lobe, and left posterior lobe), gallbladder, stomach, pancreas, small intestine (roughly 2.5 times the length of the frog's body—able to be removed and unraveled for measuring), large intestine, kidneys, ureters, urinary bladder, ovaries, and cloaca
The SynFrog accurately mimics living tissue, unlike preserved frogs, who are most often monochromatic, making it difficult to identify different parts of their anatomy.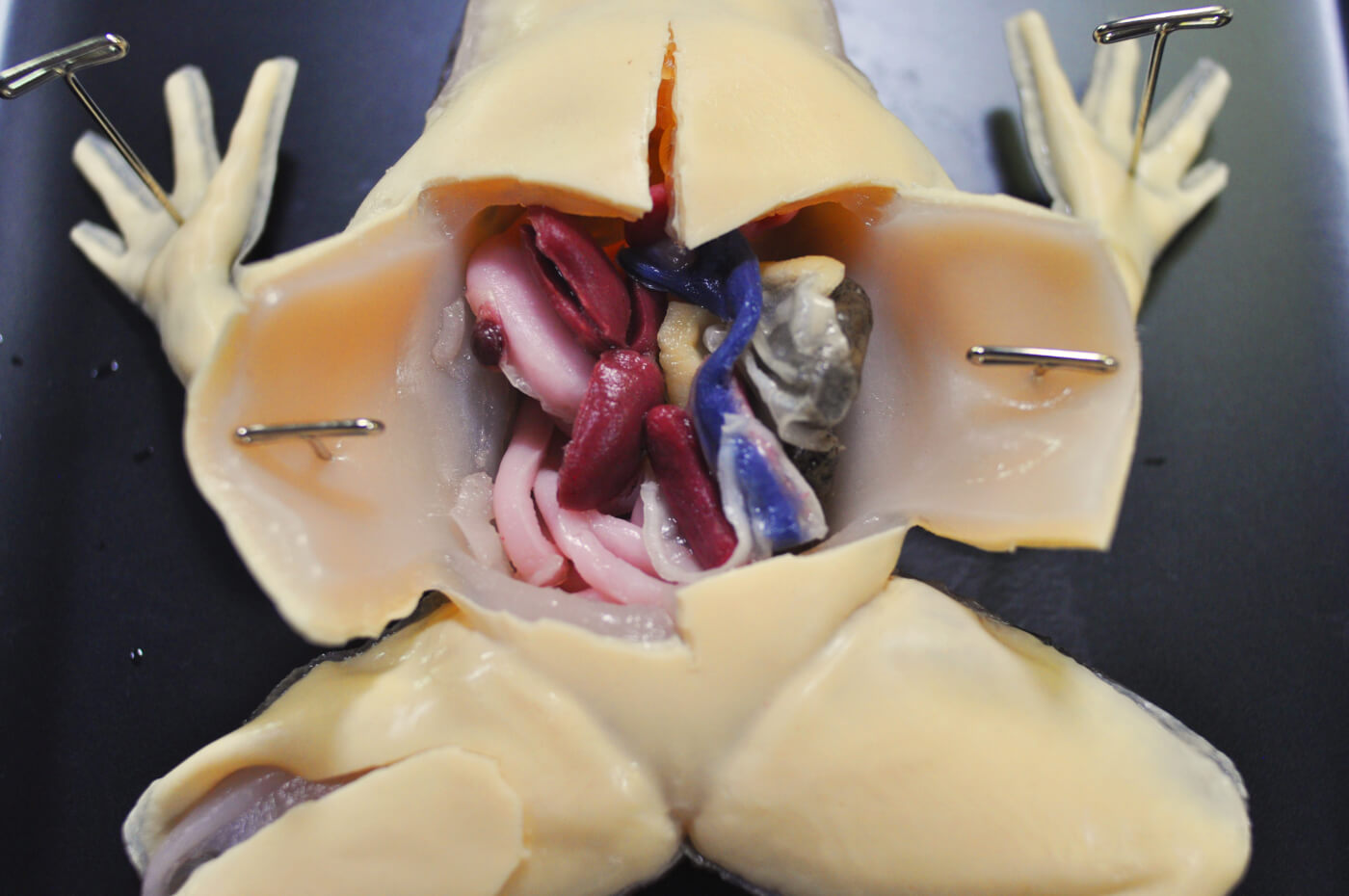 Free supplemental teaching materials for SynFrog dissection are now available! Download and complete the "Fast Facts and Comparative Anatomy" worksheets here. SynDaver's SynFrog Facebook Live Dissection Event Pre-Lab and Frog Dissection Lab and Answer Sheet worksheets are also available to use. Check out PETA's instructional video below, which covers external and internal anatomy, classification, and comparative anatomy. For educators who may need a video lesson to share directly with students, click here.
J.W. Mitchell High School in New Port Richey, Florida, became the very first school to use SynFrog, and the reviews were excellent:
"So kids are involved, they are in it, they are finger deep in frog guts, but it's all synthetic, so the smell isn't there, the stigma isn't there, they are not opting out. Every kid is engaged and we have students from all academic levels in the classes that we chose and the teachers that we have them with and they are just all in on this."

—J.W. Mitchell Principal Jessica Schultz
"And real frogs, they don't actually have to be living and then die for us to do dissections on them, so I prefer this for sure."

—J.W. Mitchell student Maddie Foster
There is no shortage of wrongdoing involving dissection in schools, from juggling dead frogs to making dead cats dance, in addition to the cruelty found in the standard practices of dissection "specimen" suppliers, such as Bio Corporation, which made headlines after a 2017 PETA investigation.
The SynFrog is uniquely positioned to help prevent millions of frogs from being killed for classroom dissection worldwide, and you can be a part of this progress!
If you're a teacher or an administrator who's interested in learning more about replacing frog cadavers with SynFrog models, please complete the form below and TeachKind will be in touch with more details.
By submitting this form, you're acknowledging that you have read and agree to our privacy policy and agree to receive e-mails from us.