Harvard's Sensory-Deprivation Experiments on Monkeys
Campaign Updates
Harvard University experimenter Margaret Livingstone tears baby monkeys away from their mothers shortly after birth and imprisons them in cold steel cages, where they're given only a pathetic cloth "surrogate" to cling to for comfort. She's sewn some of the babies' eyes shut, leaving them in complete darkness for up to a year. Help end her morally depraved experiments.
'Bloody' Masked 'Experimenter' and Shrieking 'Baby' Haunt Harvard's First Day of Classes
September 5, 2023
Students arriving to Harvard University's campus for the first day of classes were greeted by a PETA supporter wearing a welding mask and a "bloody" lab coat, sitting eerily in a rocking chair as a black-draped crib nearby emitted the sound of a monkey screaming. The chilling display evoked the disturbing experiments of Harvard Medical School's Margaret Livingstone, who rips newborn monkeys away from their mothers and makes laboratory staff wear welding masks so that the infants never see a face.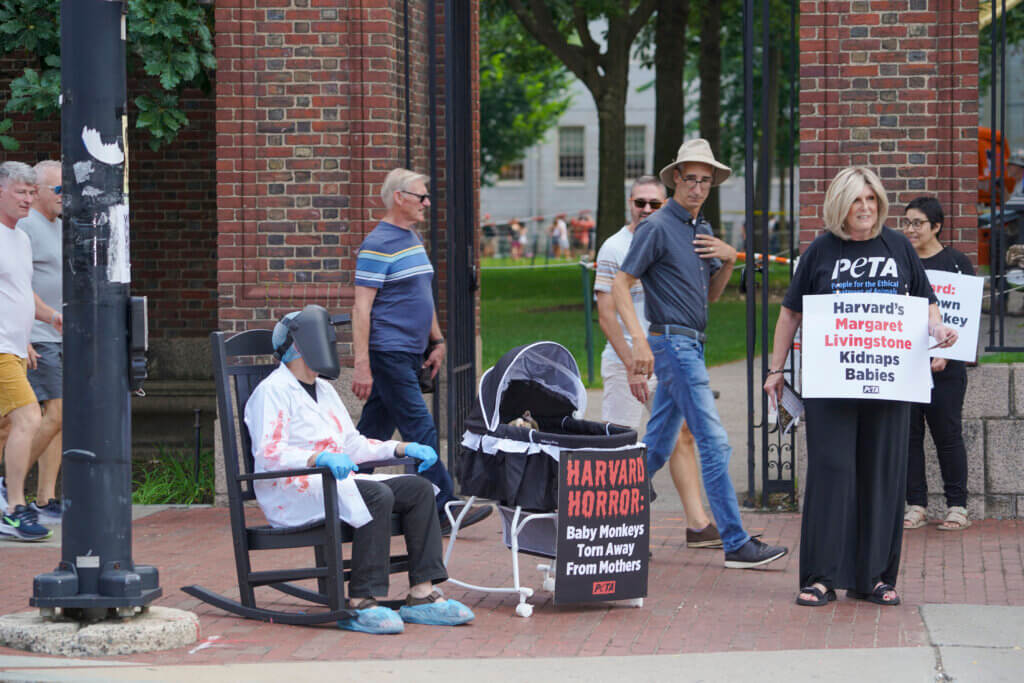 ---
PETA Files NIH Complaint After Feds Cite Harvard for Animal Welfare Violations
August 23, 2023
PETA has filed a complaint with the National Institutes of Health (NIH), urging it to withdraw funding from Harvard University after the U.S. Department of Agriculture cited Harvard Medical School for violations of the federal Animal Welfare Act. Experimenters overdosed a monkey with a compound and couldn't even manage to properly monitor the health of monkeys who were purposely being kept thirsty to force their cooperation in experiments. These callous episodes of neglect took place under the same roof where Margaret Livingstone runs her NIH-funded cruel and pointless sensory deprivation experiments on baby monkeys.
---
Abducted Infants Replaced With Beanie Babies? PETA Urges Ty CEO to Condemn Monkey Abuse
August 8, 2023
With the new film The Beanie Bubble bringing the hottest collectible of the 1990s back into the spotlight, PETA sent a letter to inventor and Ty Inc. CEO Ty Warner urging him to condemn Harvard University's bizarre sensory deprivation tests, in which experimenter Margaret Livingstone kidnaps newborn monkeys from their mothers and replaces them with Beanie Babies.
---
PETA Welcomes New Harvard President With Package of Pleas to Help Monkeys
July 6, 2023
PETA's boxful of appeals to end experimenter Margaret Livingstone's torment of baby macaques landed on the office doorstep of Harvard University's new president, Claudine Gay, just in time to welcome her to her new role. The box included an infographic detailing these experiments, a block of to-do list–style sticky notes reminding her to shut down the laboratory, and a blinded "monkey" reminiscent of Livingstone's real victims—all to prompt Gay not to look away from animal suffering.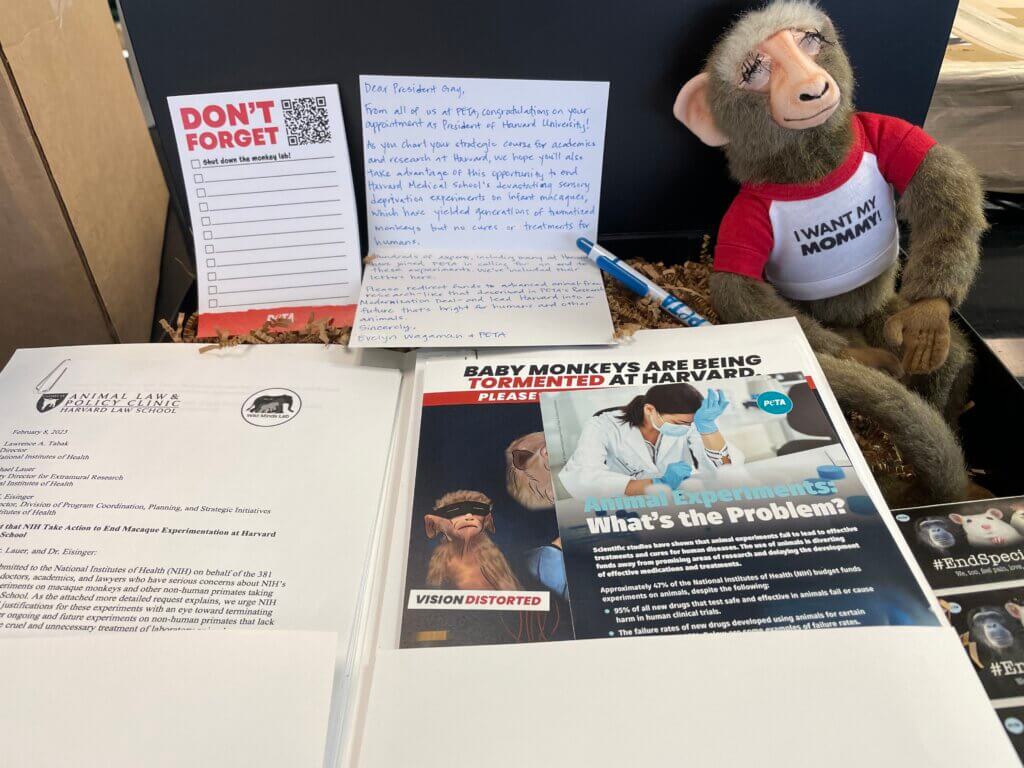 ---
Pro-Monkey Posters Appear Around Cambridge as Harvard Alums Gather on Campus
June 2, 2023
As former Harvard University students returned to campus for Alumni Day celebrations, they spotted posters that revealed their alma mater's shocking involvement in the physical and psychological abuse of infant macaques.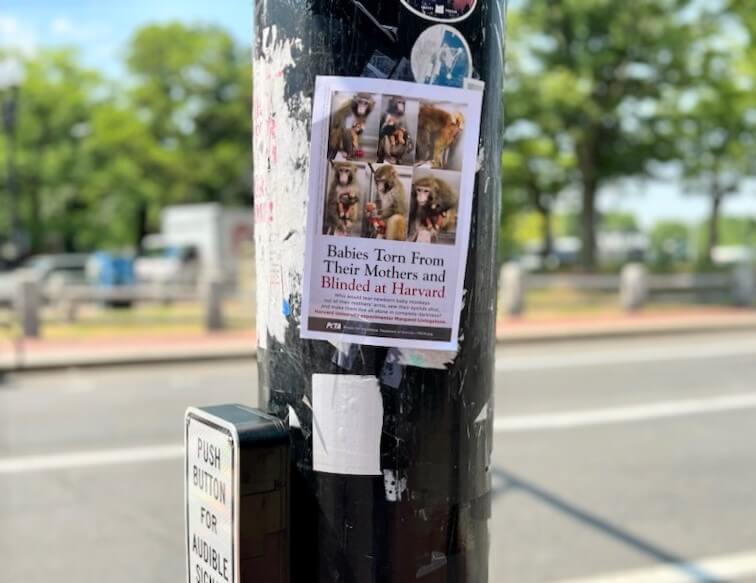 ---
Blindfolded Protesters Expose Harvard's Hidden Cruelty at Commencement Ceremony
May 25, 2023
Blindfolded PETA supporters rallied outside Harvard University's Johnston Gate, holding signs that read, "Harvard: Blind to Animal Suffering," and demanding an end to Margaret Livingstone's disturbing visual deprivation experiments on infant macaques. The passionate protest kicked off as thousands of graduating students and their friends and family members converged on Harvard Yard for the school's main commencement ceremony. Some horrified onlookers immediately took action to help end the ghoulish tests, while others promised to pen personal messages to Harvard President Lawrence Bacow opposing the experiments.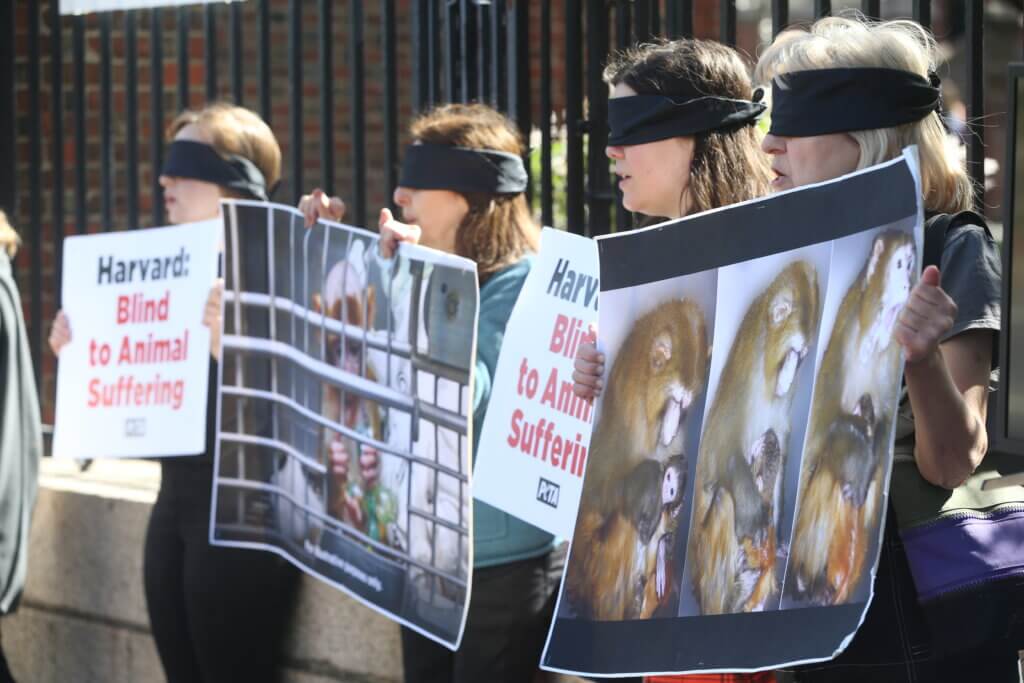 ---
Monkey Advocates Make Waves at Chicago's Navy Pier as HMS Dean Gives Commencement Speech
May 15, 2023
PETA protesters calling for an end to Margaret Livingstone's devastating experiments on baby monkeys rallied at Chicago's Navy Pier, where Harvard Medical School Dean George Q. Daley spoke at the commencement ceremony of Northwestern University's Feinberg School of Medicine. Supportive passersby cheered on the activists with thumbs-up and nods of approval and learned how they could join the protesters in speaking up for monkeys.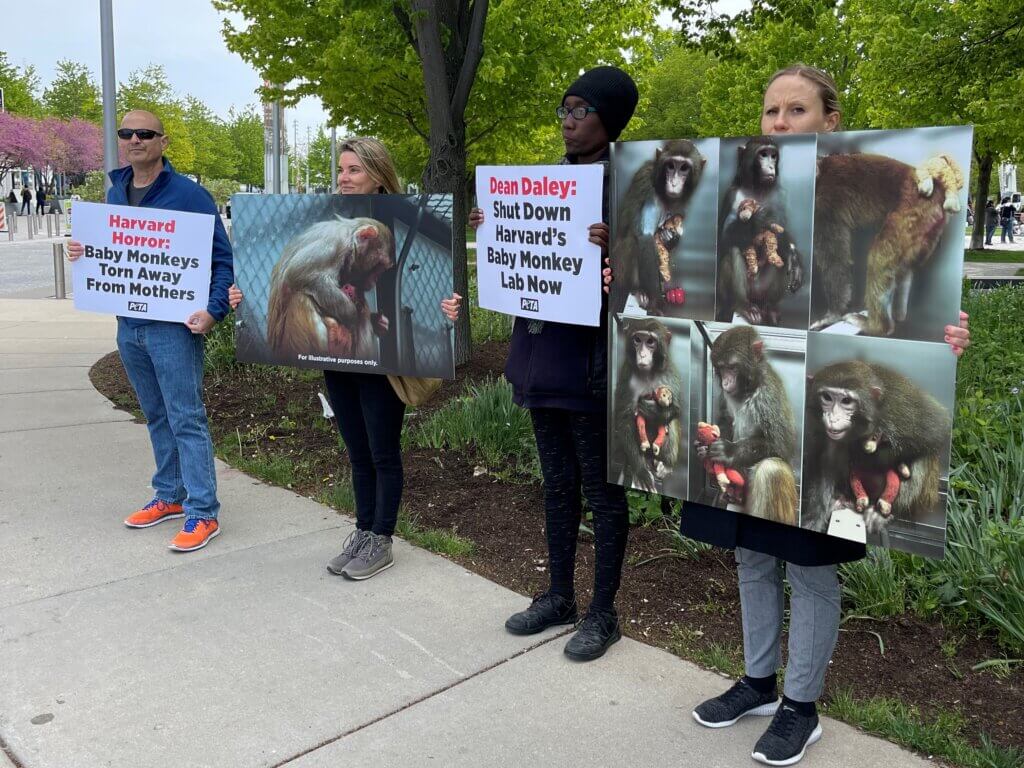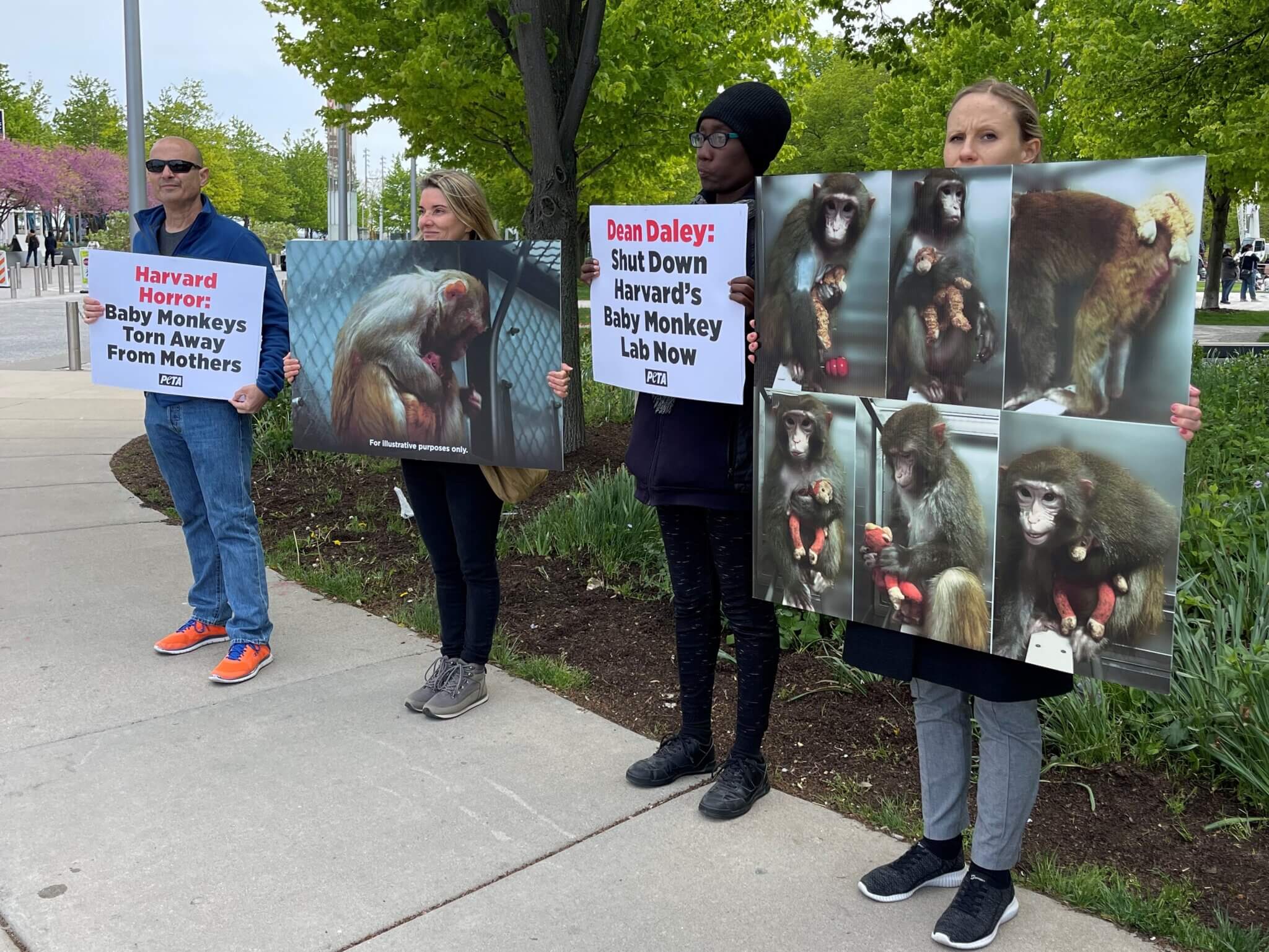 ---
Activists Unmask Cruelty in Harvard Experimenter's Laboratory With Slew of Signs in Cambridge
April 15 and May 9, 2023
PETA supporters plastered damning posters all over Harvard's campus and downtown Cambridge, Massachusetts, bringing students face to (mask-covered) face with the horrors that infant monkeys endure in Margaret Livingstone's laboratory. The provocative signs depict an experimenter obscuring his face with a welder's mask, just as experimenters do in Livingstone's laboratory to prevent the traumatized infants they're handling from ever seeing a face.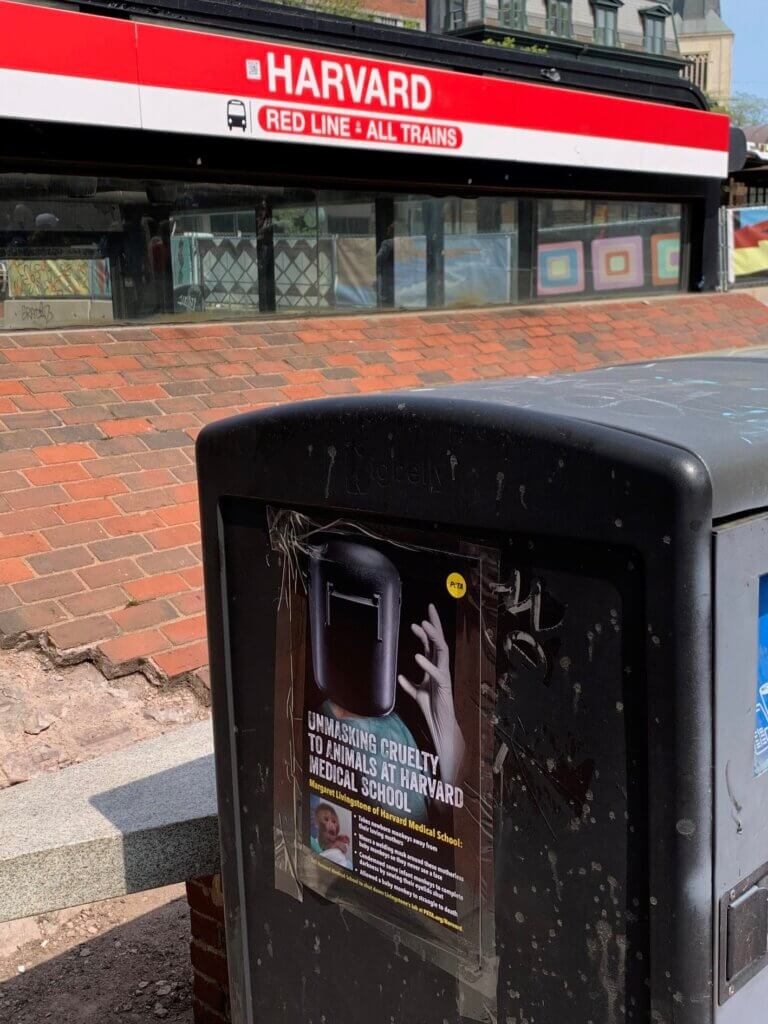 ---
Dressed to Kill: PETA Urges Experimenter to Spare Monkeys With Special Birthday Teelivery
April 3, 2023
Will Harvard Medical School's Margaret Livingstone give monkeys the gift of liberation for her birthday this year? PETA's stylish surprise for the animal experimenter—a T-shirt in Harvard crimson along with a card offering to help place the monkeys in her laboratory with reputable sanctuaries—encourages her to hang up her welding mask and try on the garb of a former experimenter instead.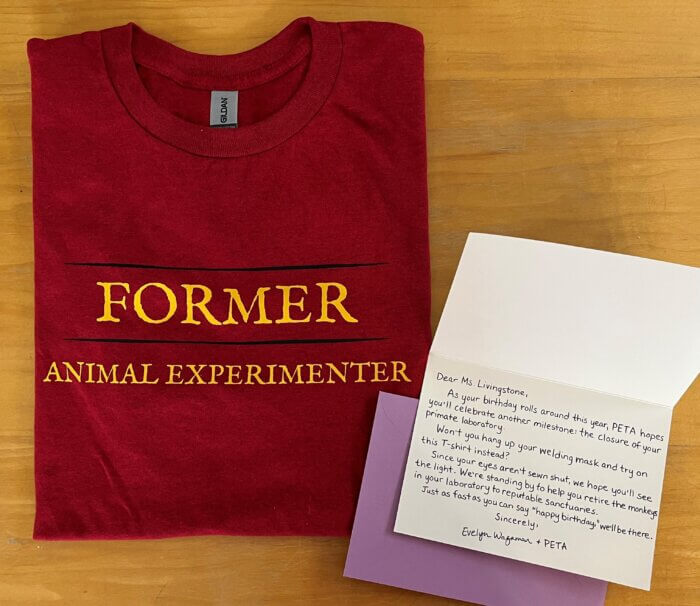 ---
Armed With Images of Tormented Monkeys, Dozens Descend on Campus to Protest 'Harvard Horror'
March 7, 2023
Chants rang out across Harvard Yard as more than three dozen animal advocates rallied in Cambridge to demand an end to Harvard Medical School's monstrous experiments on infant monkeys. Lining the bustling walkway outside Harvard's Johnston Gate, the protesters wielded enlarged images of distressed monkeys imprisoned in the school's laboratory and shared literature exposing the ghastly experiments with horrified passersby.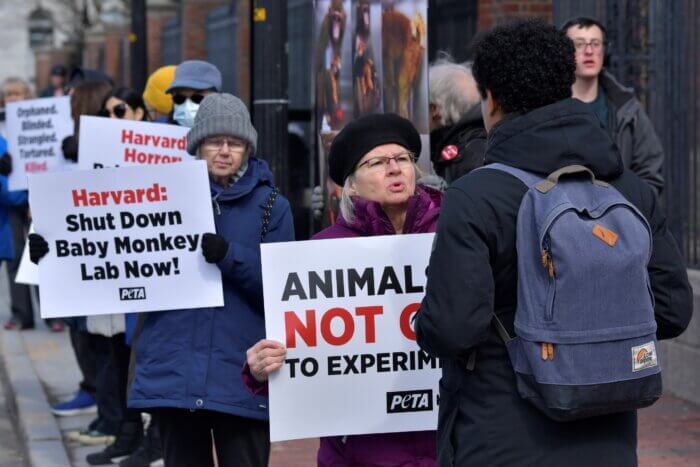 ---
PETA Asks: Does Harvard Medical School Employ the New Boston Strangler?
February 16, 2023
Margaret Livingstone is murder on monkeys—and following the shocking strangulation death of a baby monkey in her Harvard Medical School laboratory, PETA is pointing out parallels to Massachusetts' most notorious serial killer, the Boston Strangler. A shadowy, film noir–inspired advertisement depicting Livingstone alerted readers of the Boston Herald to the monkey killer in their midst. Activists widened the reach of this grisly news by plastering posters all over town.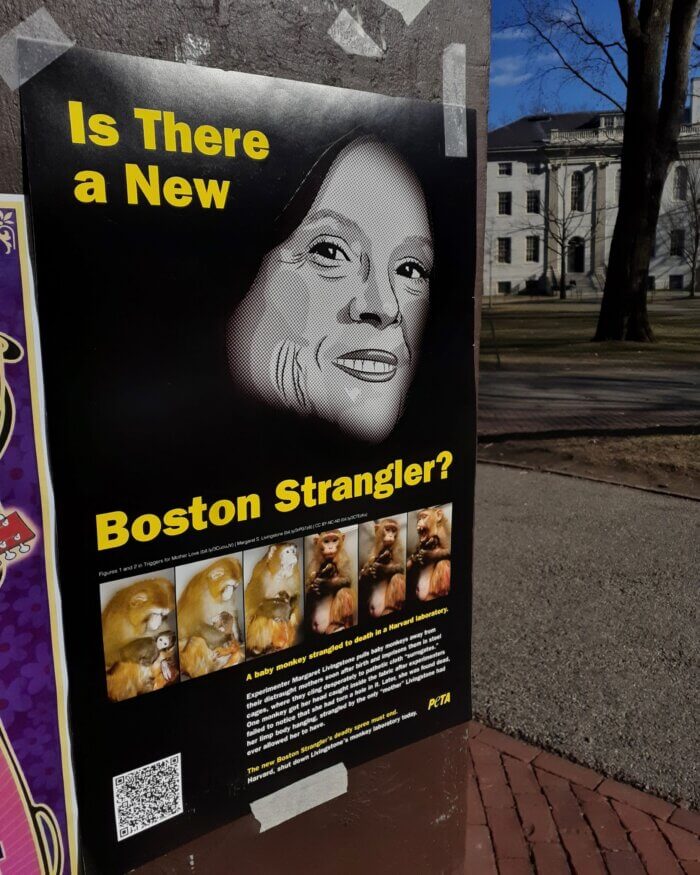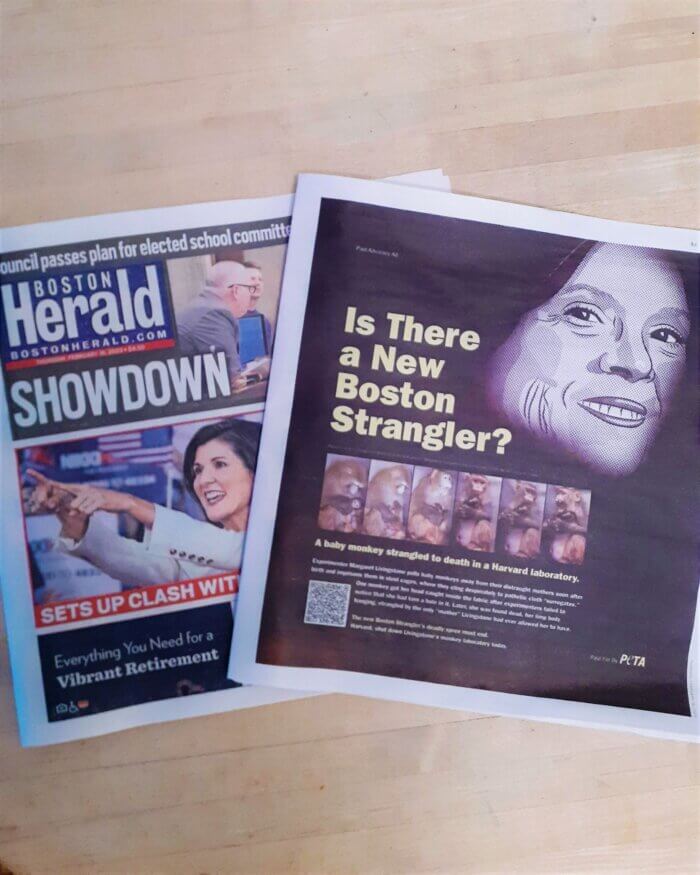 ---
'Ethical Blindness': PETA Skewers Harvard With Eye-Opening Ad in Boston Globe
February 12, 2023
Sewing infant monkeys' eyes shut should have ended 40 years ago when Britches, a victim of this ghastly practice, was liberated from a University of California–Riverside laboratory. But Margaret Livingstone has repeated this horror at Harvard Medical School—and now PETA has called out her cruelty with an arresting full-page ad in The Boston Globe. Featuring images of Britches to represent the anguish that monkeys like him experience in her laboratory, the ad urges readers to call on Harvard to open its eyes to the suffering that it inflicts and end Livingstone's disturbing experiments.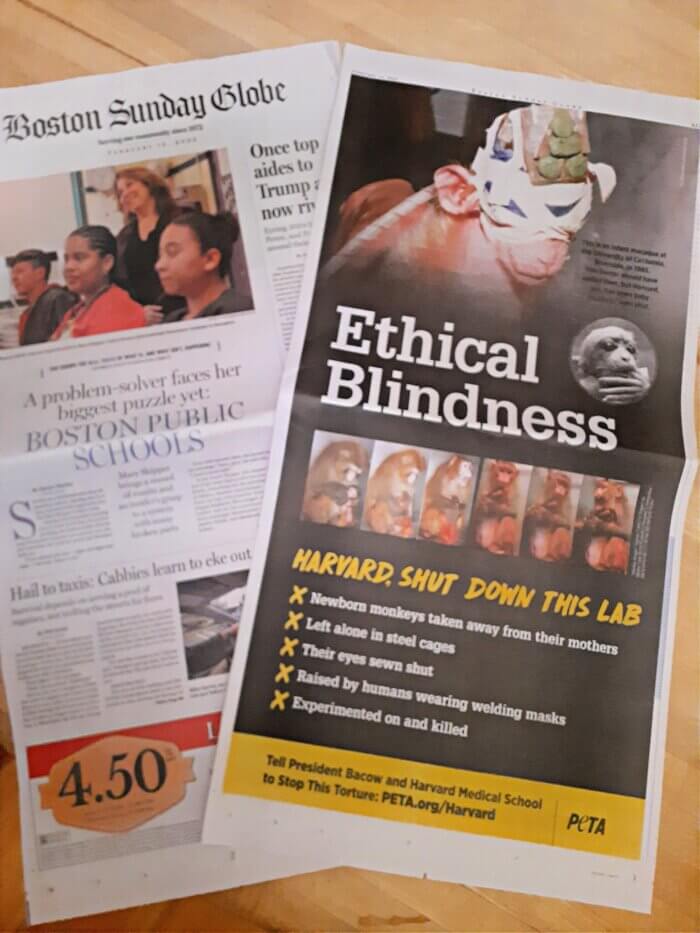 ---
PETA Scientist and Other Experts Speak at Harvard Panel on Primate Experimentation
February 8, 2023
PETA neuroscientist Dr. Katherine Roe joined Harvard University psychologist Dr. Christine Webb, master of bioethics degree candidate Erin Sharoni, and animal welfare expert Dr. Larry Carbone for a stimulating discussion titled "Nonhuman Primates in Medical Research: The Good, Bad, and Ugly." During the event—which was moderated by Kathy Meyer, a professor at Harvard Law School, and sponsored by the school's Animal Law & Policy Program and its Animal Law Society—the panelists considered the ethics of Margaret Livingstone's experiments on baby monkeys at Harvard Medical School as well as other uses of primates in experimentation. Watch the recording.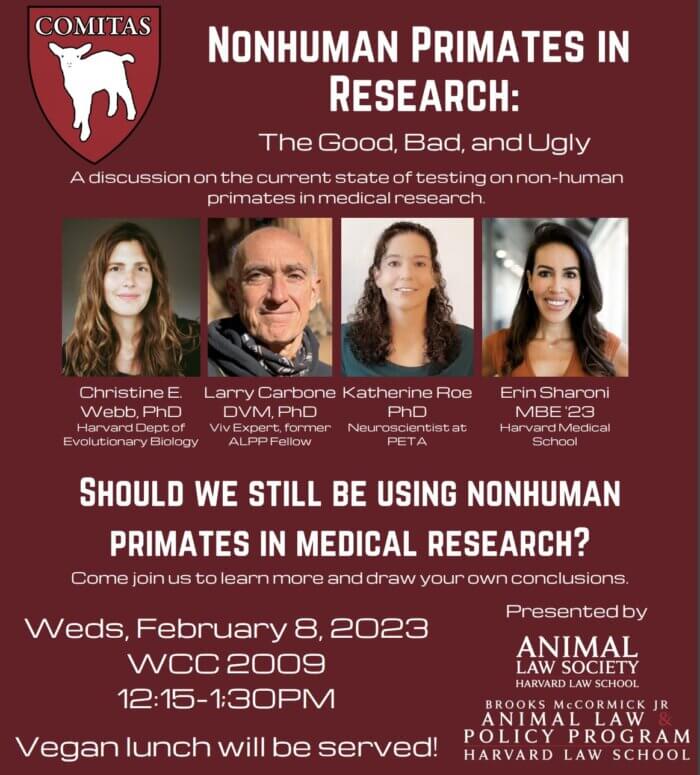 ---
Dr. Jane Goodall and 380 Experts Urge NIH to Cut Funding for Livingstone's Experiments
February 8, 2023
More than 380 scientists, doctors, academics, and lawyers from around the world—including renowned primatologists Dr. Jane Goodall, Dr. Ian Redmond, and Dr. Richard Wrangham—signed a letter to the National Institutes of Health (NIH) urging it to review and terminate its funding of Harvard Medical School's cruel maternal and sensory deprivation experiments on macaques. Blasting both the scientific and ethical rationale for these experiments, the experts also called on NIH to take action to end other ethically and scientifically indefensible experiments on primates that it funds. The powerful letter was sponsored by Harvard Law School's Animal Law & Policy Clinic and the Wild Minds Lab at the University of St. Andrews School of Psychology and Neuroscience in Scotland.
---
Harvard Experimenter Deserves Coal This Year—PETA's Mobile Message Shows Why
December 12, 2022
If anyone has earned a spot at the top of Santa's "naughty" list, it's Harvard experimenter Margaret Livingstone. The tormented shrieks of baby monkeys echoed through Cambridge, Massachusetts, as PETA's mobile billboard blasted a video revealing her atrocities to students and holiday shoppers passing through Harvard Square.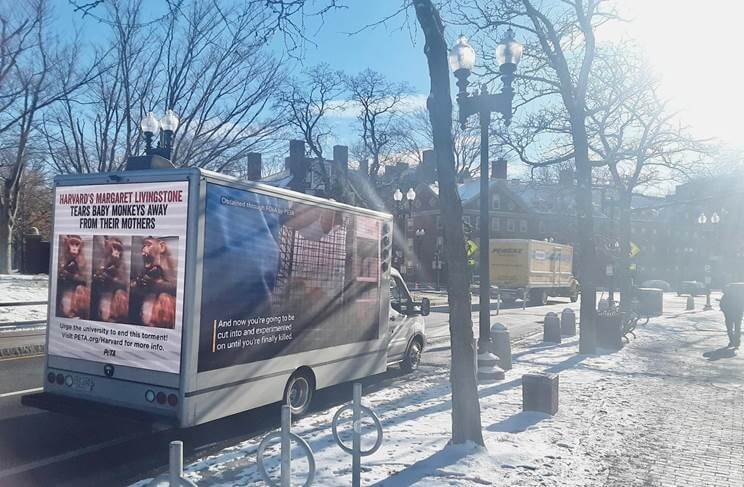 ---
Instaslammed! Using Targeted Social Media Ads, PETA Skewers Livingstone for Her Depraved Experiments
December 7, 2022
Flanked by images of tortured baby monkeys, the smiling face of experimenter Margaret Livingstone interrupted the stream of food photos and vacation selfies on the Facebook and Instagram feeds of Harvard University and Harvard Medical School students and employees. The ads invited concerned scrollers to urge Harvard to end Livingstone's barbaric experiments on baby monkeys.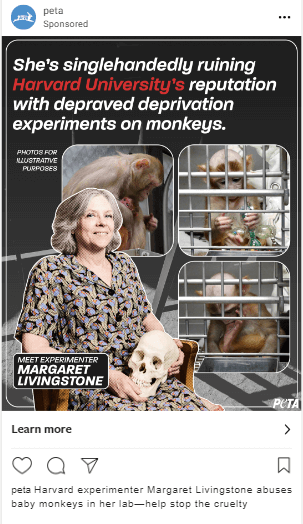 ---
Monkey Tormenter Margaret Livingstone 'Can't Imagine Having More Fun Doing Anything Else'
November 17, 2022
How do you know if someone is an animal exploiter? Don't worry—they'll tell you. Prolific baby monkey torturer Margaret Livingstone does just that in her chapter of The History of Neuroscience in Autobiography, volume 9, a series that collects the stories of neuroscientists in their own words. Displaying not an ounce of remorse or self-awareness, she regales readers with (shock-)inspiring anecdotes about paralyzing lobsters with chemicals, devising her own torture device to deprive cats of sleep, and more. "I spend a lot of time now taking care of baby monkeys while wearing a mask so they never see any faces, and I can't imagine having more fun doing anything else," she writes. Read more.
---
One Monkey Dies, Another Loses Finger in Margaret Livingstone's Lawless Laboratory
November 10, 2022
Given her habit of separating vulnerable infants from their bereft mothers, we already knew that Margaret Livingstone had a penchant for psychologically breaking monkeys. Now we know what else she has a penchant for breaking: the law. Federal reports obtained by PETA reveal that because of violations of federal animal welfare regulations in two separate instances, one monkey strangled to death and another sustained injuries so severe that the animal's finger had to be amputated. Livingstone's laboratory also earned a write-up from the feds after she failed to wear necessary personal protective equipment while experimenting on a restrained monkey, the documents show. Read more.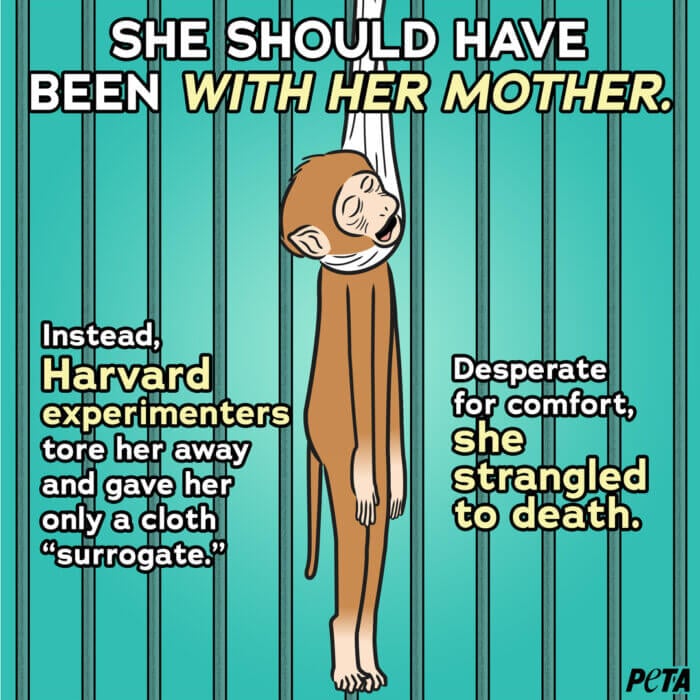 ---
Flurry of Flyposters Blankets Harvard's Campus as Controversy Swirls Over Baby Monkey Experiments
November 2, 2022
Cambridge, Massachusetts, has yet to see its first snowfall of the season, but amid the approach of colder weather, activists brought to campus a storm of another sort: eye-catching flyposters slamming Margaret Livingstone's crude and psychologically disastrous experiments on infant monkeys.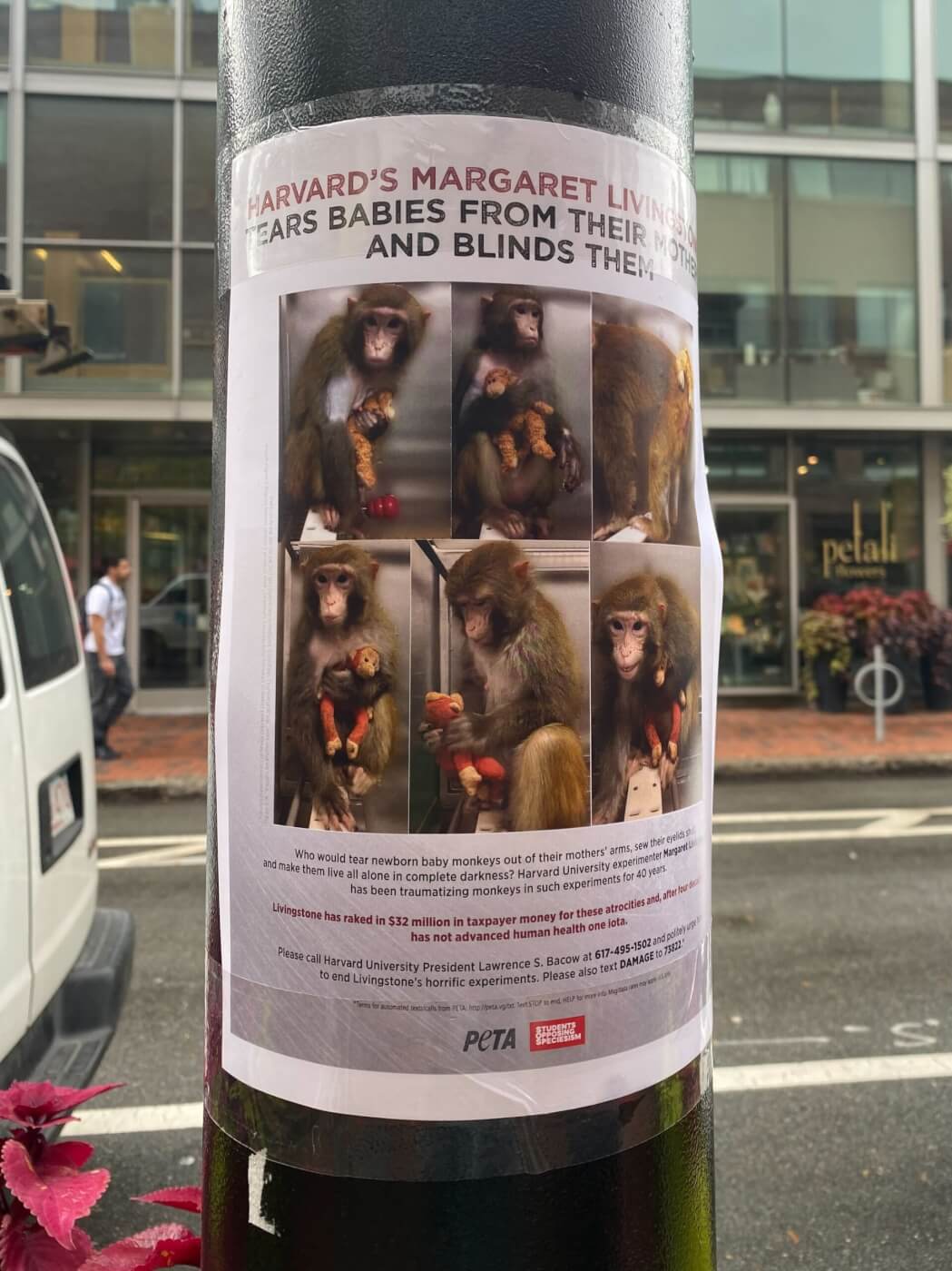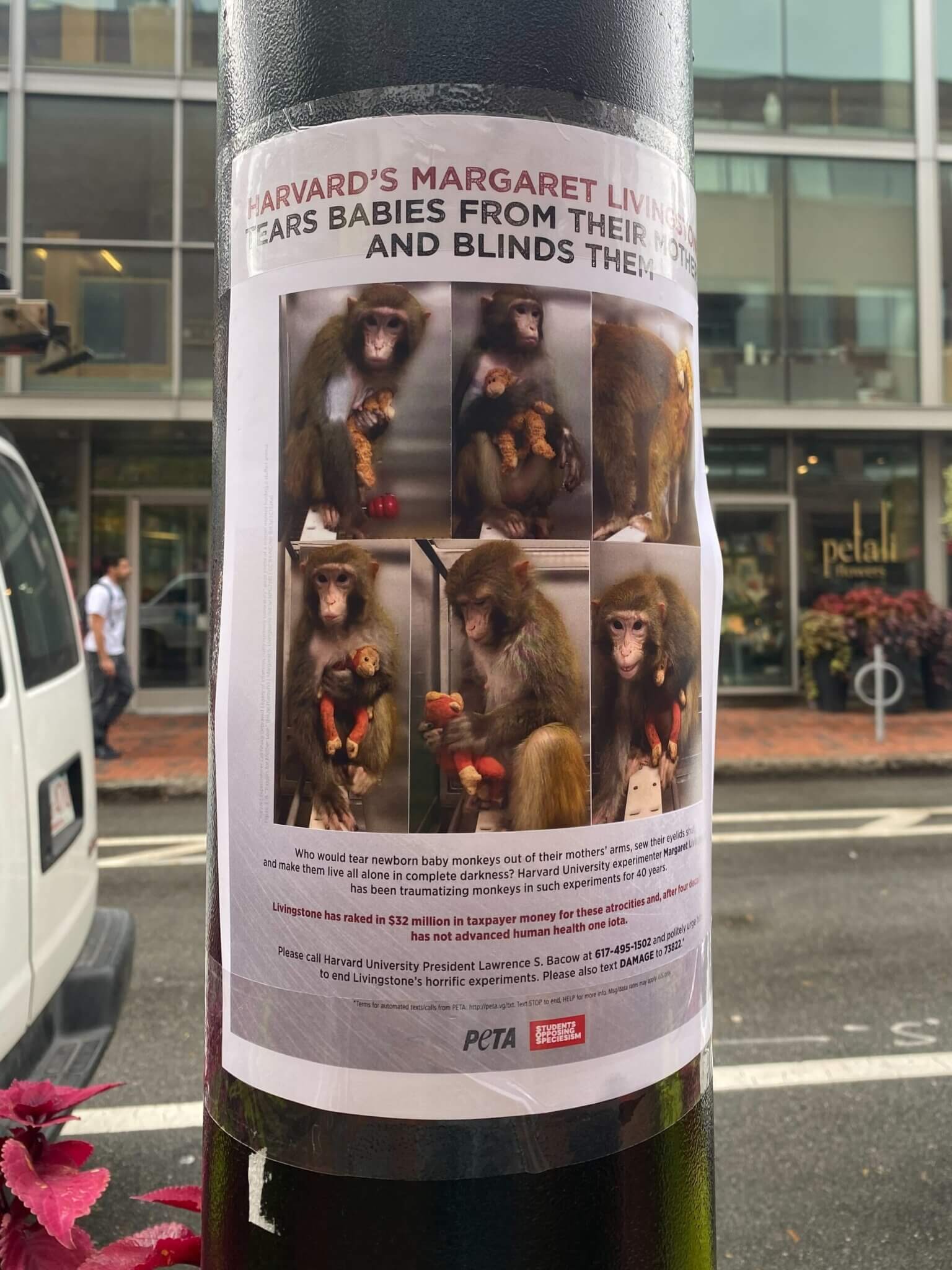 ---
Close Encounters With the Unkind: PETA's Virtual Reality 'Aliens' 'Abduct' Harvard Students
October 31, 2022
PETA's "UFO" landed at Harvard University just in time for Halloween, drawing curious students inside to experience firsthand (in virtual reality) the fear and confusion of being abducted from one's home and family to be exploited for painful and invasive experiments. Students who participated were far from the only "abduction victims" on campus: Baby monkeys in Margaret Livingstone's laboratory—who are pried from their distraught mothers shortly after birth—know this terror all too well.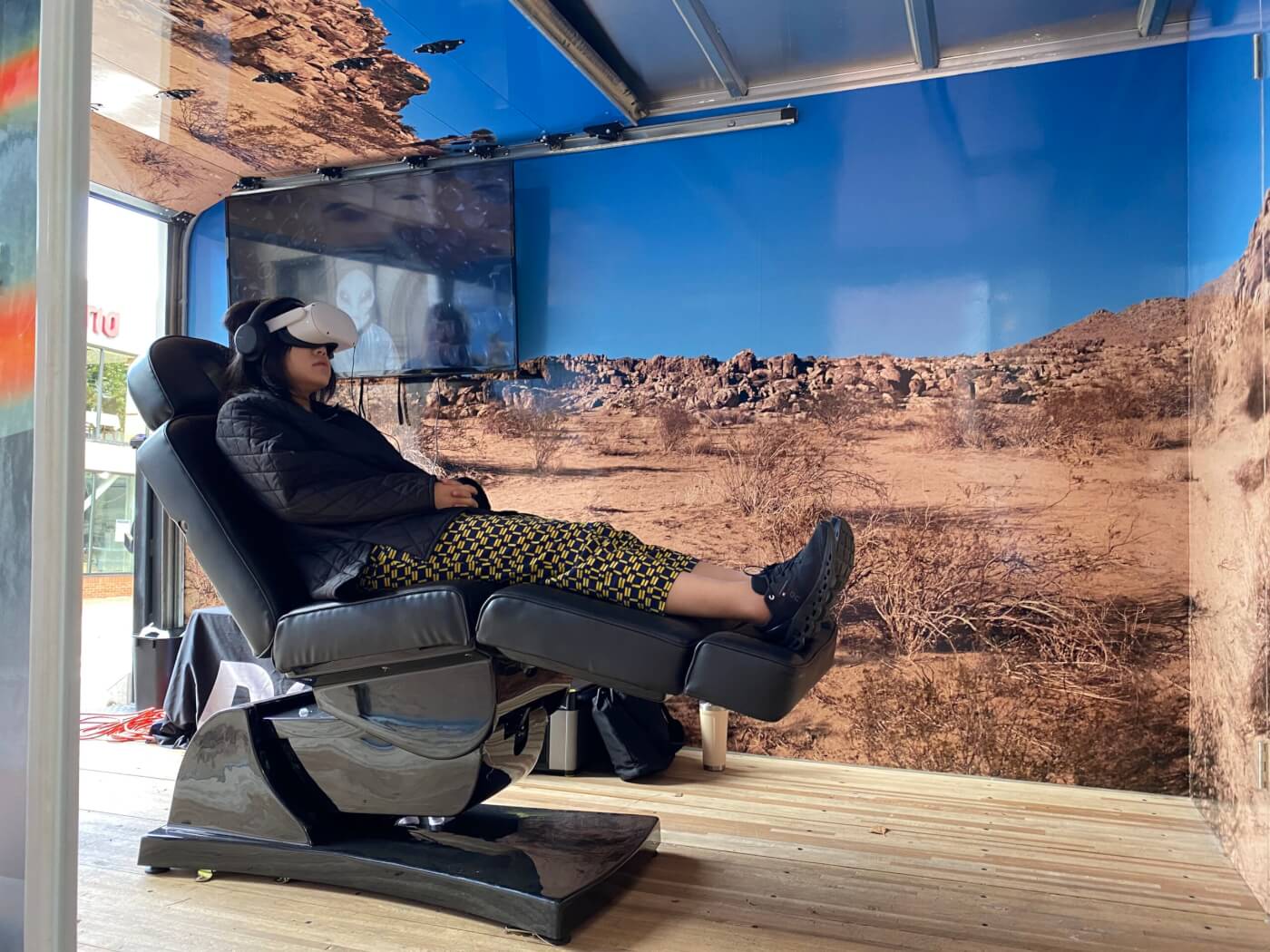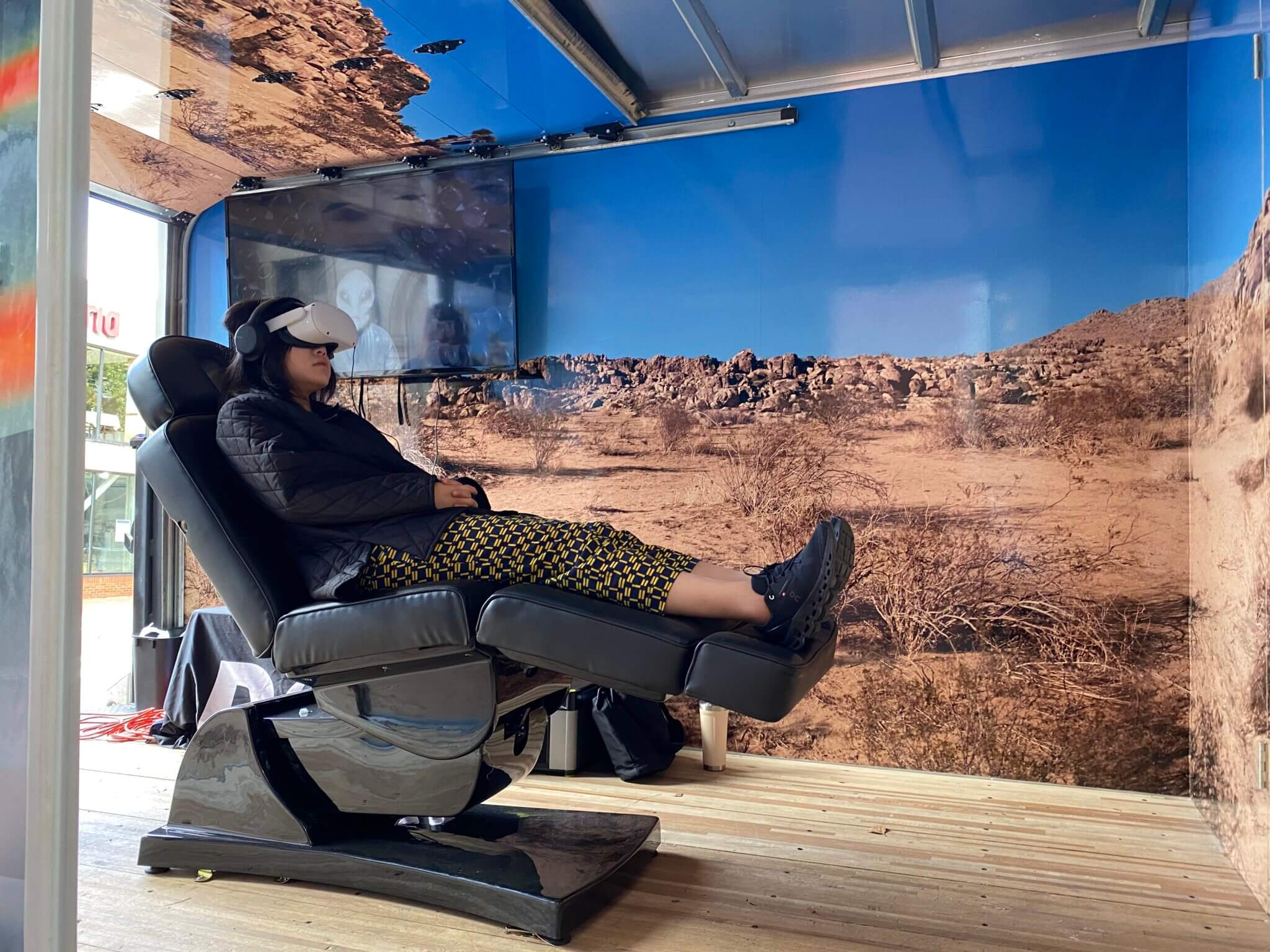 ---
Direct Action Everywhere's Founder Dismantles Harvard's 'Necessary Evil' Rationale for Twisted Tests on Baby Monkeys
October 28, 2022
The most stomach-churning evil can be rationalized, normalized, and even claimed to be necessary, writes animal rights activist Wayne Hsiung—but it can be challenged with compassion. Hsiung, the founder of animal rights group Direct Action Everywhere, calls out the factual and ethical leaps in Harvard University's statement in support of Margaret Livingstone and highlights the story of his mother, who understood that barbaric experiments like Livingstone's were wrong despite suffering from the same terminal illness that Livingstone implausibly claims she's helping to cure.
---
More Than 250 Scientists Urge PNAS: Retract Livingstone's Unethical Paper Now
October 19, 2022
Citing "the unethical practices and research standards it promotes and its failure to advance scientific knowledge," more than 250 animal behavior researchers, graduate students, and postdoctoral students joined forces for a letter urging PNAS (Proceedings of the National Academy of Sciences) to retract Harvard University experimenter Margaret Livingstone's most recent paper, "Triggers for Mother Love." "[T]he time for this unethical treatment of nonhuman animals for research is over," they wrote. "We cannot ask monkeys for consent, but we can stop using, publishing, and in this case actively promoting cruel methods that knowingly cause extreme distress."
---
Prevent More Irreversible Harm—Revoke Approval for Livingstone's Experiments, PETA Scientist Urges Harvard
October 12, 2022
After poring over Margaret Livingstone's experimental protocols, PETA neuroscientist Katherine Roe has her own findings to report: The experiments are scientifically and morally unsound. Roe detailed her concerns in a letter to Harvard University President Lawrence Bacow and other school officials, urging them to revoke university approval for the psychologically devastating tests. "It's deeply concerning that experiments that induce irreversible harm on infant primates are permitted at Harvard Medical School at all, let alone allowed to occur for several decades," she wrote.
Text* BABY to 73822 to urge Harvard's administration to close Livingstone's laboratory and release the remaining monkeys to a sanctuary immediately.
*U.S. only. Message and data rates may apply. Periodic messaging. Text STOP to end or HELP for info. Full terms are at PETA.vg/txt.
"Campaign Updates: Harvard's Sensory-Deprivation Experiments on Monkeys" page background photo of a mother monkey holding a stuffed animal and screaming: Figure 2 in "Triggers for Mother Love" | Margaret S. Livingstone | CC BY-NC-ND