Celebrity Support
Celebrities—they're just like us. Well, at least they are when it comes to giving a snip about animals!
From telenovela stars to comedians and actors, from radio hosts to models, the celebs on this list are all united in the knowledge that preventing births is the way to end the cat and dog overpopulation crisis. We can't adopt our way out of this situation, but by focusing on the root cause of the issue—unwanted births—we can spay and neuter our way to a world in which no companion animal is deprived of a good home.
Check out some of the compassionate folks who have used their star power to stand up for animals by promoting spaying and neutering, and then read on to see how you can help us "fix" L.A.!
Aislinn Derbez
Model, actor, and artist Aislinn Derbez stars in a radio spot for PETA encouraging her fans to get their animal companions spayed or neutered. With so many wonderful animals waiting in shelters to be adopted, there's no need to bring more into the world. Check out her full feature at PETA Latino, and hop over to Let's Fix L.A.'s Spay/Neuter Help page to find local low-cost or even free spay/neuter options.
Dr. Drew
To help kick off National Spay/Neuter Awareness Month in February, celebrity physician and advice guru Dr. Drew Pinsky launched his Let's Fix L.A. video public service announcement (PSA)! Watch it here, then check out his adorable video with his canine costar, Mojito. Curious about Los Angeles' mandatory spay/neuter law and what it means for you? Read all about it on Let's Fix LA's FAQ page.
Alicia Machado
Telenovela star and Miss Universe 1996 Alicia Machado appears in a print PSA for PETA, as well as voicing the radio ad below for Let's Fix L.A. She knows that every spay or neuter surgery prevents many generations of animals from being born—meaning that fewer dogs and cats will enter the world only to end up in shelters, starve on the streets, or suffer at the hands of humans who abuse or neglect them. See her print ad at PETA Latino, and get free materials to help you speak up for animals at PETA.org/FixLA.
George Lopez
Actor, comedian, and Los Angeles native George Lopez stars in two ads for Let's Fix L.A. urging Angelenos to help alleviate the severe crowding at animal shelters by having their dogs and cats sterilized. "The only way to end this crisis is to prevent more animals from being born in the first place, and how do we do that? By spaying and neutering," says Lopez, who has himself adopted five "incredible" animals from shelters. You can watch his extended PSA here, and learn more about how a simple surgery can save lives at PETA.org/FixLA.
For all the love and happiness that dogs and cats bring into our lives, we owe it to them to build a better world, one in which no animal has to go without a good home.
You can help by making sure that your dogs and cats are spayed or neutered (after all, it is the law in L.A.!) and adopting animals from shelters, not buying them from pet stores or breeders. Want to see more compassionate celebs who are speaking up for cats and dogs? How do ads from John Stamos, Eve, Liev Schreiber, Tom Hardy, Sia, Jhené Aiko, Krysten Ritter, and Taraji P. Henson sound? #CelebCrush
John Stamos
Actor John Stamos stars in this beautiful print ad for PETA encouraging folks to adopt animals and never buy them from pet stores or breeders. There are millions of dogs and cats waiting in shelters across the country for good homes, so if you're looking to add a new member to your family, save a life by adopting.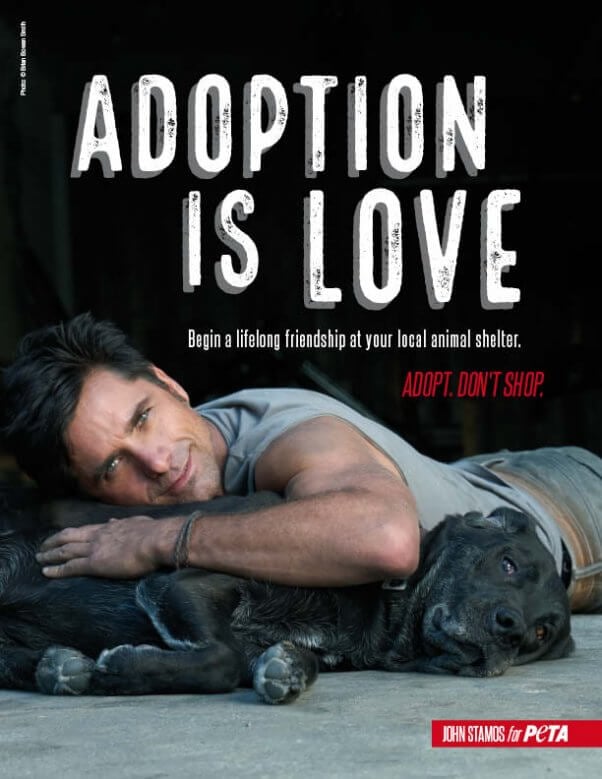 Eve
Watch Grammy-winner Eve react to video footage of chained and neglected "backyard dogs" who are left outside in the freezing cold and sweltering heat. The heartbreaking footage—taken by PETA's field workers who regularly visit these dogs to offer help to them and their owners—moved the singer to take action. She stars in a print ad encouraging people to make dogs a part of the family. See it here.
Liev Schreiber
Adopt and save a life—or two! That's what actor Liev Schreiber did when he met canine brother-and-sister duo Woody and Willow. Watch the video of the adorable meeting, and learn more about the importance of adopting animals from shelters at PETA.org.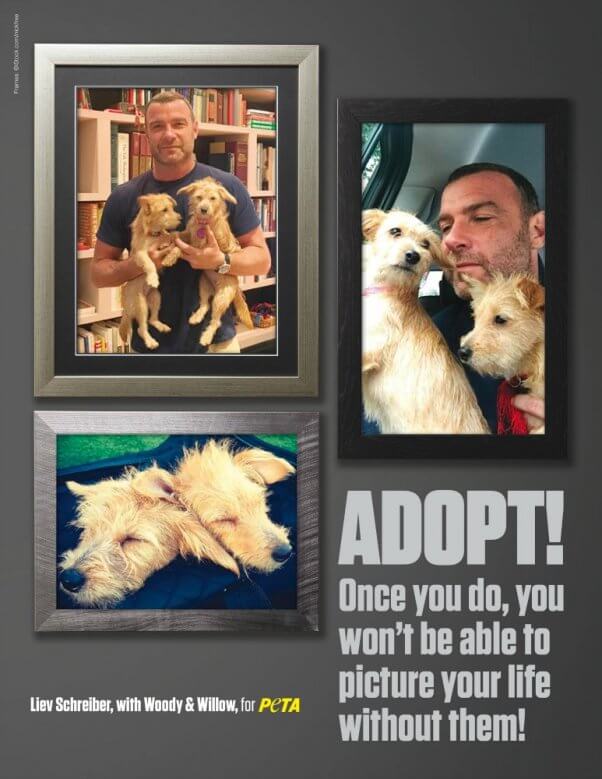 Tom Hardy
Speaking of hunky Hollywood stars with a soft spot for animals, have you seen Tom Hardy's PSA starring his adopted pup Woodstock? They met when Tom was filming the crime drama Lawless and Woodstock was a homeless canine wandering the streets—this was the beginning of their lovely and loving life together. See the full feature.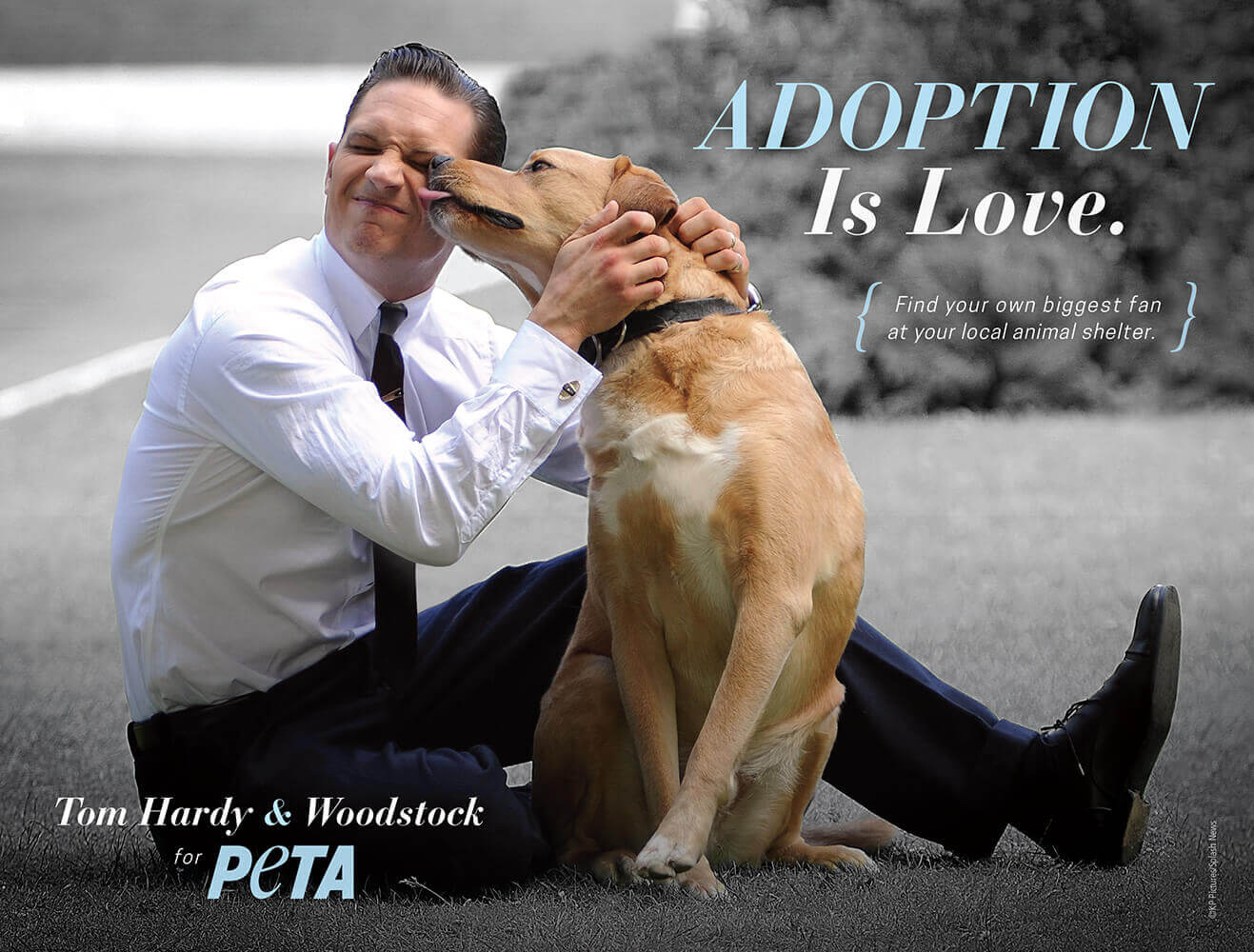 Sia
She may wear wigs that cover her face now, but the "Chandelier" singer had no problem mugging it up next to her adorable costar, Pantera, for the spay/neuter ad she starred in for PETA. Learn why she wants to use her voice for animals, and then visit the "Let's Fix L.A." website if you need help to have your dog or cat sterilized.
Jhené Aiko
The talented Jhené Aiko has teamed up with some of the biggest names in music, from Drake to Jessie J to The Chainsmokers, but her first ad for PETA might be her cutest collaboration yet. Posed with her cuddly feline friend Daisy, she urges viewers to adopt, not shop. While cats may seem independent, they face many dangers on the streets. Shelters are overflowing with animals who need homes, and we can all do our part to end the overpopulation crisis by following Jhené's advice to adopt animals and always have them spayed or neutered.
Krysten Ritter
The talented and edgy actor Krysten Ritter stars in a bold print ad for PETA urging people to do whatever it takes to save animals in life-threatening situations. They depend on us to provide them with loving homes and to protect them in emergencies. Are you prepared for the unexpected? Watch PETA's video about handling animal emergencies, and then learn why Krysten is a perfect "angel" for animals learn why Krysten is a perfect "angel" for animals.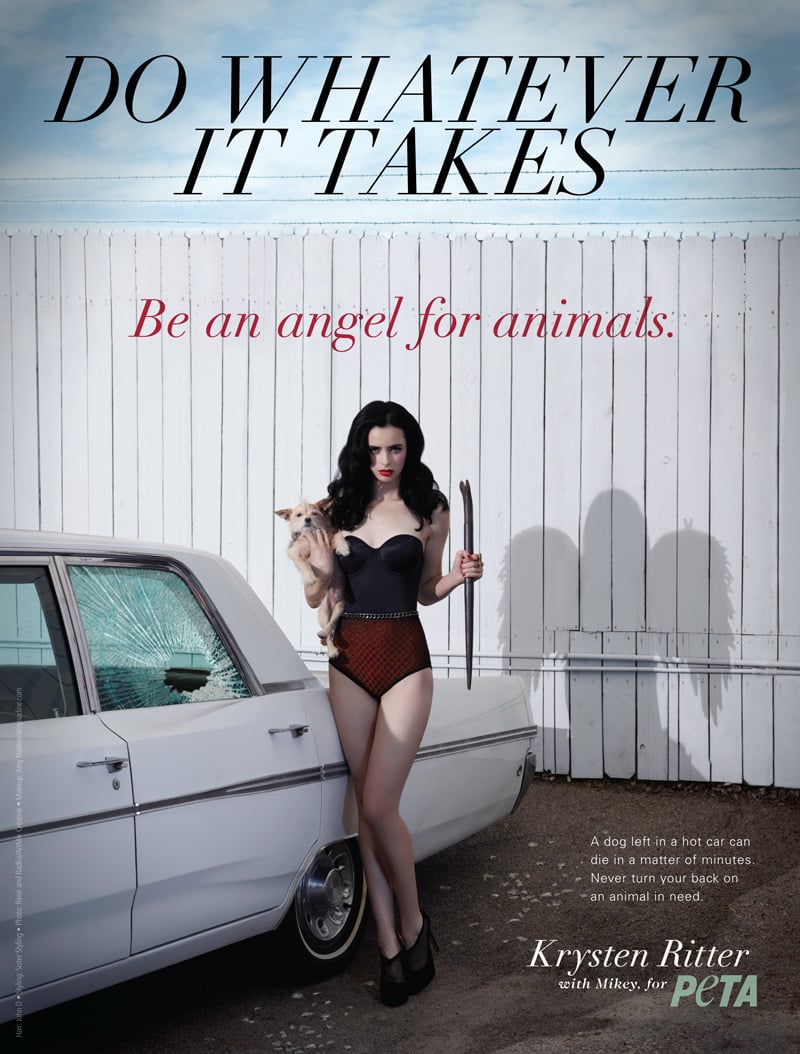 Taraji P. Henson
Known to many for playing the fiery Cookie Lyon on Empire, actor Taraji P. Henson has starred in several PETA ads, most recently as a gorgeously ethereal "angel" for animals. Hear what she has to say about keeping dogs and cats safe, check out her latest ad at PETA.org.
Do you need help getting your dogs and cats sterilized, or do you know someone who does? Be sure to check out our

Spay/Neuter Help page

, and let's "fix" L.A.
—Next Up—