Spay/Neuter Help
Ready to do the kind, responsible thing and have your animals spayed or neutered? We've done the legwork for you and gathered all the information you'll need to get your animals "fixed" conveniently and affordably.
If you're a Los Angeles resident, you're eligible for a reduced-fee coupon good for $30 off the cost of spaying or neutering your animal companion at participating veterinary offices, clinics, and mobile vans. Qualifying low-income residents may be eligible to have their animals sterilized for free.
Fill out the

online application

to get a free or discounted spay/neuter voucher from L.A. Animal Services now! 
Each household may claim discounts for up to three dog companions, three cat companions, and three rabbit companions. To qualify for a free spay/neuter surgery certificate, residents can present proof of income or sign a Low Income Affidavit (available at the shelter) identifying themselves as earning a low income. Get discount coupons and free surgery certificates online or stop by one of the six Los Angeles city animal shelters to pick one up in person:
East Valley Shelter
14409 Vanowen St.
Van Nuys, CA 91405
818-756-9323
South Los Angeles Shelter
1850 W. 60th St.
Los Angeles, CA 90047
323-565-2160
Harbor Shelter
957 N. Gaffey St.
San Pedro, CA 90731
310-548-2632
West Los Angeles Shelter
11361 W. Pico Blvd.
Los Angeles, CA 90064
310-207-3266
North Central Shelter
3201 Lacy St.
Los Angeles, CA 90031
213-485-5767
West Valley Shelter
20655 Plummer St.
Chatsworth, CA 91311
818-756-9325
Veterinarians across the city accept free spay and neuter certificates (vouchers) and reduced-fee coupons. Check out this list of just some of the participating veterinary hospitals—and call today to schedule an appointment:
Angelus Pet Hospital
5846 San Fernando Rd.
Glendale, CA 91202
818-241-8333
Beverly Virgil Animal Hospital
(accepts $30 voucher only)
3363 W. First St.
Los Angeles, CA 90004
213-387-3388
Highland Park Animal Hospital
(accepts $30 voucher only)
5210 York Blvd.
Los Angeles, CA 90042
323-254-6868
North Figueroa Animal Hospital
5550 N. Figueroa St.
Los Angeles, CA 90042
323-258-8068
Animal Health Care Center
(accepts $30 voucher only)
5211 El Verano Ave.
Los Angeles, CA 90041
323-258-2122
Eagle Glen Veterinary Clinic
(accepts $30 voucher only)
4305 Eagle Rock Blvd.
Los Angeles, CA 90041
323-256-0405
LA Central Animal Hospital
220 West Ave. 26
Los Angeles, CA 90031
323-225-4228
Looking for spay/neuter help in Los Angeles County? Find out how to get a coupon for a low-cost surgery here
.
Mobile Clinics
Since so many clinics offer spay/neuter surgeries throughout the city, it's easy to find a place and time that works for you and your animals.
In addition to the city voucher program, low-cost and free surgeries are available at many mobile clinics in Los Angeles. Check out these organizations' spay/neuter calendars and book an appointment today! You can also download this monthly calendar of mobile spay/neuter clinics as well as info on the city voucher program and participating veterinarians.
Cats
Whether they're socialized or feral, all cats are domesticated and depend on humans for food, shelter, veterinary care, and protection.
Los Angeles' spay/neuter law means that fewer cats will be born only to end up struggling to survive on the urban jungle's mean streets. Speeding cars, cruel people, attacks by predators, scarce food and water, poisons, contagious diseases, and untreated injuries are just a few of the deadly dangers cats face—and often die from—when they're abandoned to live outdoors. On their own, their lives are harsh and short—a constant struggle to survive, followed by an early, often painful death. The life expectancy of cats who live outdoors is just 1 to 5 years, compared with 12 to 20 years for cats who live indoors.
Groups and individuals who sterilize cats and then put them back on the streets prevent them from breeding but sentence them to terrible hardship, suffering, and a terrifying death.
And cats who are allowed to roam outdoors take a massive toll on vulnerable wildlife species who are already struggling to survive habitat loss and other challenges. One study estimates that free-roaming cats kill up to 26 billion birds and mammals every year and are by far the biggest agent of human-caused deaths for birds.
Instead of re-abandoning cats outdoors, we can work to end feline homelessness 

at the root by ensuring that

 all cats are spayed or neutered

and

kept indoors

.
Dogs
Stray dogs are as much of a fixture in Los Angeles as palm trees and celebrity sightings, but the city's spay/neuter law is helping change that.
Many homeless dogs are unneutered males who have slipped out of homes or yards in search of a mate, and they're often hit by cars or injured in fights with other dogs.
If you see a stray, always stop and help—you may be the animal's only chance of survival. It's also vital to get strays off the streets before they can mate and create even more unwanted animals. Be sure not to let the animal out of your sight, and call Los Angeles Animal Services right away at 888-452-7381 to ask for help.
Carry an emergency kit containing a towel, a slip leash, water, a bowl, smelly treats, and a pop-top can of wet food (to entice skittish animals to come to you). Stray dogs are usually frightened, so speak in a soft voice and avoid chasing them or making sudden movements.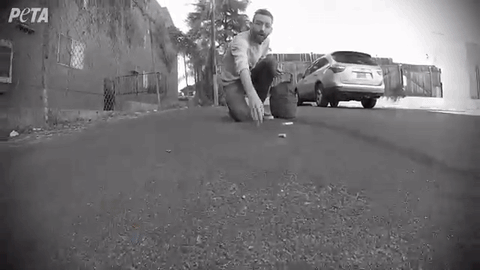 Once the animal is secured, check for injuries and identification tags. The dog may have a microchip from which his or her guardian's information can be retrieved, so ask your local veterinarian's office to do a scan if there are no tags. If he or she has tags or a microchip, call the number that's listed and arrange a reunion. Encourage the dog's guardians to have the animal spayed or neutered, if they haven't already, and direct them to this site for more information. You could even to offer to drive them to their appointment or help cover the cost—remember, every sterilization prevents countless unwanted animals from being born.
If the dog has no tags or appears to be injured, abused, or neglected, rush him or her to the nearest shelter.

Remember: If you don't stop to help, who will?
Rabbits
Rabbits are the third most frequently abandoned animals at shelters, but—just like with dogs and cats—spaying and neutering can help reduce the number of homeless ones.
Rabbits are social creatures with gentle natures and individual personalities, and they need just as much attention as a dog or cat would. Although most don't like to be held or cuddled, they do love to exercise and play. They can become withdrawn and depressed if not provided with plenty of love and companionship.
Rabbits can get along with dogs and cats if they're all safely socialized. And just like dogs and cats, they should be spayed or neutered to help bring down the number of homeless animals flooding into shelters. Not only does sterilizing your rabbit greatly reduce their chance of getting certain types of cancer, it can also decrease spraying and territorial behavior. Plus, it can even make litterbox training your new companion easier!
These animals are complex. They're often purchased on a whim, especially in the spring, and potential caretakers rarely understand their specific needs. Once the novelty has worn off, many rabbits are neglected, relegated to outdoor cages, left at shelters, or simply turned loose outside, where they have little chance of surviving.
Rabbits can live up to 10 years. They require specific foods, stimulating environments, and care from veterinarians who have specialized knowledge of their species. If—after careful consideration—you decide to welcome a rabbit companion into your home, remember to adopt, not shop! Visit your local open-admission animal shelter or rabbit rescue group and save a life.
   —Next Up—