PETA Rapid-Action:
Great Ways to Help Goats
Does your bleating heart yearn to help goats?
Goats form meaningful relationships and strong bonds with each other. As herd animals, they're happiest in the company of others and can become depressed if they're separated or isolated from their companions. They've even been known to wag their tails and jump for joy when they're especially pleased. Studies have shown that these clever individuals can distinguish human facial expressions and prefer to interact with people who appear to be happy.
But did you know that in the clothing industry, which exploits goats for mohair and cashmere, workers often pin them down and mutilate them with sharp shears or metal combs during rough and hurried handling? Goats are also exploited on farms around the world for milk and meat.
You can take action to help goats today. Keep reading to learn more and discover what you can do.
Goats Suffer for Mohair and Cashmere
One PETA Asia investigation found that countless goats endured a violent and bloody shearing process for mohair. Workers dragged them by the legs, threw them across the floor, and haphazardly mutilated them with knives and pliers.
A separate PETA Asia investigation into the cashmere industry in China and Mongolia—the world's top cashmere exporters—revealed extreme cruelty to and violent killing of cashmere goats. Any goats deemed no longer profitable were subjected to slow, agonizing deaths.
At a slaughterhouse in China, eyewitnesses saw workers hit goats in the head with a hammer in an attempt to stun them. In Mongolia, workers were seen dragging them by one leg onto the slaughterhouse floor before slitting their throats in full view of other goats. They were left to bleed out on the filthy kill floor, and some were seen still moving a full two minutes later.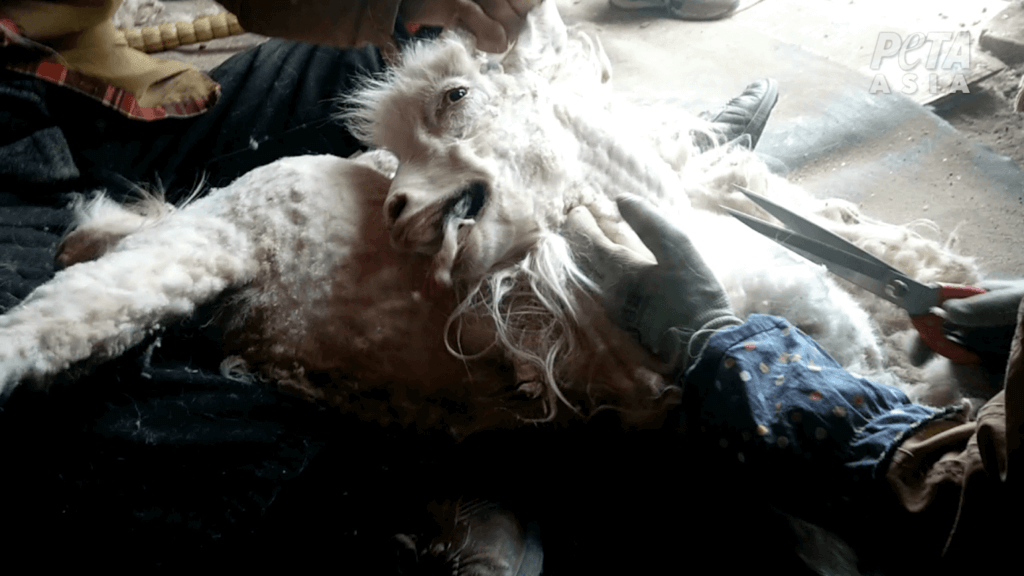 Heifer International sells goats and other animals online as gifts to marginalized communities. The pictures on the organization's website make it seem as if the animals become treasured members of human families, but as a 2018 PETA and Sentient eyewitness investigation showed, this depiction can be very misleading.
A PETA and Sentient observer who traveled to Rajasthan, India, to see how goats were being cared for in areas where Heifer International's program operates documented neglect and abuse, among other appalling findings.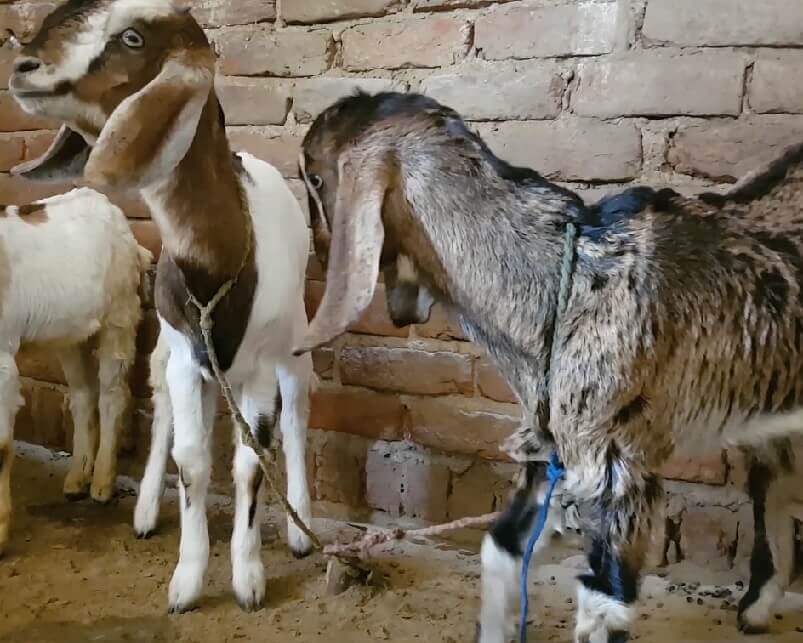 Goats in Rajasthan were found suffering from conditions that included an infected udder, a fractured leg, and a maggot-filled wound—none of which were properly treated. Goats were kept in crowded pens or tied up with ropes so short that they could hardly move. Some villagers forced sticks into baby goats' mouths to prevent them from drinking their mothers' milk, which was taken away for human consumption, and male goats were pinned down and castrated without painkillers.
In the U.S., animal auctions sell goats and other animals as though they're objects. At these events, feeling individuals are peddled to the highest bidder, who sometimes takes them for slaughter or uses them in "canned hunts," in which they're penned in with no way to escape. These vile auctions are also a hub for roadside zoo operators and other seedy animal dealers, and they keep the exotic "pet" trade alive.
Take Action With PETA:
Help Goats Now
Goats communicate through vocalizations called bleating, which allow them to express emotions and be identified by others. Each goat has a distinct call, which helps mothers recognize their kids. As natural problem-solvers, goats can learn new skills by watching others. These goal-oriented animals are notably good at figuring out how to open gates and access hard-to-reach food, such as by standing on their hind legs to reach tree leaves.
These amazing animals need your help. PETA makes it quick and easy to take action for them.
As soon as you take one action or pledge below, another will automatically appear in its place.
Just enter your information once, then keep clicking the "Send Message" button until you've completed them all. Once you've taken every action, be sure to share this page with your friends, family members, and social media followers. Encourage them to join you in taking action to help goats.