PETA Joins the 'Chicken Wars' with Super Bowl 'Fight the Bite' Commercial
As football fans are prepping for their game day halftime parties, PETA's joining the "chicken wars" with "Fight the Bite," a new Super Bowl commercial depicting chickens fighting back to remind those who would eat them that they're sentient individuals—not a halftime snack.
Ad Credits
AGENCY: CARL DRAKALSKI
Creative Director: Christian Carl
Creative Director: Dushan Drakalski
PRODUCTION: GOLDEN
Directed by: Fons Schiedon
Managing Director: @matthewdmt
Executive Producer: Pierre Nobile
Producer: Abi Perl
Cinematographer: Joe Picard
Editor: Volkert Besseling
Sound Design / Mix: @soundsred
PETA's "Fight the Bite" reminds us that every

chicken wing

, sandwich, or drumstick cost the life of a thinking, feeling individual.
The spot will air on sports channels and during pregame programming, including nationally on ESPN, on the NFL Network in Cincinnati and Los Angeles, and on CBS and NBC in Las Vegas, which is the hometown of Shaquille O'Neal's Big Chicken chain. The ad will also run in Spanish on Telemundo Las Vegas during pregame programming and nationally on ESPN Deportes the week leading up to the Super Bowl.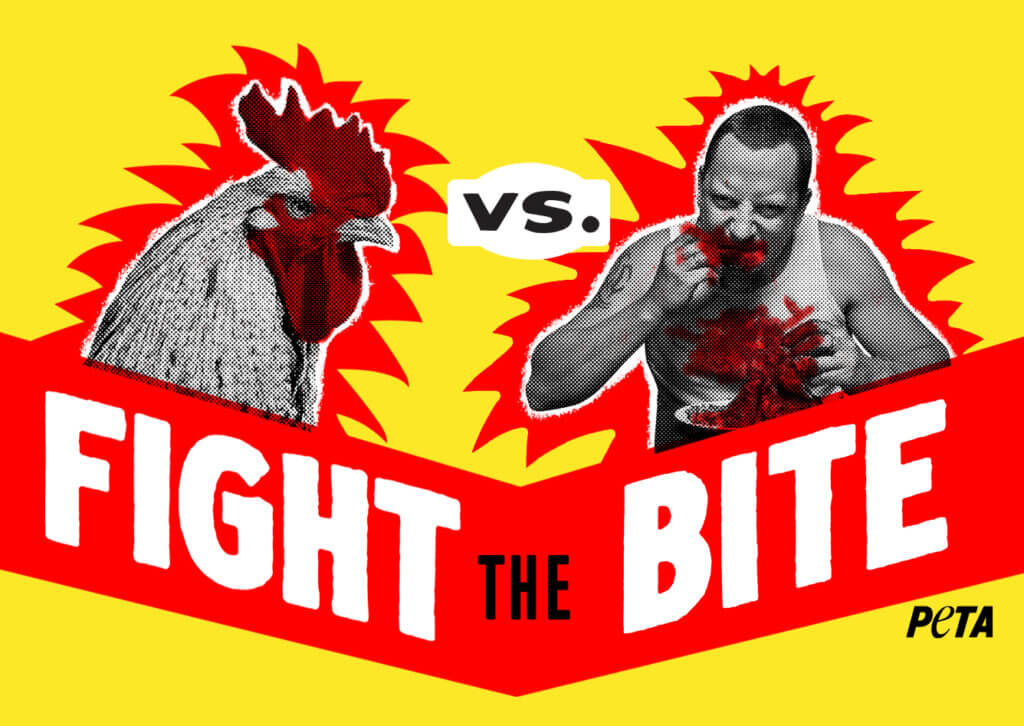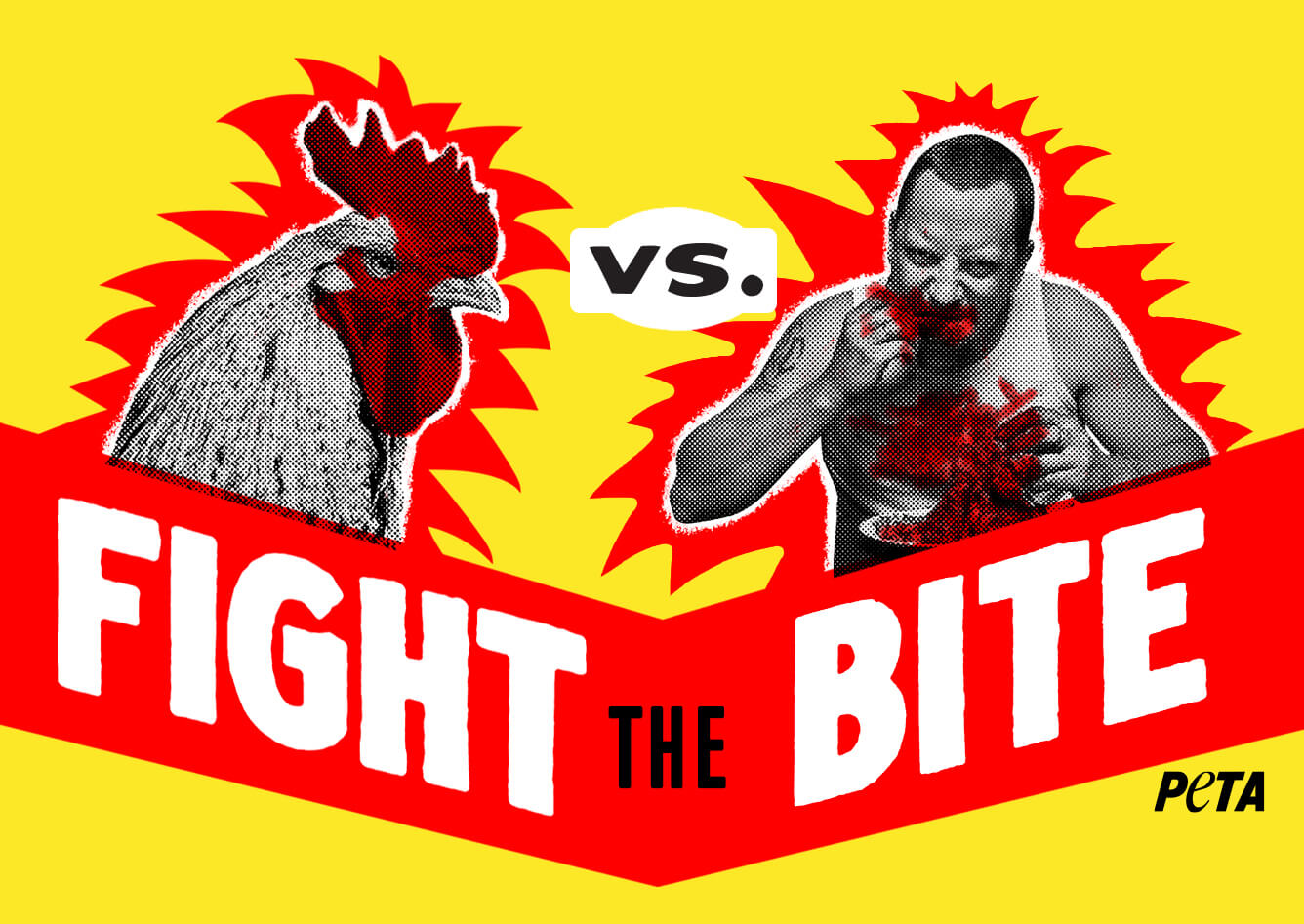 PETA Tackles Chicken Chains Ahead of Super Bowl
As part of the campaign, PETA will give away KFC's Beyond Fried Chicken in nine cities and will protest at Wingstop and Buffalo Wild Wings locations across the U.S. Shaq's Big Chicken restaurant chain promised years ago that it would add a vegan option—and it looks like it's getting close! As a final push, PETA's "chickens" will also be outside the celebrity's restaurants in Glendale, California, and Las Vegas and will make an in-chicken plea to Shaq to spare their lives by adding vegan options as soon as possible!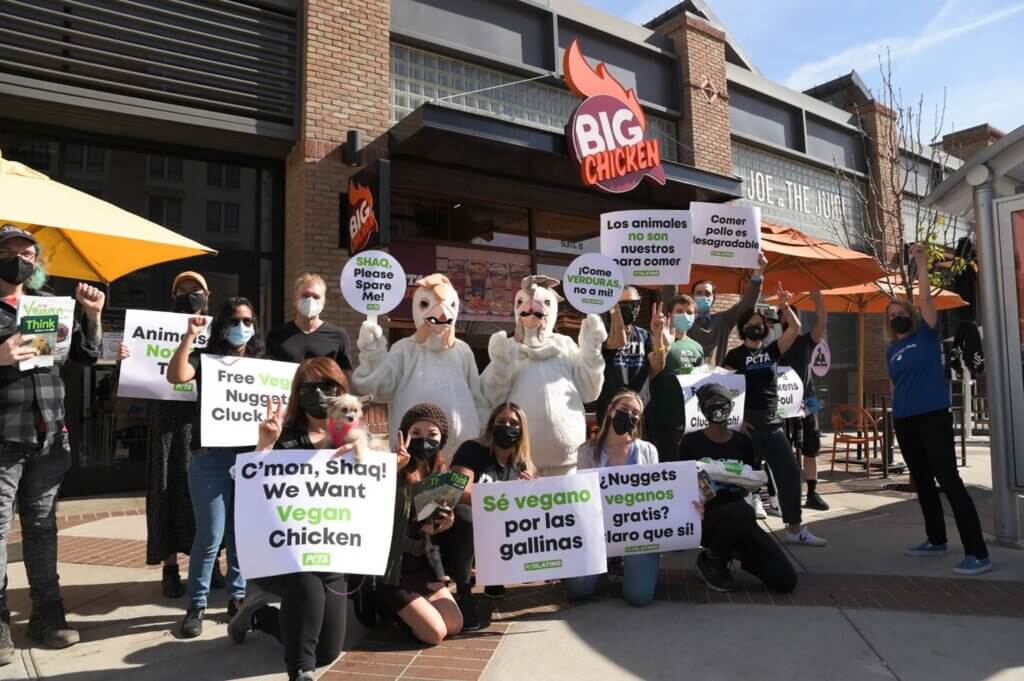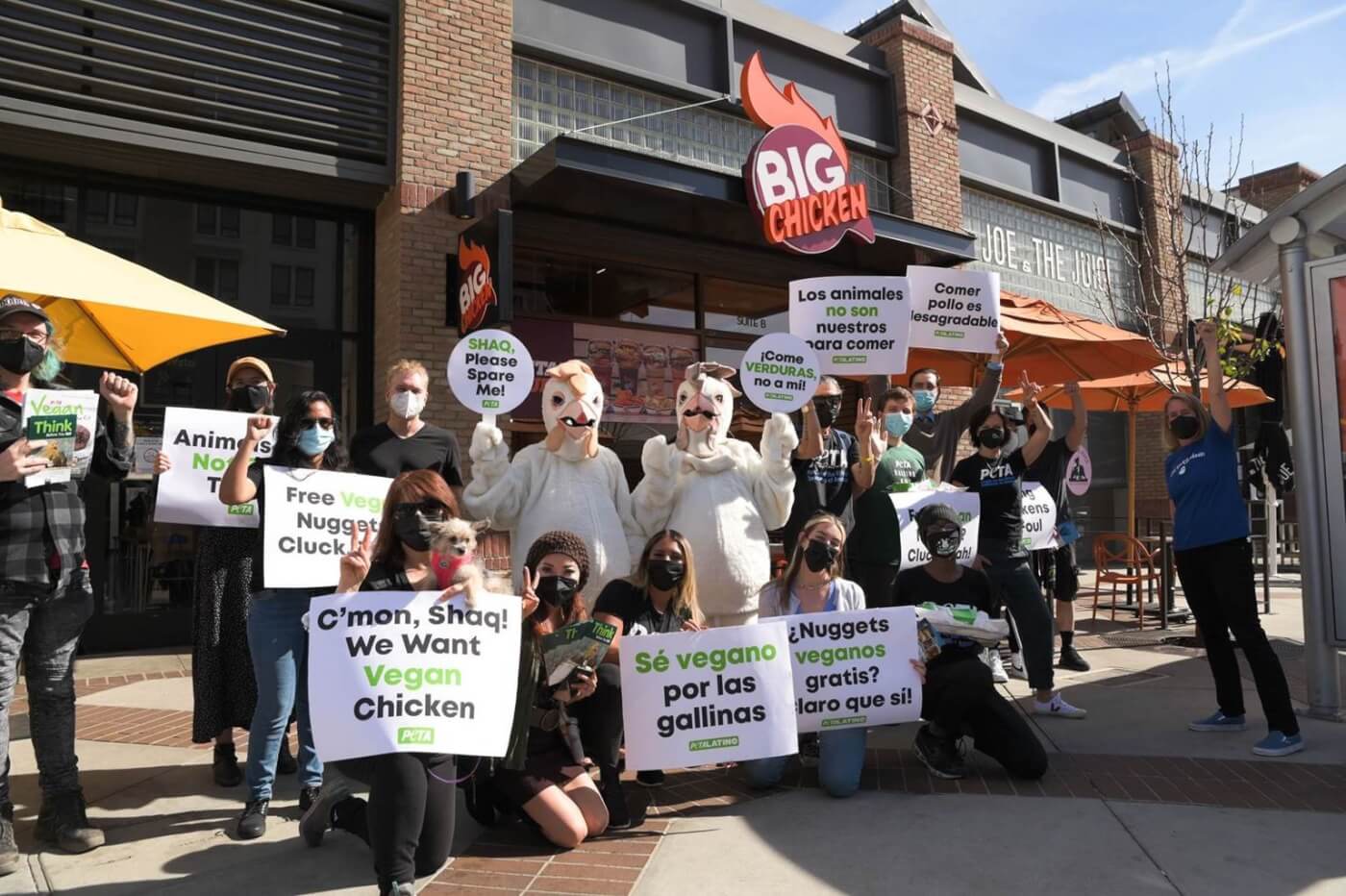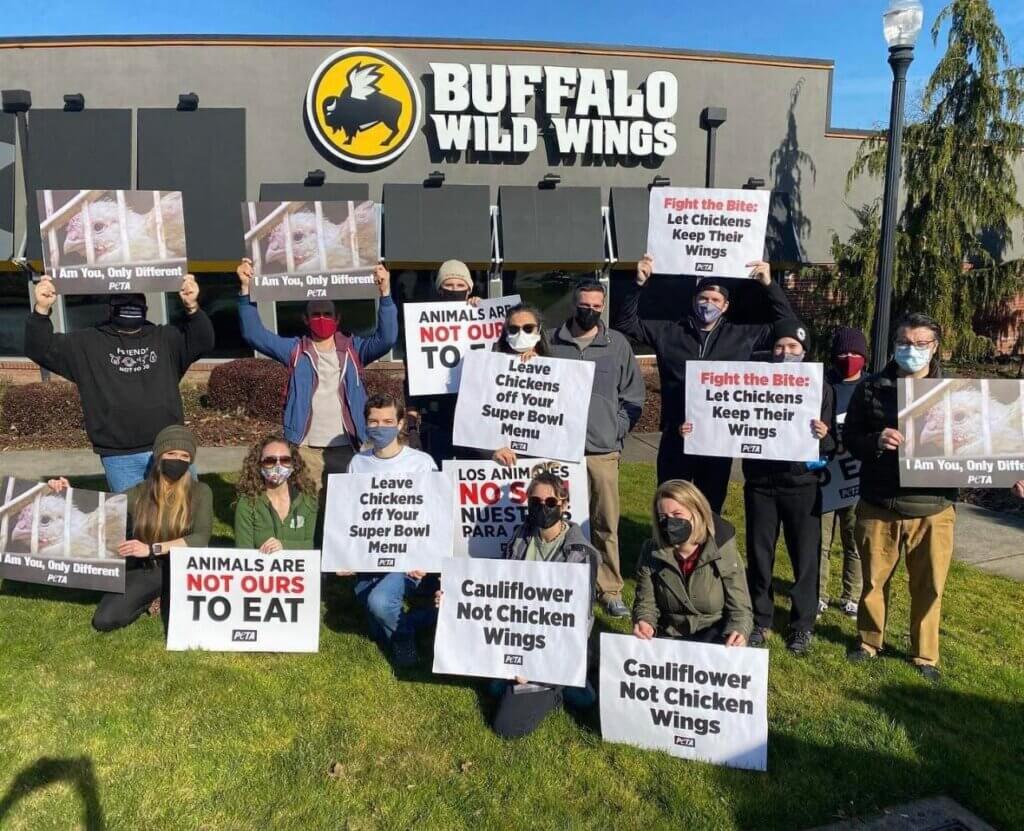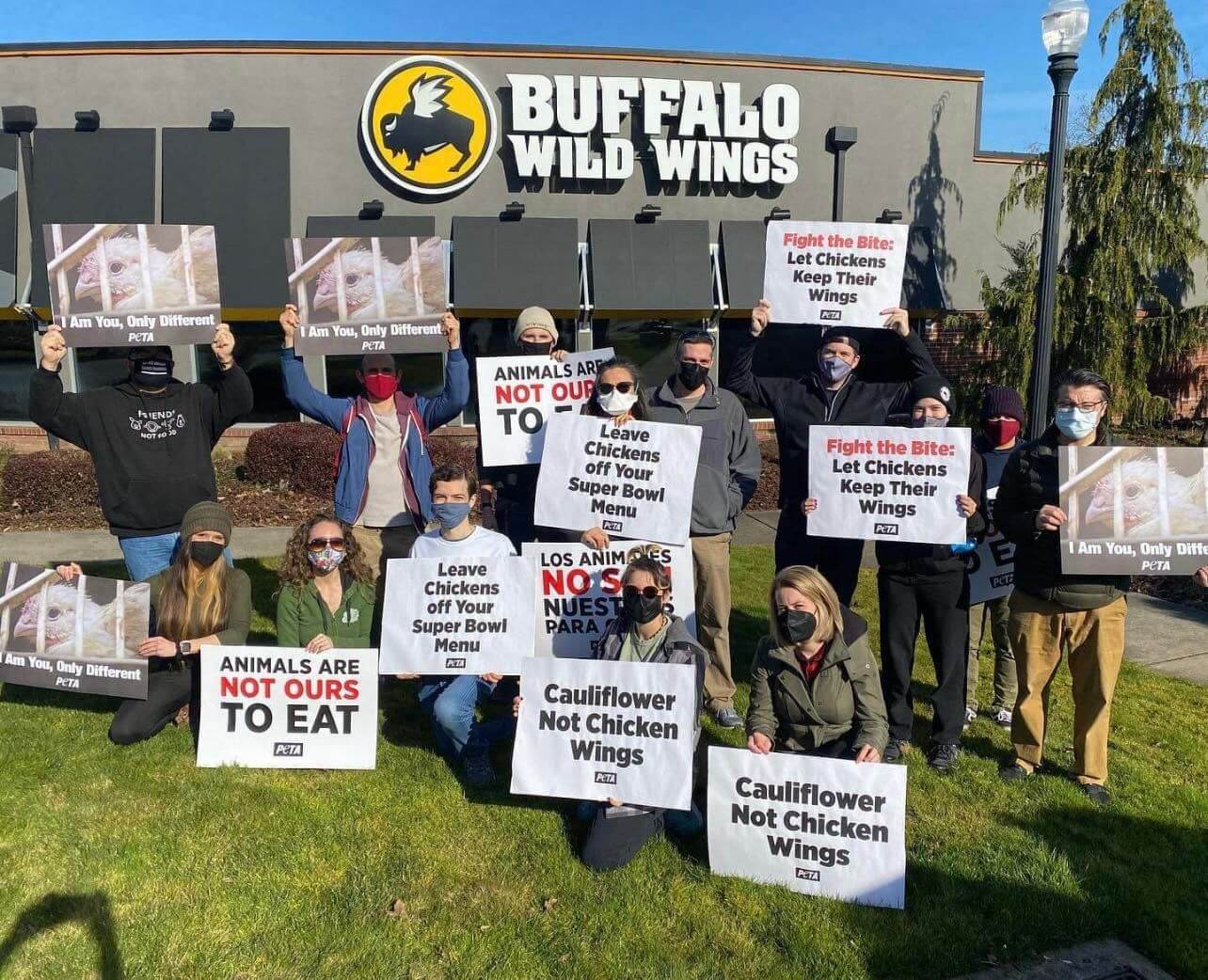 You can also spot our pro-vegan billboard in metro Los Angeles on I-405, which can be seen by traffic heading toward SoFi Stadium.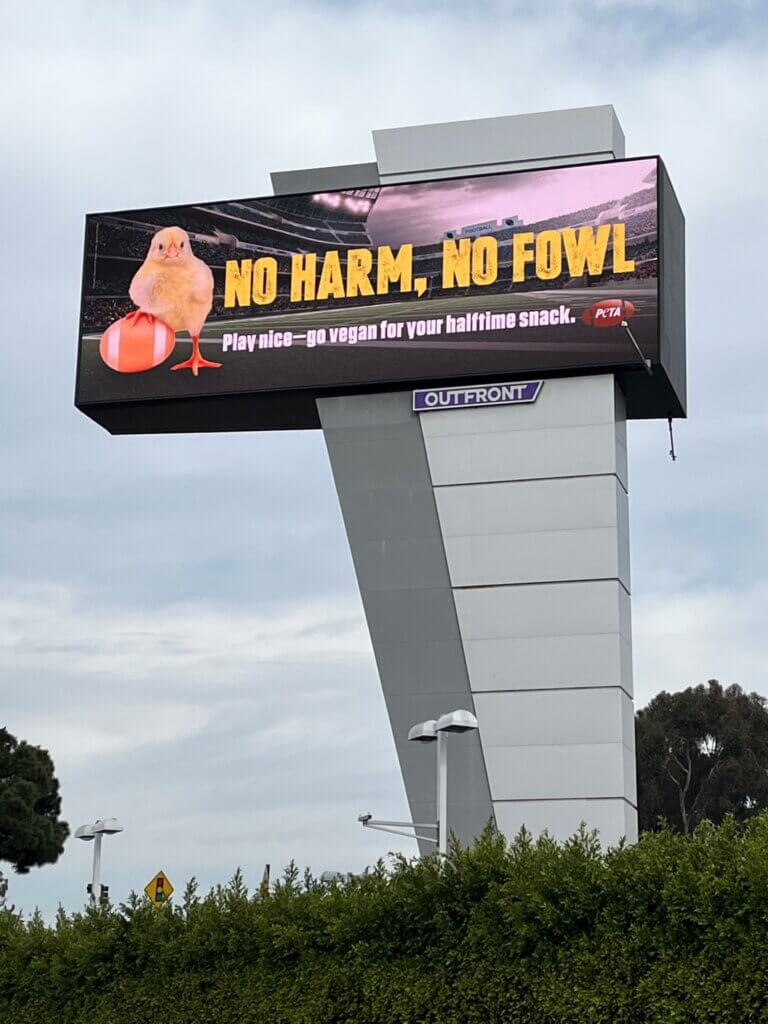 Find Super Bowl Fare—Without the Fowl
With so many tasty vegan chicken options on the market today, there are countless ways to satisfy your cravings.
And get this: We've partnered with meal delivery service MealMe, which is sending out notifications for vegan chicken wings with this message: "Go vegan this Super Bowl. Promo code VEGANWINGS for $1 off. #FightTheBite."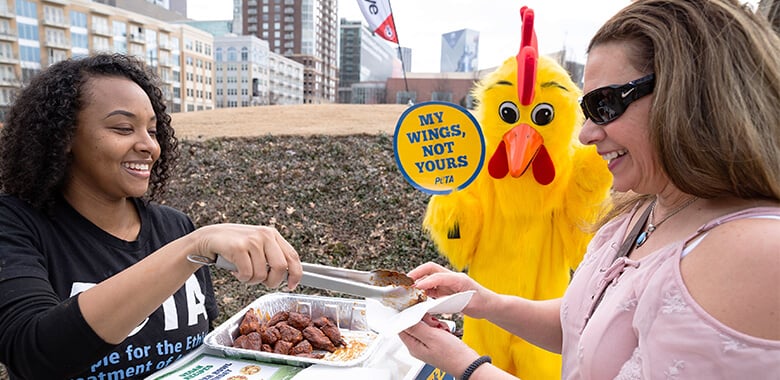 Your grocery freezer aisle offers several tasty vegan chicken wings, too, including those from Gardein and Field Roast. You can find plenty of options at Gelson's, Kroger, Target, Walmart, and other grocery chains. And get some gear to amplify the animal-friendly message while cooking up your wings, like these "Let Birds Keep Their Wings" pot holders.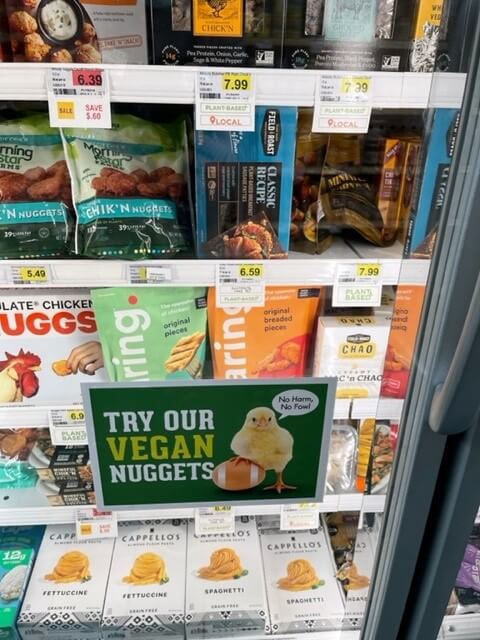 If you're going to the big game, numerous Los Angeles–area restaurants offer vegan chicken wings, including Doomie's Home Cookin', Drippin' Wangz, Sage Vegan Bistro, Love Baked Wings, Jackfruit Cafe, Centric Eats, Vegainz LA, Compton Vegan, and Hot and Cool Cafe. Look for PETA's "No Harm, No Fowl" sign at these restaurants, where you can dig into some of the tastiest meat-free fare there is.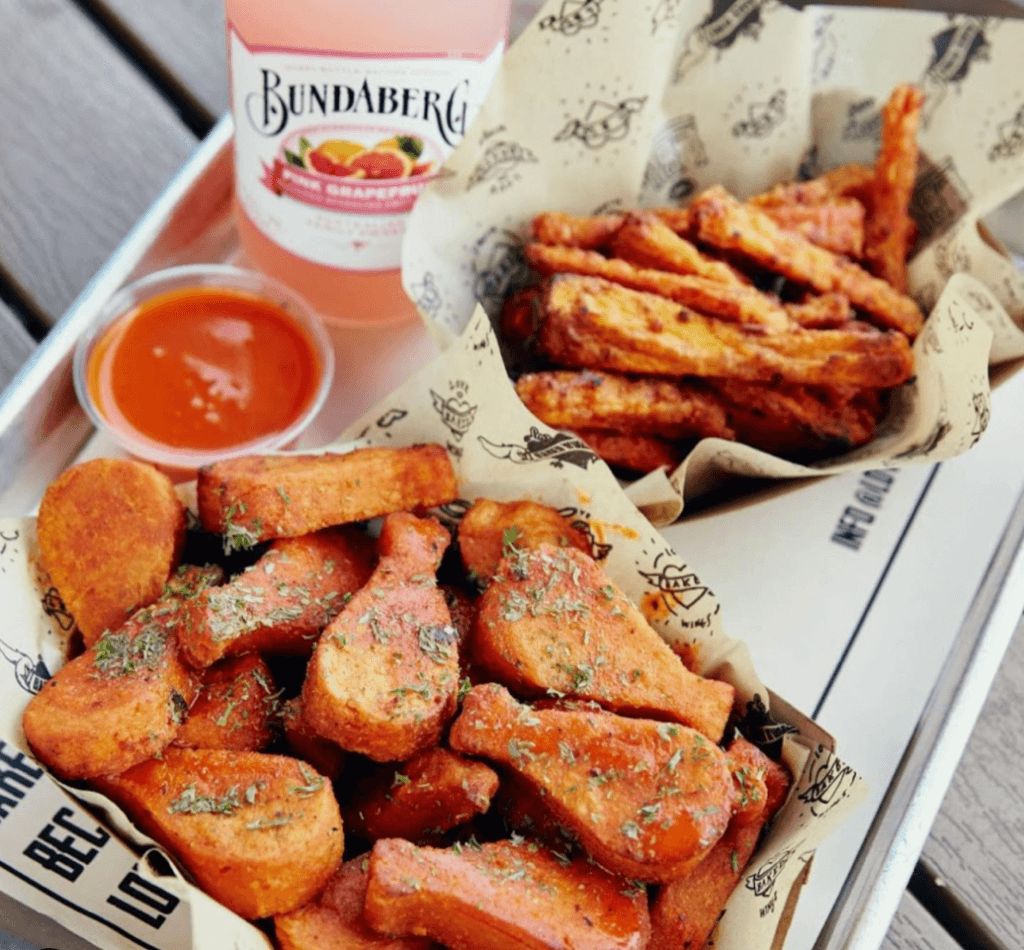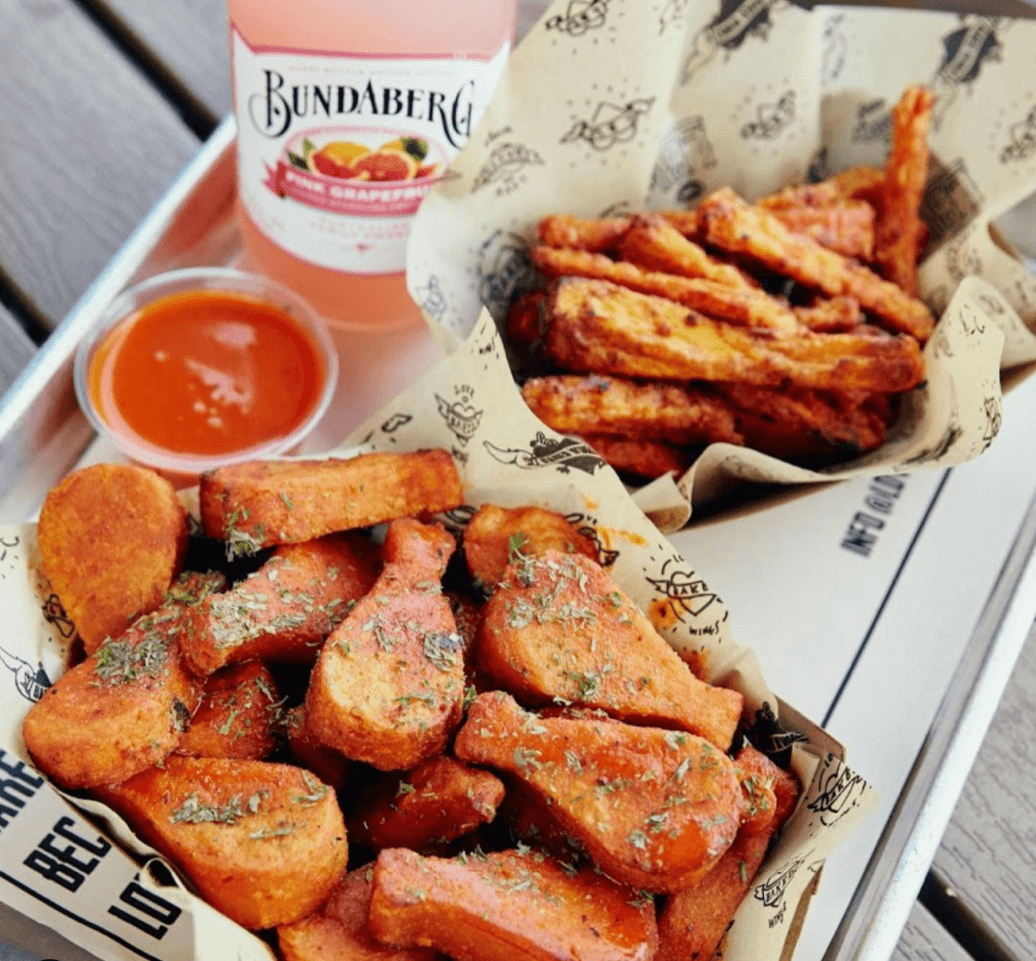 Why Should You and How Can You 'Fight the Bite'?
In 2021, humans consumed roughly 1.4 billion chicken wings—that's at least 350 million individual chickens—during Super Bowl weekend alone. Chickens killed for their flesh are crammed by the tens of thousands into filthy sheds and bred to grow such unnaturally large upper bodies that their legs often become crippled under the weight. Even those labeled "organic" or "free-range" suffer at the slaughterhouse, where their throats are cut, often while they're still conscious, and many are scalded to death in defeathering tanks.
Going vegan is the single best thing you can do for animals, and it's great for your health and the well-being of our planet. Get started by ordering our free vegan starter kit today, and join us in the "Fight the Bite" campaign:
Now that you're ready to enjoy a delicious vegan halftime snack, be sure to share this page with your family, friends, and social media followers. Encourage them to #FightTheBite by leaving chickens off their plate.