—PETA 2019—
Top 10 Vegan-Friendly Cities
Vegan eating is exploding in popularity all over the U.S., as more people discover how it helps the Earth, benefits human health, and saves countless animals. New vegan and vegan-friendly restaurants are popping up everywhere. From sprawling metropolises to small towns, businesses are updating their menus with exciting animal-free options—which isn't surprising, considering that the number of vegan Americans has increased by 600% in just three years, according to research firm GlobalData. In fact, The Economist dubbed 2019 "the year of the vegan." Just ask folks in Dallas, Orlando, and Tulsa—all three cities are debuting on our annual list.
 This year, San Francisco took the top spot. PETA's "Lettuce Lad and Lady" helped celebrate the city's accomplishment with a ride on its iconic cable cars.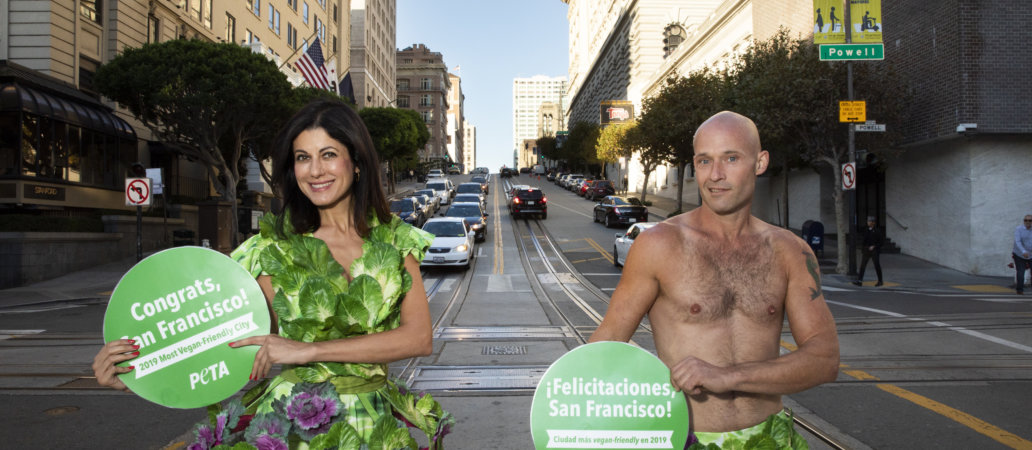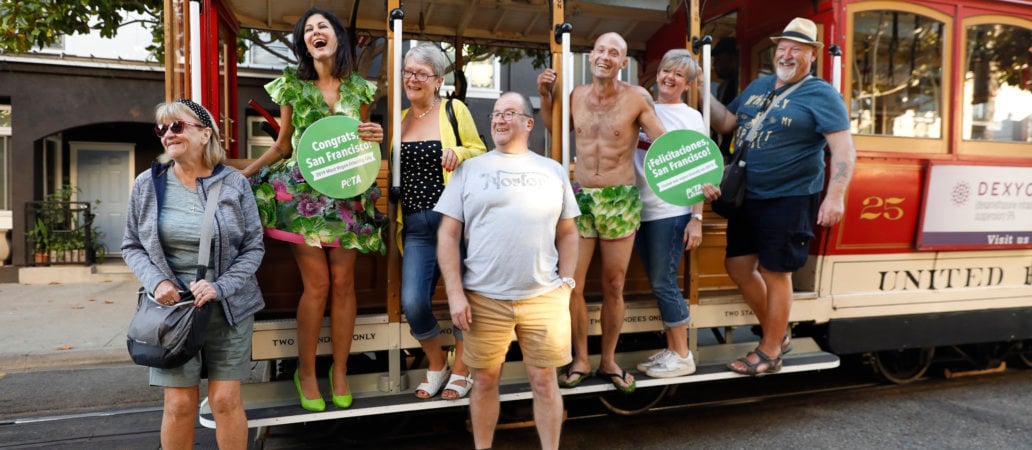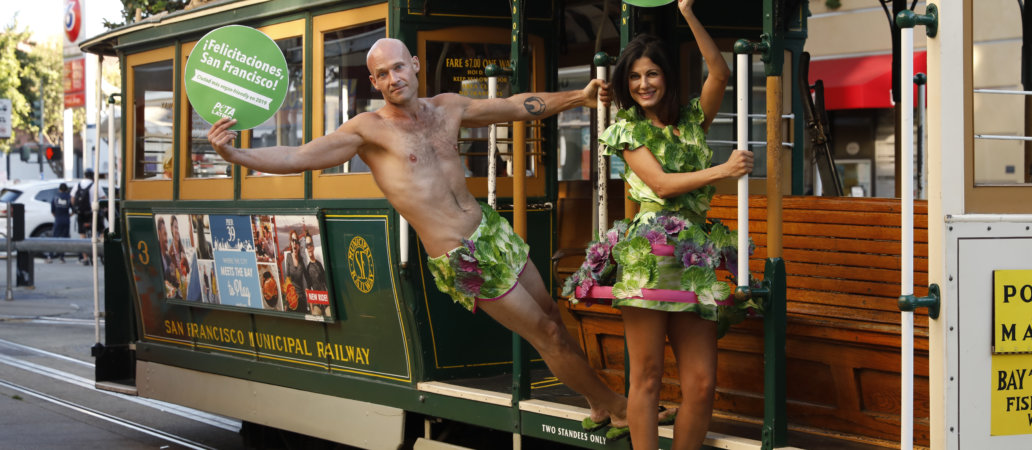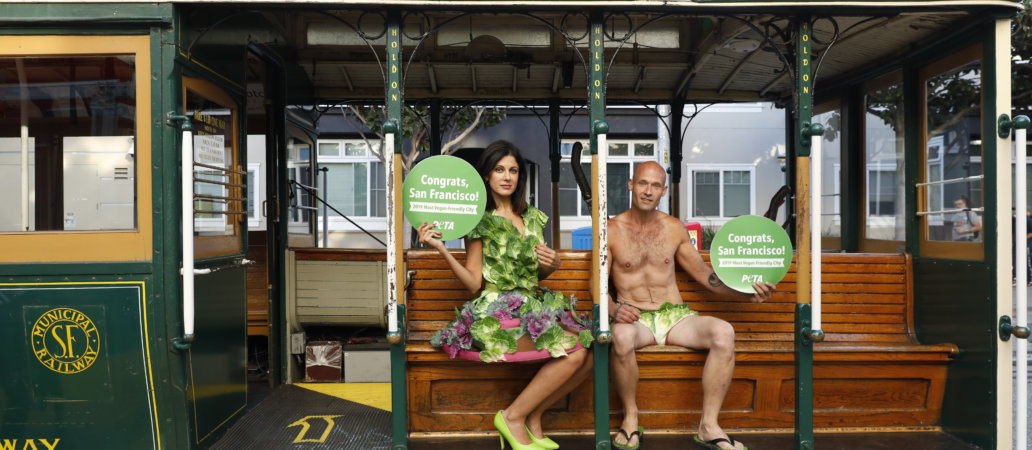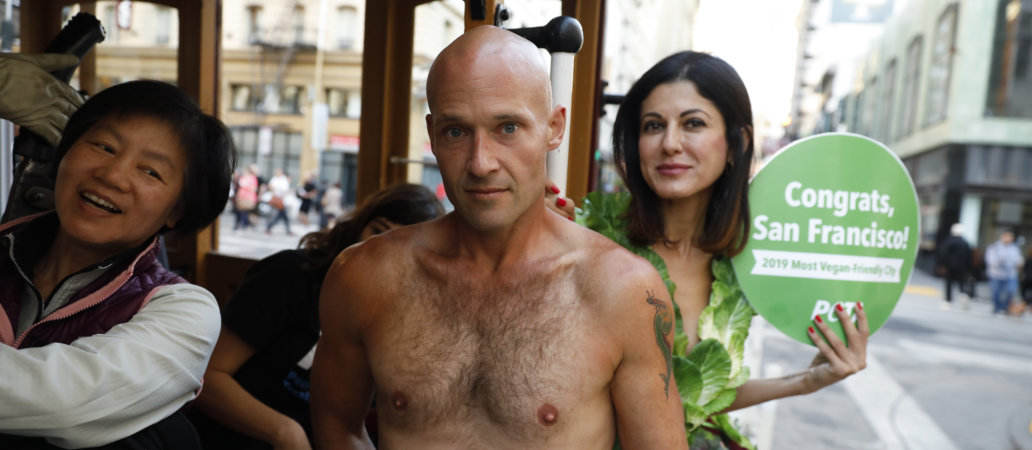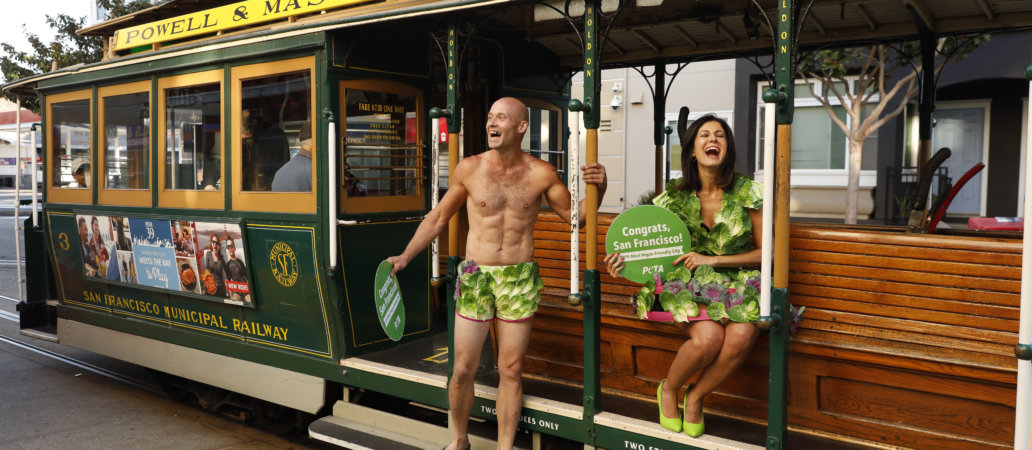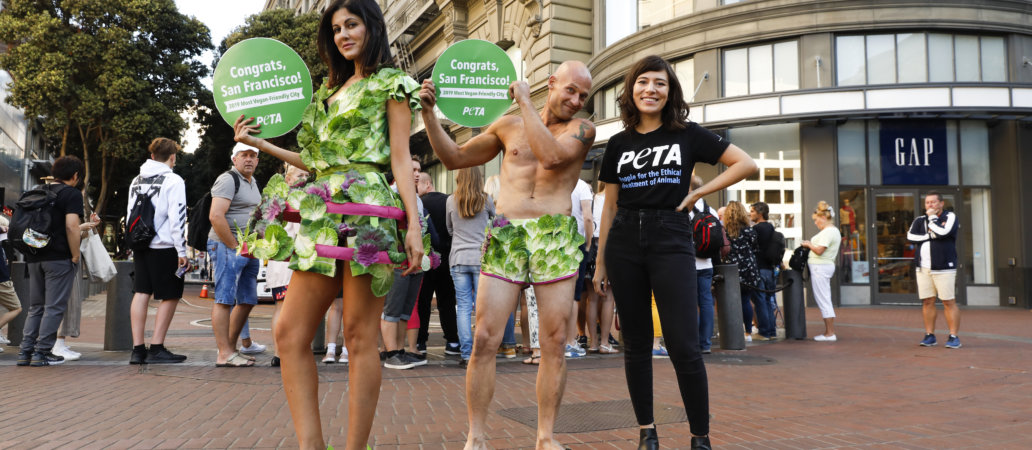 Read on to get the dish on the tastiest vegan eats across the country!
No matter what neighborhood you find yourself in, you'll discover that in San Fran, you're likely no more than a few steps away from an animal-friendly place to eat.
New to the City by the Bay is Goldie's Vegan Deli, a Jewish delicatessen startup that offers tantalizing miso matzah ball soup, cashew-based cream cheese, "tuna" salad made with hearts of palm and chickpeas, and lox made of carrots (charmingly called "Goldielox").
Wildseed is also new on the scene, in a space that was once a sausage-and-beer restaurant. The eatery serves only vegan fare, including mushroom ceviche, mushroom "meatball" masala, Beyond Sausage paella, and poke made from beets. And you'll definitely want to pop in at the newly opened Vegan Mob in Oakland, which dishes out smoked vegan brisket, vegan BBQ fried shrimp, and its craveable Smackaroni.
View this post on Instagram
View this post on Instagram
One of the city's mainstays is Shizen, where you'll fall in love with the restaurant one vegan cream cheese–smothered Philadelphia roll at a time. VeganBurg is home to SF's greatest vegan burgers, including bestsellers like the Avocado Beetroot and Creamy Shrooms burgers. (Don't forget to add a vegan egg or some faux bacon for that extra "wow" factor.) And who could forget Wholesome Bakery, where all the ingredients—like the jackfruit carnitas in the hand pie—are seasonal and fresh every day. CyBelle's Front Room has got you covered when it comes to vegan beignets, and it even has a vegan Bubba Gump Shrimp Pizza—complete with cashew pesto red sauce, Violife parmesan, cashew cheese, and lemon pepper vegan shrimp.
If you're venturing into other Bay Area cities, don't make the rookie mistake of missing out on Berkeley's The Butcher's Son, an all-vegan delicatessen that serves up some of the best animal-free Buffalo fried mozzarella sticks, steak-and-cheese hoagies, and cold cuts. In Oakland's Rockridge neighborhood, you'll find Millennium Restaurant, one of the top vegan restaurants in the world, according to The Bold Italic. After you savor Millennium's Asian Pear, Ginger, & Soy Glazed Tempeh, you'll understand why Michelin bestowed it with the Bib Gourmand award in 2016.
Since you're making a list, include Anchor Brewing in your stops—it's a vegan-friendly brewery that boasts San Francisco's best brewery tour. If the season is right, take in a Giants game at Oracle Park, too, where you can munch on vegan franks and burgers, gelato, nachos, and other animal-friendly ballpark favorites. The park was even listed in fourth place among our top 10 vegan-friendly Major League Baseball ballparks earlier this year.
View this post on Instagram
View this post on Instagram
Wind down your Bay Area adventure with something sweet, like the vegan cakes or sweet toasts from Nourish Cafe. There are two San Francisco locations, so you'll never be far from the café's fruit tartlets, chocolate mint cream bars, or piña colada upside down cake. Or stop in at the all-vegan Donut Farm and choose from one of the signature flavors, like orange creamsicle, salted caramel, or Mexican hot chocolate. Anada Fuara has great mint cookie gelato made with coconut milk, and at Curbside Creamery, you can indulge in vanilla bean vegan soft-serve. Need a caffeinated pick-me-up, too? Pop into one of the many Philz Coffee locations (a Bay Area favorite), where you can add soy or almond milk to your brew at no additional charge.
Already booking your flight to San Fran? Travelers can now stuff themselves at Amy's Drive Thru near Gate B6 of the San Francisco International Airport, where everything can be made vegan—including mac and cheese and milkshakes. San Francisco is really schooling the rest of the country on vegan eating: MUSE Global, an all-vegan elementary school founded by James and Suzy Cameron, is scheduled to open in September 2020.
Whatever you crave, L.A. has it. That's why it's a regular on the list every year and why pop singer Billie Eilish, actor Jessica Chastain, and the NBA's JaVale McGee love the city.
If you're flying in, stop by Real Food Daily at Terminal 4 in Los Angeles International Airport and grab The BTLA (tempeh bacon, avocado, lettuce, tomato, and mayo on seeded seven-grain bread) and a cup of Black Magic Lemonade (homemade lemonade infused with activated charcoal).
Speaking of black magic, the Black Magic Lasagna at Pura Vita is bathed in pesto and cashew cream sauce, and the baked vegan ricotta is to die for (except that no one had to!). Hungry for German food? Try the Wienerschnitzel (seitan cutlet) at Hinterhof German Kitchen and Beer Garden. Is Thai more your mood? Start with a bowl of Tom Kha (coconut, mushrooms, broccoli, tomato, lime juice, and herbs) at Lotus Vegan or My Vegan Gold. Want something homestyle? Try the vegan bacon cheese fries or "shrimp" po' boy at Doomie's Home Cookin'.
View this post on Instagram
View this post on Instagram
Other standouts include the panko-crusted piccata (chicken-free scaloppini with vegan garlic butter) at Moby's (yup, that Moby) Little Pine bistro, Thor's BBQ pie (braised jackfruit, pineapple, cilantro) at Purgatory Pizza, and the Sloppy Jack Sandwich at Jackfruit Cafe (which has a brick and mortar spot coming soon!). Looking for soul food? Seek out the Organic Soul Food Platter (yams, mac 'n' cheese, BBQ tofu, kale, black-eyed peas, and a cornbread muffin) at Inglewood's Stuff I Eat, or order some animal-free ribs or fried chicken from all-vegan catering company Compton Vegan.
View this post on Instagram
View this post on Instagram
It's easy to find delicious food in Los Angeles, as there's inspiration from all over the world. Check out the vegan options at Latinx-owned standouts such as Equelecuá Cuban Café and Señoreata. For superb Indian eats, try the vegan items at Samosa House West, which is home to Bharat Bazaar, one of the largest—and most vegan-friendly—Indian grocery stores in Southern California. For high-end, fish-free Japanese fare, Little Tokyo's Shojin doesn't disappoint.
Now, loosen your belt buckle for Krimsey's Cajun Kitchen's Voodoo Brownie Beignet—that's a brownie baked inside a beignet, because being vegan in the 21st century is amazing. And don't miss the vegan macarons at French patisserie Ladurée, which has gone fully vegan at its Beverly Hills location. Or try Crossroads' Dark Chocolate Cremeux (with peanut butter cream, roasted peanuts, Maldon salt, and pomegranate chia seeds).
It's a good thing the Big Apple is the city that never sleeps. If it did, there'd hardly be time to indulge in the wall-to-wall vegan goodness.
Noo Yawk without a bagel? Fuhgeddaboudit! Tompkins Square Bagels serves them with tofu-based cream cheese and vegan lox. For lunch, the young coconut ceviche (coconut meat, cashews, and cilantro) at Le Botaniste will make mouths water, then cap off all that gastronomic gallivanting with some vegan barbecue Buffalo wings or a Philly cheesesteak at Red Bamboo.
View this post on Instagram
View this post on Instagram
If you can, make room for Beyond Sushi's smoked jackfruit dumplings and Seasoned Vegan's "crawfish" in garlic basil sauce. (Take the 2 or 3 train to Harlem.)
Heading for Brooklyn? Good idea, because the borough's rocking. Here's a sample: Baba's Peirogies (which offers Tofutti sour cream for dipping), Modern Love Brooklyn (where you can try the Mac & Shews), Rip's Malt Shop (with fizzing soda floats and coconut cream and cashew ice cream), Screamer's Pizzeria (don't miss the almond parmesan garlic knots at its Crown Heights location!), Champs Diner (ask for the Mac Attack Bowl bowl—mac and cheese topped with grilled "chicken," seitan "bacon," and Buffalo sauce) …
View this post on Instagram
View this post on Instagram
… VSPOT (with Latin vegan and kosher food), and Boon Thai (home of the "Lovely Vegan" menu—nothing says "lovely" more than mock duck tamarind).
And start spreading the word: Beginning this school year, Meatless Monday has been expanded to all NYC public schools.
Portland can stay as weird as it wants, as long as that terrific vegan food keeps coming.
Besides finding good eats, you can get inked at the world's first vegan mini-mall and stop by Oak Barbershop, where all the products are cruelty-free, for a fresh cut.
If you like your pub food with a punk/metal backbeat, Black Water bar is a must. And be sure to dive into Sweet Hereafter, a bar dishing out a Field Roast burger on a pretzel bun with vegan rosemary cheese.
On a different note, Fall Out Boy drummer and fellow vegan Andy Hurley runs Oracle Coffee Company, which offers nondairy milks from Oatly, Califia Farms, and Pacific Foods.
View this post on Instagram
View this post on Instagram
Speaking of hot stuff, Homegrown Smoker's Spicy Ribwich Sandwich features chipotle maple glaze, grilled jalapeños, pickled hot peppers, and mango habanero sauce.
Cool off those burning taste buds with a vegan soft-serve twist cone while picking up bulk soycurls at Food Fight! Grocery, a 100% vegan grocery store in the aforementioned vegan mini-mall.
Here are some other suggestions in the Rose City: the Papa G's Ziz Zaz Zuz Dog (a Field Roast frank with Cultured Kindness cashew cream cheese), Rudy's Gourmet Pizza's Vegan Chik'n Bacon Alfredo pizza, Bye and Bye's Weeping Tiger Sandwich (tofu cutlets covered in miso mayo, jalapeños, and avocados), Fatsquatch's Ozark Wrap (BBQ soy curls with sweet-and-spicy slaw), and The Sudra's Chicken-less Tikka Masala Bowl (Beyond Meat Chicken, bell peppers, onions, and house sauce). And a must-have is Voodoo Doughnut's Voodoo Doll—filled with raspberry jelly, topped with chocolate frosting, and sporting a pretzel stake.
No question about it—Motor City is a big wheel when it comes to vegan eats.
Make your first stop Chili Mustard Onions—Detroit's (and the world's?) first all-vegan Coney Island–style eatery, serving up a vegan take on the classic Detroit Coney Dog (a veggie dog smothered in chili, mustard, and onions) along with gyros, Southwest Detroit Nachos that use waffle fries in place of the usual tortilla chips, and more. Next up is Detroit Vegan Soul, where the soul food is made from whole food. The Soul Platter—mac 'n' cheese, smoked collards, maple-glazed yams, black-eyed peas, and a cornbread muffin—is still rocking it, but the "catfish" tofu sandwich gets big props, too.
View this post on Instagram
View this post on Instagram
Woodbridge's Pie-Sci Pizza can make nearly any of its inventive pizzas vegan with homemade vegan meats and drool-worthy cashew cheese. Seasonal faves include the "Nacho Mama" nacho pizza with veggie beef crumbles, vegan chili-lime tortilla chips, and vegan queso or the vegan BLT with tofu-bacon and homemade vegan herb mayo. In nearby Hamtramck, Nosh Pit—which also has a completely vegan food truck—serves up its take on Buffalo "wings" (with fried jackfruit and seitan), homemade mac 'n' cheese, and much more.
At Old Shillelagh, the shepherd's pies are filled with a house blend of Beyond Burger, lentils, and a rich Guinness gravy. Detroit Restaurant of the Year, Ima, boasts vegan jicama tacos, curries topped with roasted tofu, vegan pho, and more. Viral popup Street Beet offers vegan takes on your fave fast-food guilty pleasures with its "Taco Hell" and "Detroit FAKE Chicken" events, Corktown's Brooklyn Street Local serves up vegan poutine, and catch southwest Detroit's first (and only!) vegan taco truck, Rocky's Road Brew, for its jackfruit al pastor or fried "chicken" tacos.
Fun fact: More than 30% of the restaurants in O-Town offer vegan options.
What's cooking at Dixie Dharma? The Florida Fried Green Tomato is—it's cut thick, deep fried, and served on Texas Toast with smoked eggplant remoulade, garlicky kale, and house-made chow-chow. Ethos Vegan Kitchen's pecan-encrusted eggplant is finished with red wine sauce and served with mashed potatoes and sautéed asparagus. Jacked Up Vegan offers both soy chorizo and Baja Fysh tacos, and Dajen Eats dishes—like jerk "chicken," Jamaican rice and beans, and the Hoax Tail—are packed with flavor. Enjoy local, organic food at Dandelion Community Café (we recommend the Buffalo 66—cashew-encrusted tempeh tenders with Buffalo sauce and vegan ranch dressing). Warning: Toasted's Vegan Fireball grilled cheese sandwich is packed with jalapeños and doused in Sriracha sauce.
But first, start the day with Leguminati's Foxtail Sandwich (tofu egg, rice paper bacon, and sliced vegan cheese on a toasted bun), Valkyrie Doughnuts' giant churro doughnut, or a bangin' brunch of vegan French toast casserole at The Sanctum Cafe.
View this post on Instagram
View this post on Instagram
Are theme parks more your speed? Don't worry! Disney World is one of the most vegan-friendly theme parks in the U.S., so drop in at Aloha Isle in Adventureland for a Pineapple Dole Whip soft-serve cone or park yourself at a food cart for a Mickey Mouse–shaped pretzel. It's also a universally known fact that Universal Orlando Resort has recently upped its vegan game: Guests can order Gardein Italian Saus'age spaghetti Bolognese at Louie's Italian Restaurant (just a few steps away from the Revenge of the Mummy ride), a Gardein Chick'n sandwich topped with Follow Your Heart cheese at The Burger Digs (a quick stroll from Jurassic Park River Adventure), and a Mummy Platter jackfruit sandwich at Classic Monsters Cafe.
New to the scene is HUMBL, with can't-miss dishes like the Meat Lover Pizza (topped with shiitake "bacon," fennel "sausage," macadamia ricotta, and cashew mozzarella) and the truffle aioli fries.
With the city's wide range of choices, "Big D" could be short for "Big Dining."
Got a taste for something South of the Border? El Palote Panaderia, Dallas' first all-vegan Mexican restaurant and bakery, has everything from tacos to tamales to a Mexican tofu cream cheese Danish. Or the recently opened Nuno's Tacos & Vegmex Grill has got you covered with its smoky chipotle jackfruit enchiladas. How about Tex-Mex/Hawaiian? Tiki Loco in Deep Ellum smothers its Smokin' Hawaiian "Steak" Poke Nachos in pineapple pico.
At D'Vegan, traditional Vietnamese dishes get a vegan spin. V-Eats Modern Vegan serves up country-fried  "steak" (deep-fried portobello mushrooms with mushroom gravy), Spiral Diner & Bakery dishes out The Triple Double (Beyond Burger patty with grilled cheese sandwiches as the bun), ITSO Vegan in Grand Prairie has a Nothing From the Sea Food Platter, Da Munchies settles the munchies with its vegan shrimp po' boy …
View this post on Instagram
View this post on Instagram
… and Bam's Vegan at the Dallas Farmers Market is big on Jackfruit Ropa Vieja with beans, rice, and fried plantain. Not to be missed is Sankofa Kitchen's Vegan Sankofa Platter with animal-free takes on crispy fried fish, chicken tenders, and fried shrimp. Or load up some Cheesey Fries at Trinity Hall with phony bacon, "beef" crumbles, gravy, ranch dressing, vegan sour cream, and Vegenaise. Vegan eating is booming so much in Dallas that even steakhouse Al Biernat's has expanded its menu to include vegan options like a Tofurky Italian sausage stack and a vegan cheeseburger.
Ready for dessert? You can't go wrong with the too-cool Skullette (a cupcake/doughnut hybrid) at Sugar Fang Vegan Bakery or a pistachio cannoli from Reverie Bakeshop in Richardson.
Vegans in the know are singing the praises of Music City.
How about BBQ jackfruit sliders or a Nashville hot chick'n sandwich (crispy seitan with chipotle mayo)? Get them at The Southern V. The Grilled Cheeserie does a vegan sammie—pair it with the coconut shake. Butcher & Bee's fire-roasted carrots are served with coconut cream, peanuts, and sambal onions. Vege-licious Cafe soaks its V-Licious Taters in house-made vegan cheese sauce and tops them with black-eyed pea salsa. The BE-Hive Deli Market makes mouthwatering meat-free meats like pepperoni and jalapeño-pineapple sausage that can also be found in The Fox Bar & Cocktail Club's pineapple jalapeño brat and The Wild Cow's French Quarter Dip (BE-Hive seitan marinated in Creole seasoning with au jus dipping sauce).
View this post on Instagram
View this post on Instagram
More taste-tempters include Sunda's shiitake edamame dumplings, True Food Kitchen's kale guacamole and cauliflower polenta, and Graze's Buffalo Chx'n Quesadilla and Vegasaurus smoothie (with kale, spinach, apple, banana, pineapple, alfalfa sprouts, and apple juice). Kick back at Two Boots Nashville for the Vegan Larry Tate Pizza topped with Daiya and vegan ricotta, then cool off with seasonal dairy-free ice cream flavors like Dutch apple pie at KOKOS.
Ready for a nightcap? Corsair Distillery makes whiskey from quinoa, and Bob Dylan's premium vegan whiskey is getting its own Nashville distillery in 2020. Take that, Jim Beam.
When vegan dining's on the ballot, The District is a capital destination.
It's been a year since Pow Pow went 100% vegan—dig into the Wu Banger (with orange fried "chicken," soy feta, and Sriracha cashews) or the Natalie Porkman (with sweet-and-sour pork seitan, grilled pineapple, and pickled onions).
 NuVegan Cafe's vegan crab cakes and ELife Restaurant's spinach casserole (with a side of nondairy cheese squash) will do a body good. So will Smoke & Barrel's vegan sampler (with wings, spare ribs, smoked tofu, chili, and slaw), Ben's Chili Bowl's Vegan Chili (with a hearty serving of TVP and "love"), the cauliflower steak at Logan Tavern, Busboys and Poets' vegan "chicken" stir-fry …
View this post on Instagram
View this post on Instagram
… and LEON's one and only LOVe Burger (a beetroot-soy patty with Carolina mustard-mayo and smoked gouda-style vegan cheese). One of the most recent additions to the veg scene, Fancy Radish, will tantalize your taste buds with its with its rutabaga fondue and spicy dan dan noodles.
For something a little—OK, a lot—sweeter, get a double scoop of dark chocolate truffle ice cream at Jeni's Splendid Ice Cream, the orangesicle shake at HipCityVeg, or the Cap'n Crunch doughnut from the soon-to-open Donut Run (D.C.'s first-ever vegan doughnut shop).
This is the first time an Oklahoma city has ever appeared on this annual list, and Tulsa is coming out swinging!
Brady Arts District staple Chimera is known for everything from its vegan doughnuts and pastries to The Camaro, a sandwich layered with BBQ-smothered tofu, spicy mustard, house pickles, and buffalo cauliflower wings. Head to JINYA Ramen Bar or Roppongi Ramen for vegan ramen options. Then there's Trenchers Delicatessen, a traditional deli that offers tofu scramble and an eggplant caponata sandwich. Still hungry? Lone Wolf Banh Mi's mouthwatering ginger fritter bánh mì with cilantro pesto (and the usual fixings), Chicken and the Wolf's vegan fried chicken sandwich, and The Local Bison's "crab" cake sandwiches, "Carolina Crusher" carnitas-style BBQ jackfruit sandwiches, and weekly vegan special will keep you satisfied.
Downtown's Elote Café & Catering offers jackfruit and sweet potato burritos and tacos, and nearby, The Vault serves up vegan pesto and avocado tofu scramble, fluffy vegan pancakes, and more. And don't forget Bakeshop Tulsa's award-winning vegan garlic mac and cheese …
View this post on Instagram
View this post on Instagram
… and vegan pastries galore! If you're looking for something on the extra-healthy side, Ediblend Superfood Cafe and Pure Food + Juice offer up dishes like raw nachos, street tacos, smoked vegetable burgers, taco salads, açaí bowls, and more.
For dessert, try Glacier Confection, which offers several types of vegan chocolates, including espresso and hazelnut flavors. And Antoinette Baking Company offers delicious baked goods such as vegan chocolate raspberry cake with raspberry jam filling and chocolate buttercream, vegan almond joy cake with coconut cream filling, and more.
Ready to dig into some compassionate cuisine?
Pledge to Go Vegan Today!
Planning a trip? For the best advice on keeping your travels animal-friendly, be sure to follow PETA on TripAdvisor.
 Lots of other cities could've made the list, but even if you don't live near one of this year's hotspots—or if you live in a food desert—it's easy as vegan pie to spare animals from suffering and eat well (and deliciously).