Meet the worst roadside zoo in America
Animals Driven Insane by a Real House of Horrors: Waccatee Zoo
Help Lil Trix the baboon and others suffering in Waccatee Zoo's roadside hell.
Update (September 15, 2022): New eyewitness reports, including from a private investigator hired by PETA, allege that Waccatee Zoological Farm is quietly moving animals out of the facility. The hellhole faces a PETA lawsuit alleging that it's failing to provide animals with adequate veterinary care, among other issues, and its apparently secret act seems designed to hinder our ability to collect evidence about the animals' conditions and advocate for any needed treatment.
According to the eyewitness reports, some animals were transported by Zootastic Park—another shoddy facility that has been cited for denying animals proper veterinary care, failing to maintain safe enclosures, killing rabbits by hitting them with hammers, and more.
In response, PETA has filed an emergency motion with the U.S. District Court for the District of South Carolina, seeking a court order that prohibits further transfers, requires Waccatee to account for the whereabouts and ownership history of the animals, and potentially imposes sanctions against the roadside zoo.
The U.S. Department of Agriculture (USDA) fined the outfit $7,800 for six alleged federal Animal Welfare Act (AWA) violations. Over two decades, the agency has cited Waccatee—which PETA calls "the worst roadside zoo in America"—for more than 100 violations of the AWA.
Update (December 23, 2021): On December 22, PETA and two concerned members of the public who had visited Waccatee Zoo, which PETA calls the "Worst Roadside Zoo in America," sent an official notice to the facility, warning of their intent to sue under the federal Endangered Species Act (ESA). The notice alleges that Waccatee mistreats lions, ring-tailed lemurs, and other ESA-protected animals and that the mistreatment of Lila the tiger and other ESA-protected animals led to their deaths. It offers the roadside zoo an opportunity to avoid the suit if it allows PETA to arrange the placement of animals at reputable facilities.
---
Original post:
The worst roadside zoo in the U.S. is a real-life house of horrors for animals who are trapped within its small, unkempt enclosures. At Waccatee Zoo in Myrtle Beach, South Carolina, animals are neglected and left to suffer in desolate conditions: filthy and small cages, inadequate veterinary care, and little to no stimulation. Inside the roadside zoo's compound, isolated, frustrated, and lonely animals exhibit alarming and repetitive behavior, indicating that they're being driven insane from psychological distress—all for the sake of human amusement.
Distressed, Isolated Animals Harm Themselves
Much like the archaic "insane asylums" that were deemed inhumane, Waccatee confines many animals to extremely small spaces with little to do and virtually no opportunities to socialize. These conditions have taken a serious toll on their mental well-being.
Day after day, a baboon named Lil Trix repeatedly sways back and forth, and another named Handsome often rolls his head back and forth and circles in place.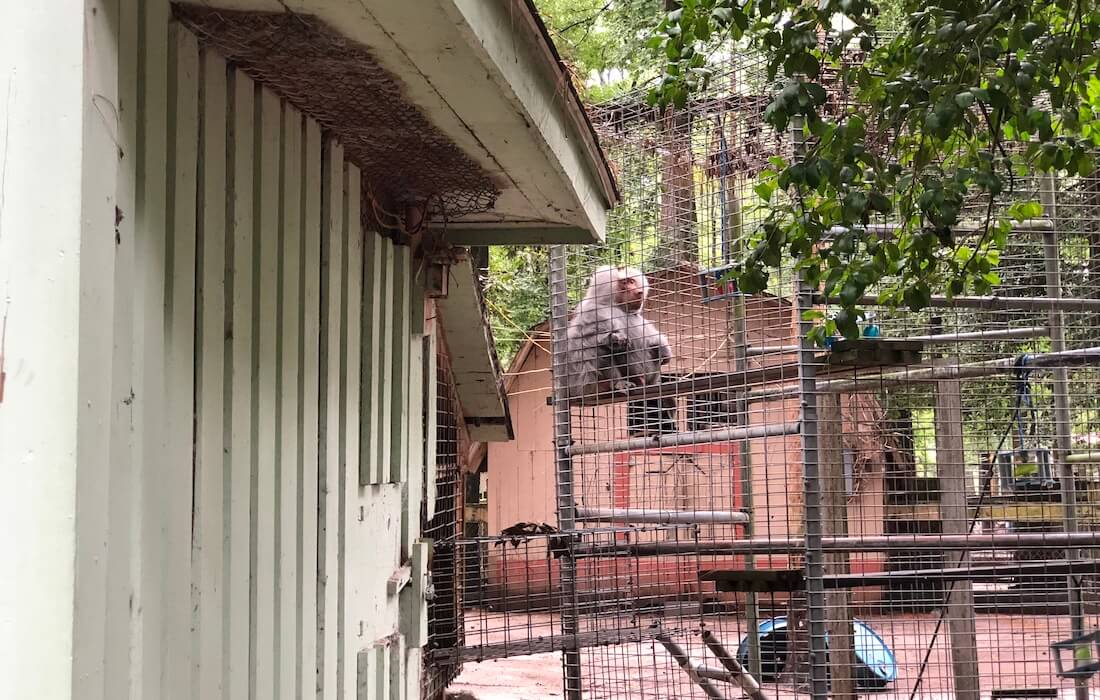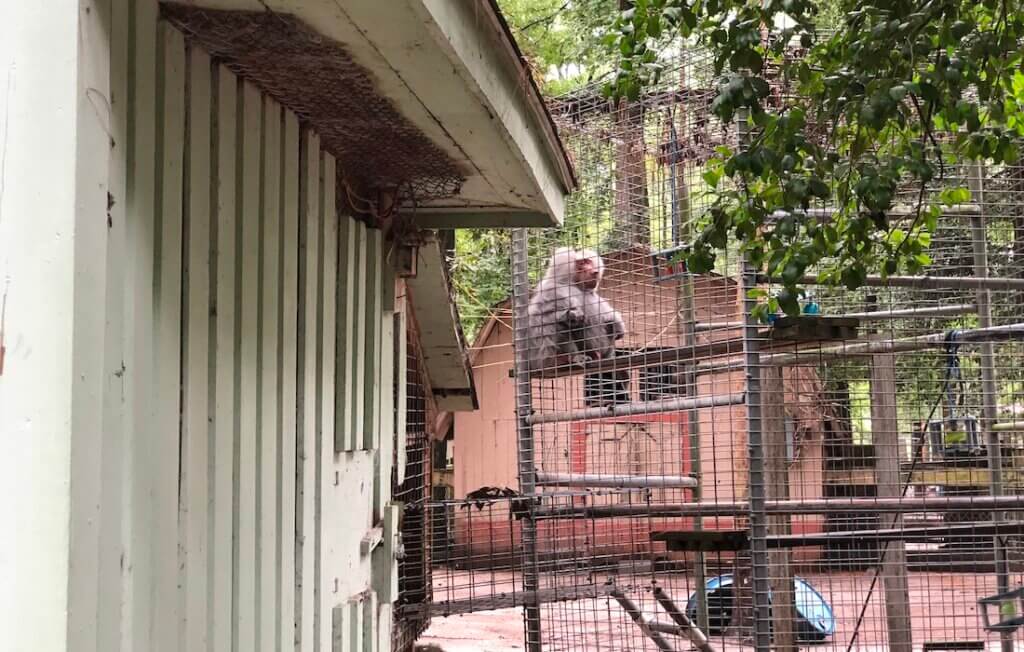 Exasperated-looking animals—including lions, two black bears, a cougar, a serval, a bobcat, and a coati—are often seen pacing back and forth.
A Bald, Underweight Tiger Died—Will Balding Bears and Weak Lions Get Help Before It's Too Late?
Throughout 2020, Lila the tiger lost all her fur except for a small patch on her face. By December, her condition had become dire. She was bald, had lost a significant amount of weight, and had poor muscle condition consistent with muscle wasting. Now in 2021, after suffering for so long, Lila is gone. Following a letter from PETA seeking answers regarding her whereabouts, Waccatee finally admitted that she died "months ago." In 2015, Chico the chimpanzee died all alone, even though PETA had asked for years that the roadside zoo release him to an accredited facility. It's too late for Lila and Chico, but there's still time for Waccatee to do the right thing for the remaining animals.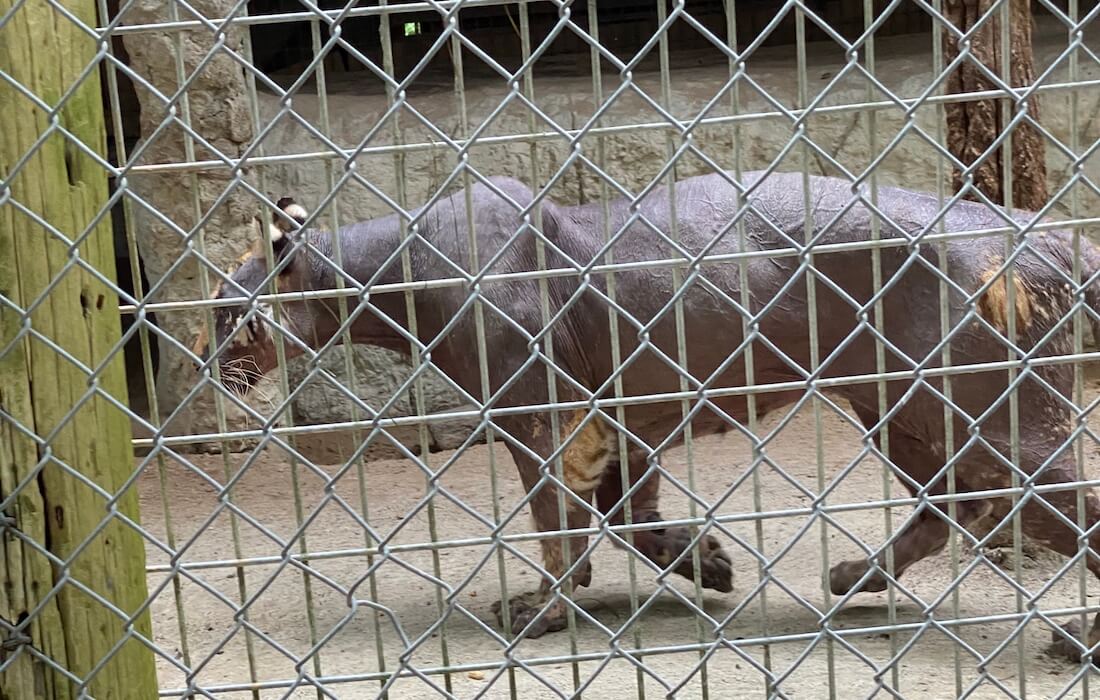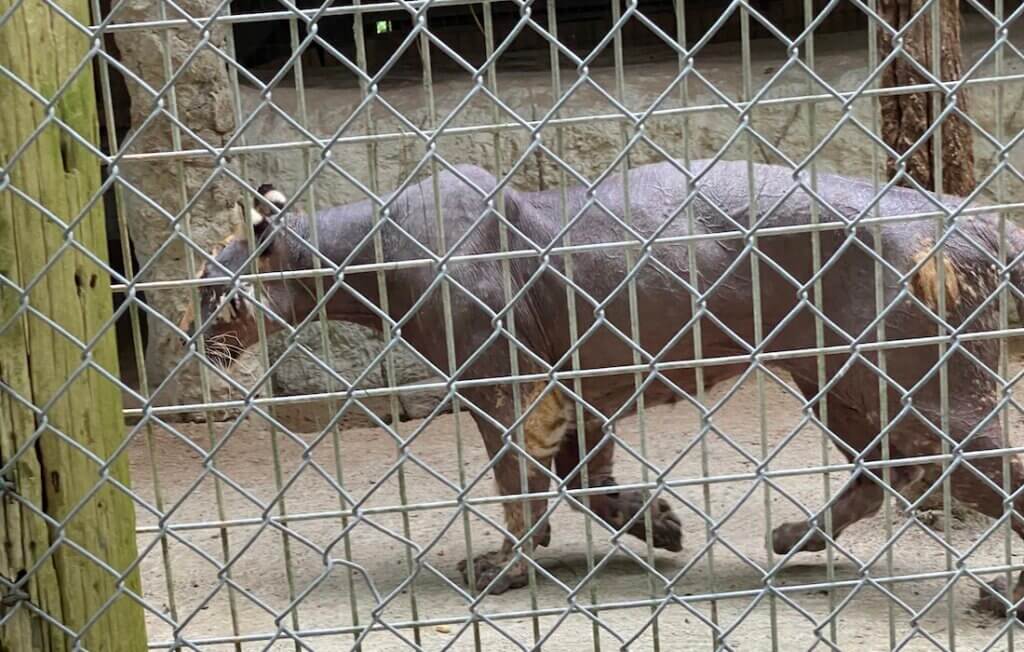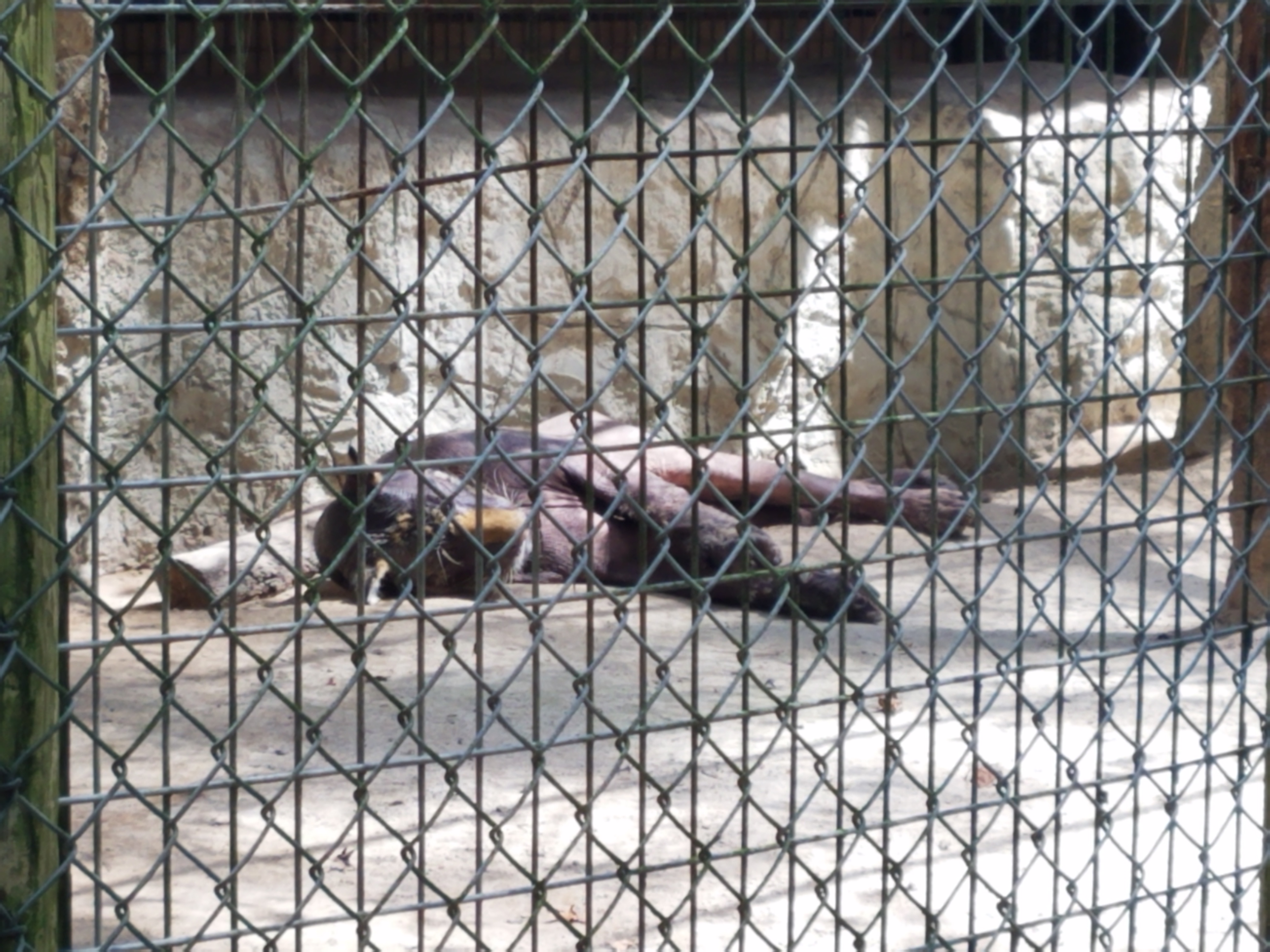 Like Lila, two black bears named Care Bear and Spook have also experienced severe hair loss in large patches all over their bodies.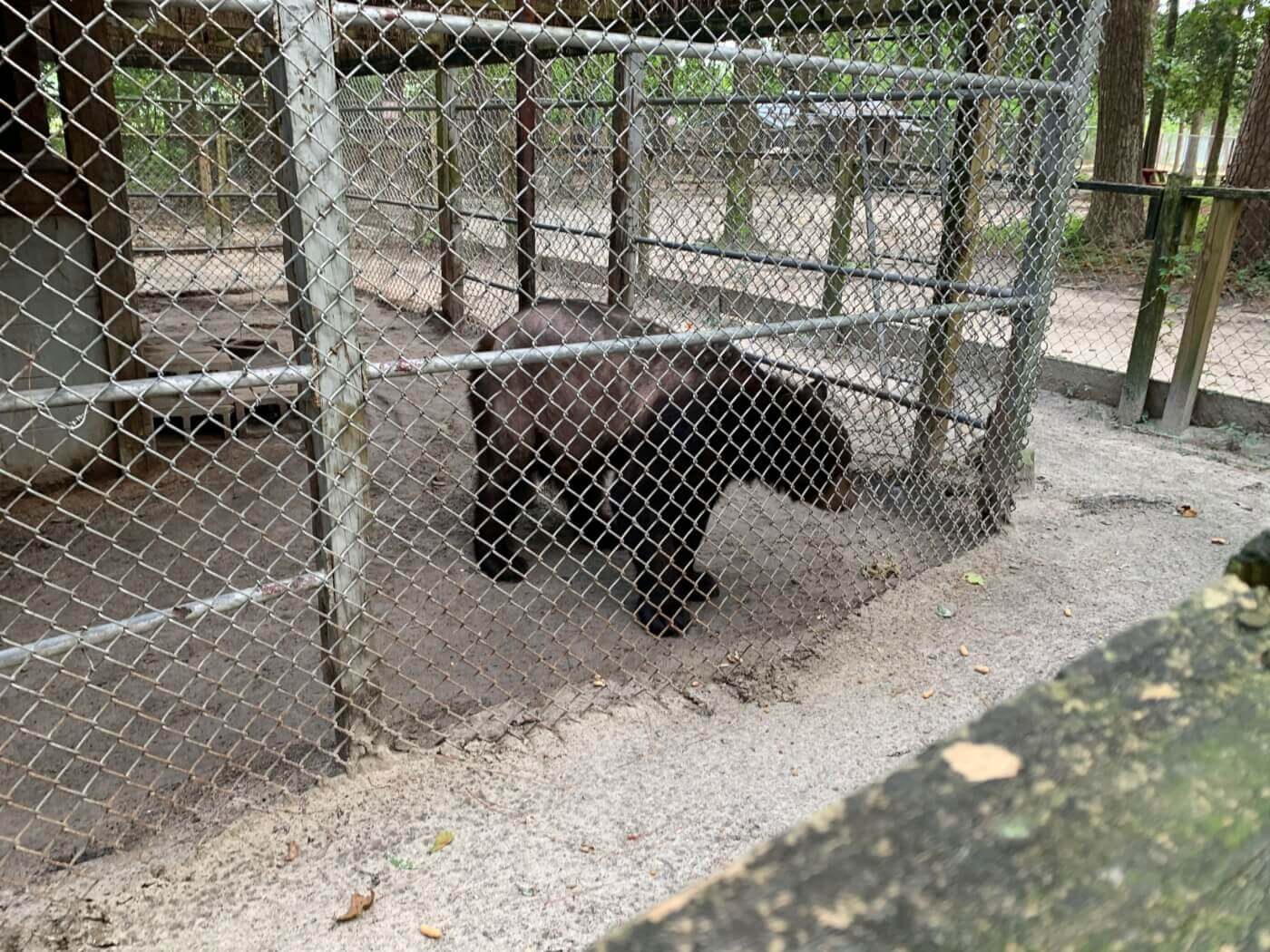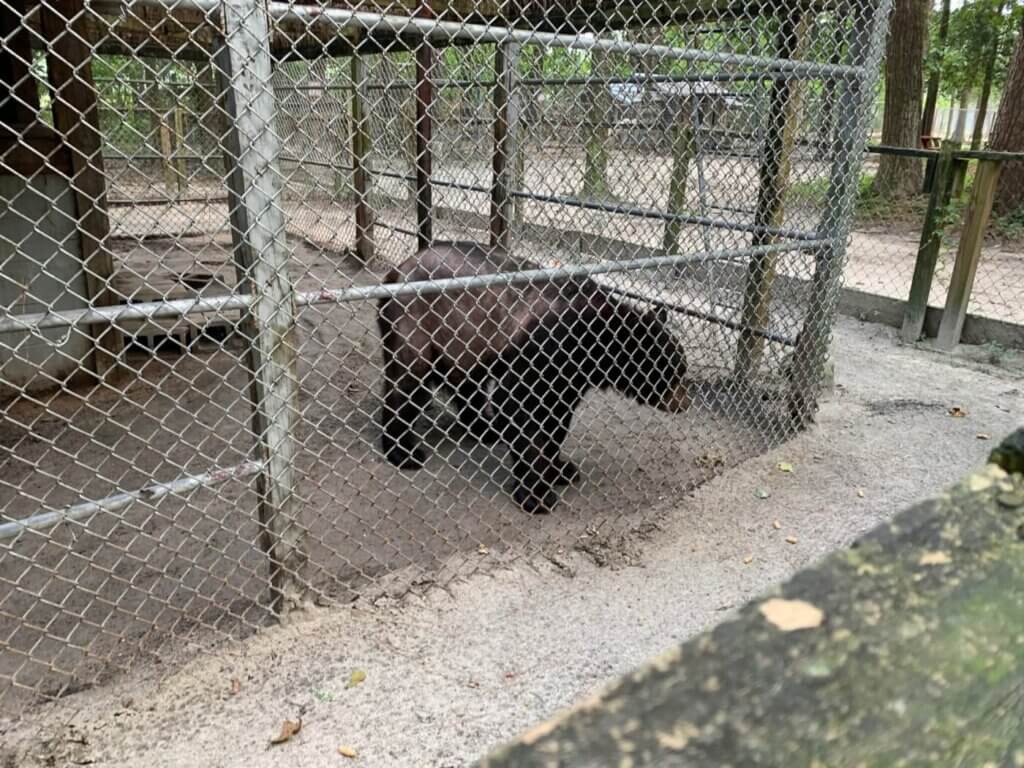 A lion named Simba has shown significant weakness and lack of coordination in his rear legs, which may be the result of malnutrition or another type of illness. He's been showing the same symptoms for years with little to no improvement.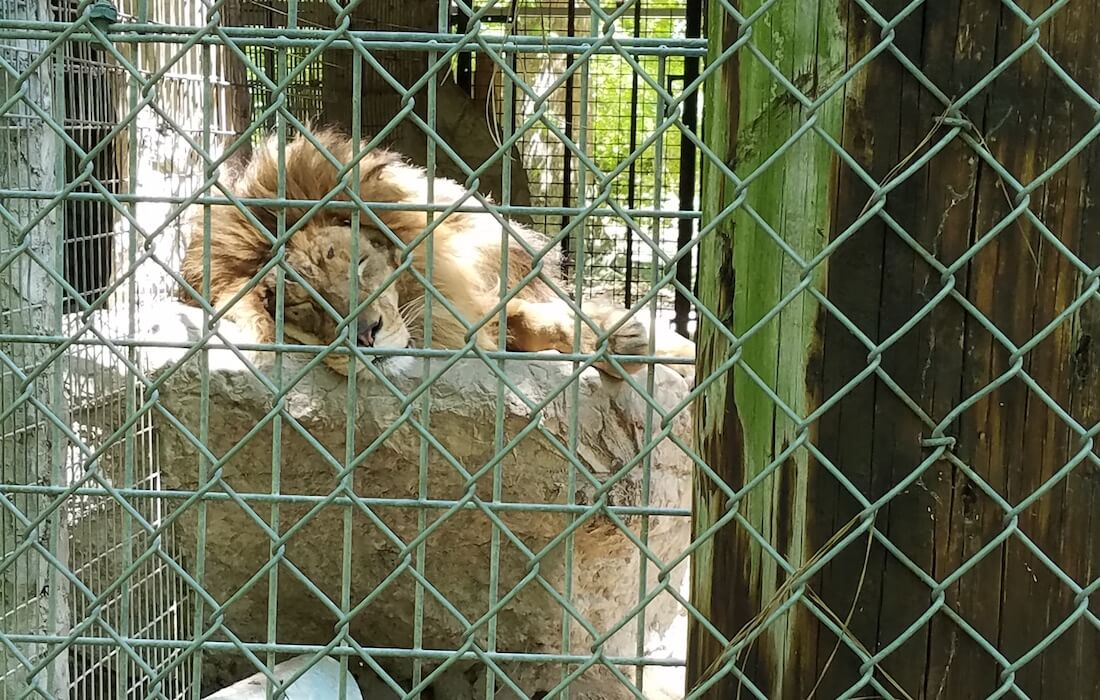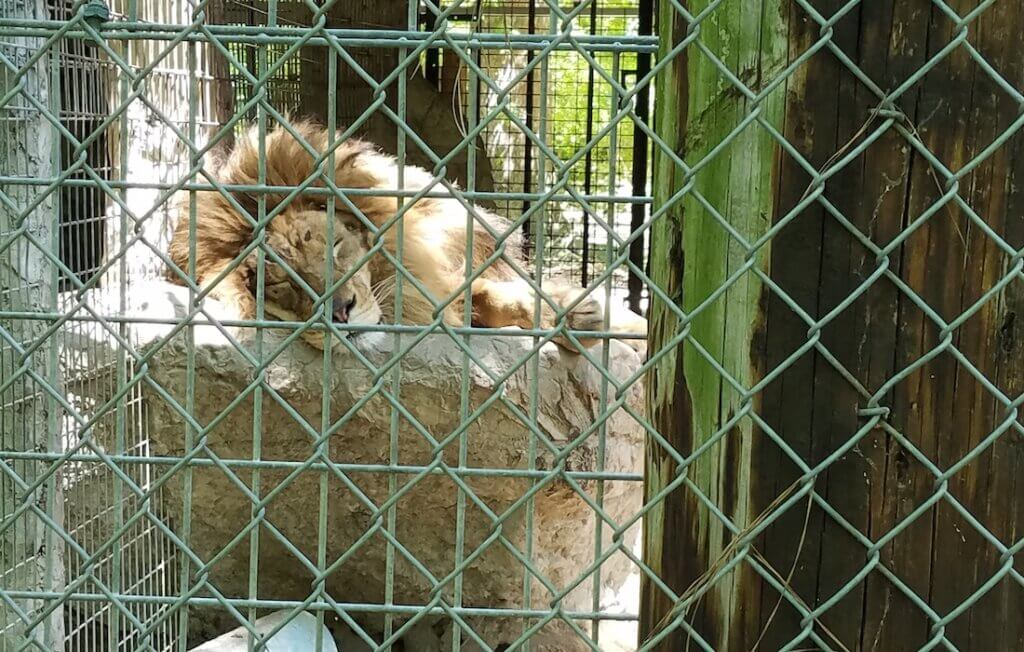 In response to PETA's reports over the years, the USDA has cited the roadside zoo on many occasions for neglecting to provide animals with proper hoof care. Many of them—including zebus, goats, aoudads, and llamas—are frequently seen with overgrown hooves. According to one upset visitor on Yelp, a llama's nails had grown so long that they appeared to be causing pain and discomfort with every step.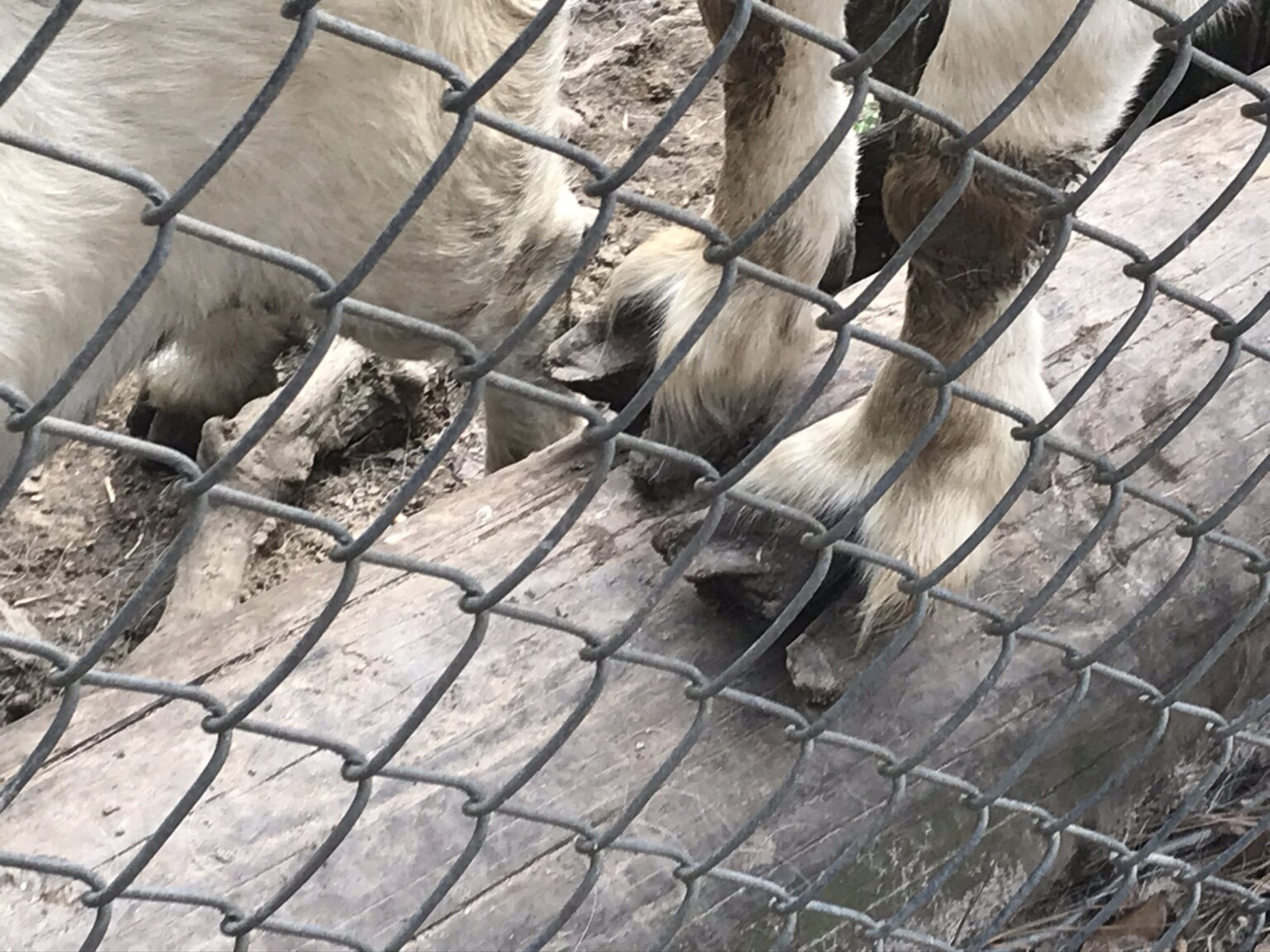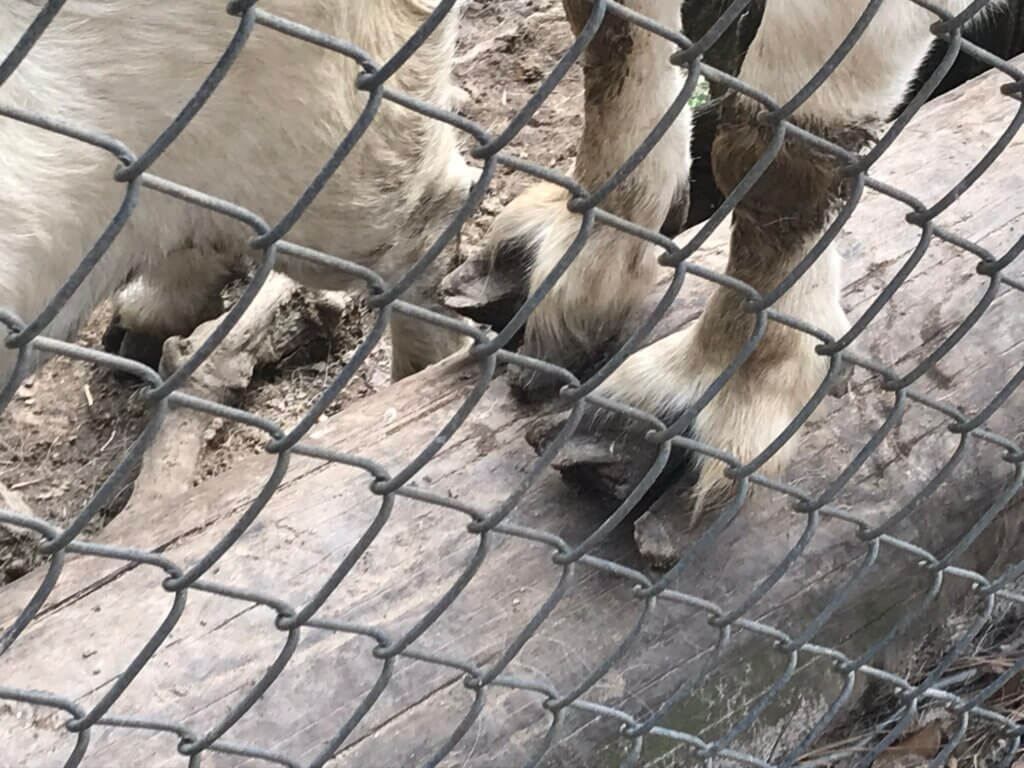 Waccatee has repeatedly failed to meet the USDA's minimum standards for veterinary care. In 2018, an inspector observed a crab-eating macaque whose tail was completely raw and irritated from possible frostbite, which hadn't been treated by a veterinarian. And in 2016, the animal prison failed to separate Lila from a male tiger, whose "excessive male roughness" caused her to sustain a 2-inch-deep gash.
Enclosures Filled With Feces and Built-Up Black Grime
Both the USDA and alarmed tourists have observed that Waccatee's enclosures are unsanitary, muddy, moldy, smelly, and decrepit. Failing to clean them has led to the buildup of black grime, piles of feces, food waste, and an accumulation of fur. Brown slime even accumulated in a raccoon's water bottle. Several enclosures were also seen with clusters of mice feces and rodent holes.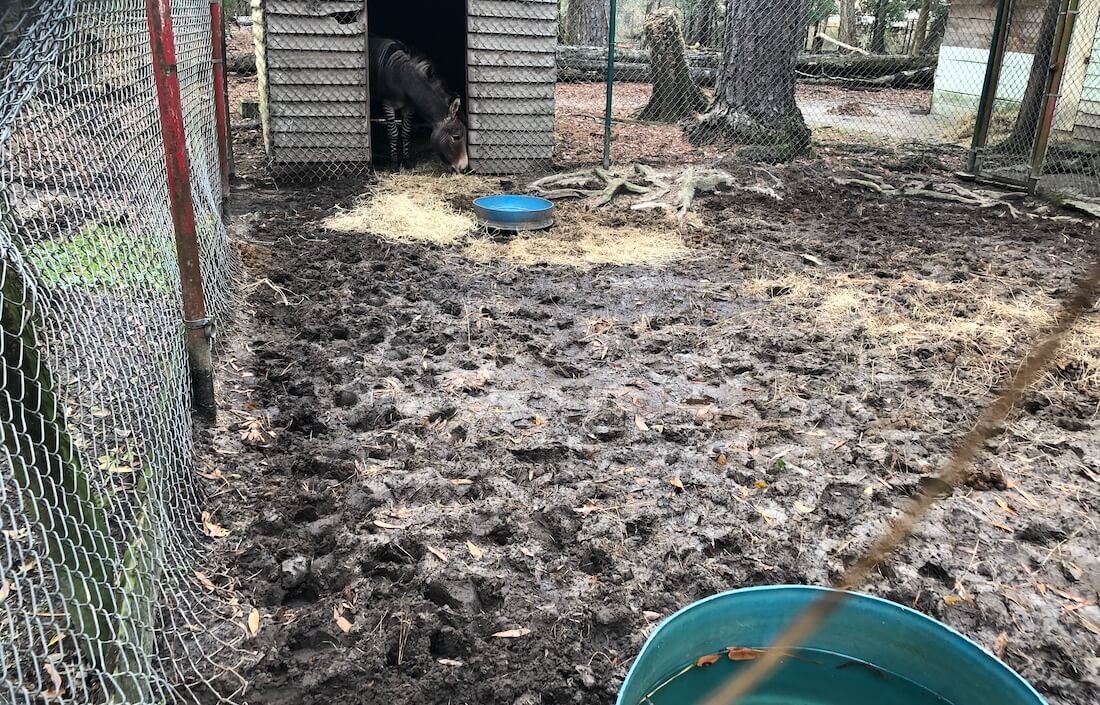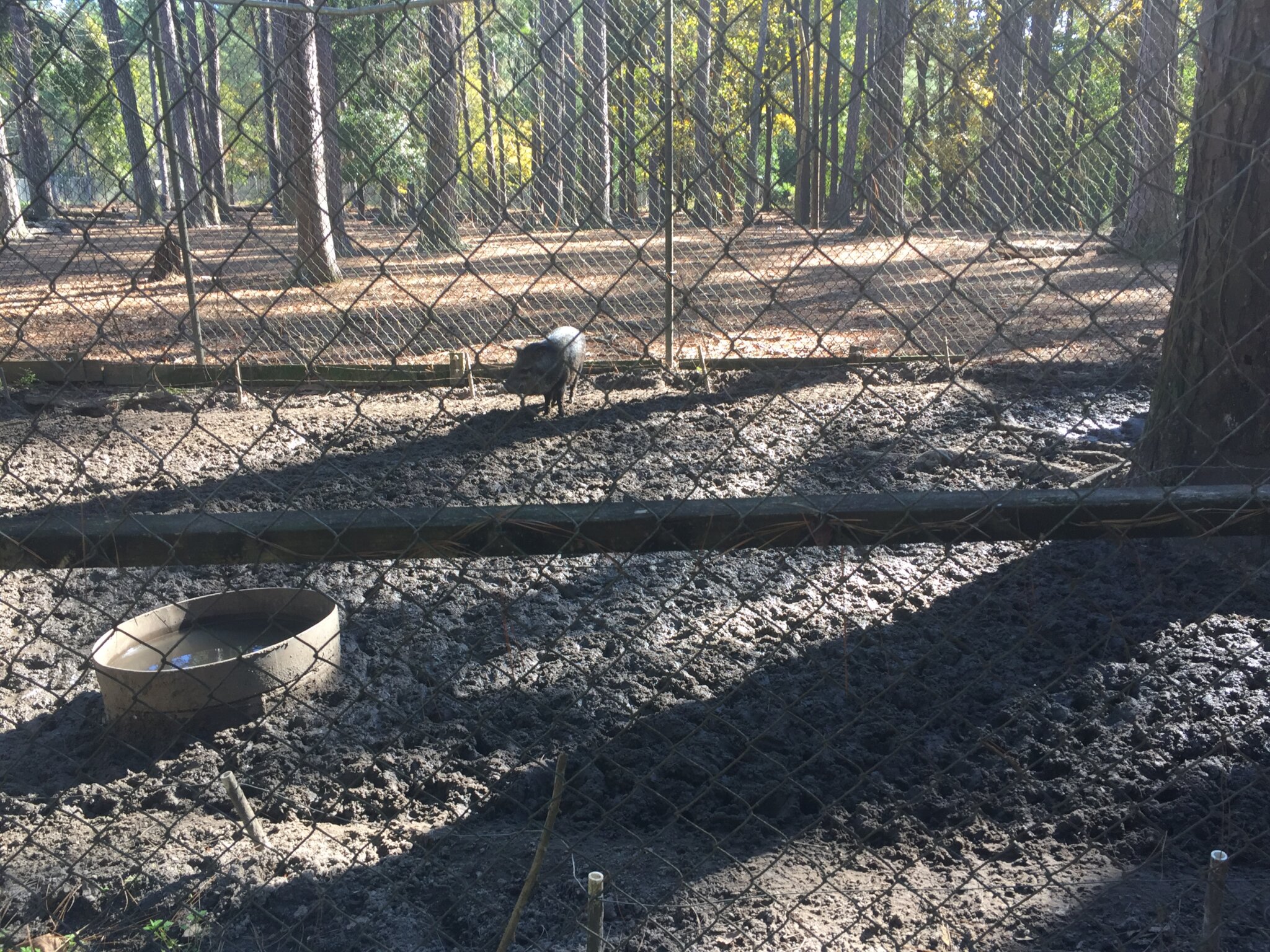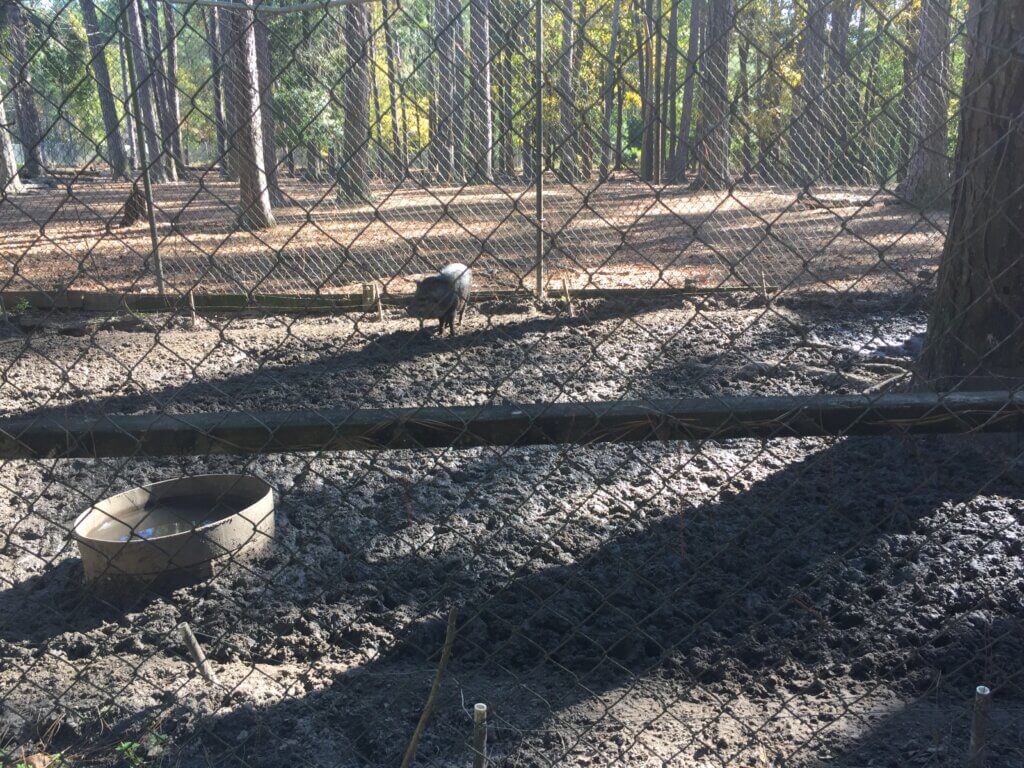 During the summer, when temperatures reached the high 80s, Care Bear and Spook weren't able to soak themselves to cool off, as their pool is frequently so dirty that it appears to be a health hazard.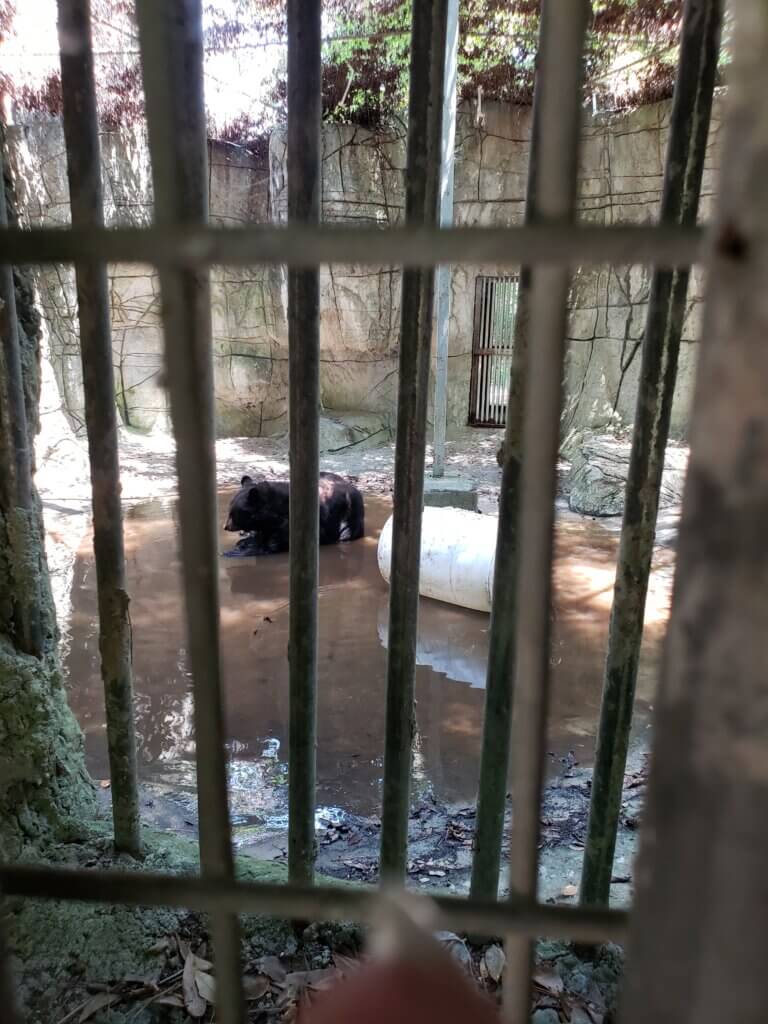 In the winter, when temperatures can plummet to below 20 degrees, animals have been found with no bedding and no sufficient weather-resistant structures to protect them from the elements. In addition to being deprived of everything that's natural and important to them, these sentient beings were unable even to stay warm.
Take Action
The Animals in This Prison Need Your Help
Animals don't exist for our amusement in any circumstances, and Waccatee's long history of failing to meet the USDA's minimum animal-care standards is detrimental to their physical and mental health.
To help these tormented animals, please join us in urging Waccatee to retire all the animals to reputable facilities, where they can finally get the care that they desperately need.