The Best PETA Photos of 2019
Blood, bodypaint, and black sludge: See stunning photos from PETA's boldest protests of 2019, and discover ways we're fighting for animals every day.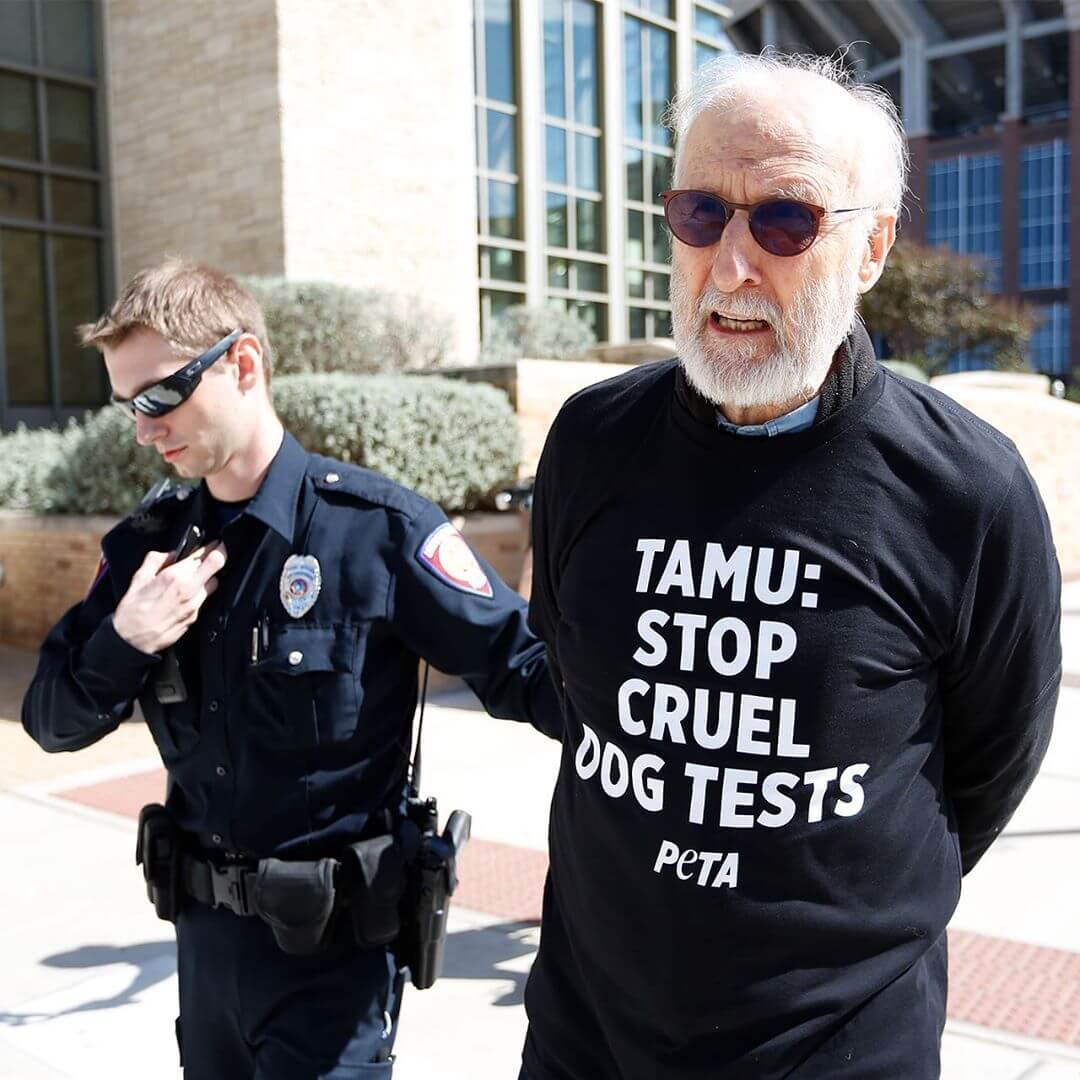 Emmy winner and Oscar nominee James Cromwell is arrested during a PETA protest at Texas A&M University's Board of Regents meeting. The actor was calling on the school to shut down a laboratory where golden retrievers and other dogs—who were deliberately bred to have canine muscular dystrophy—struggle to walk, swallow, and even breathe.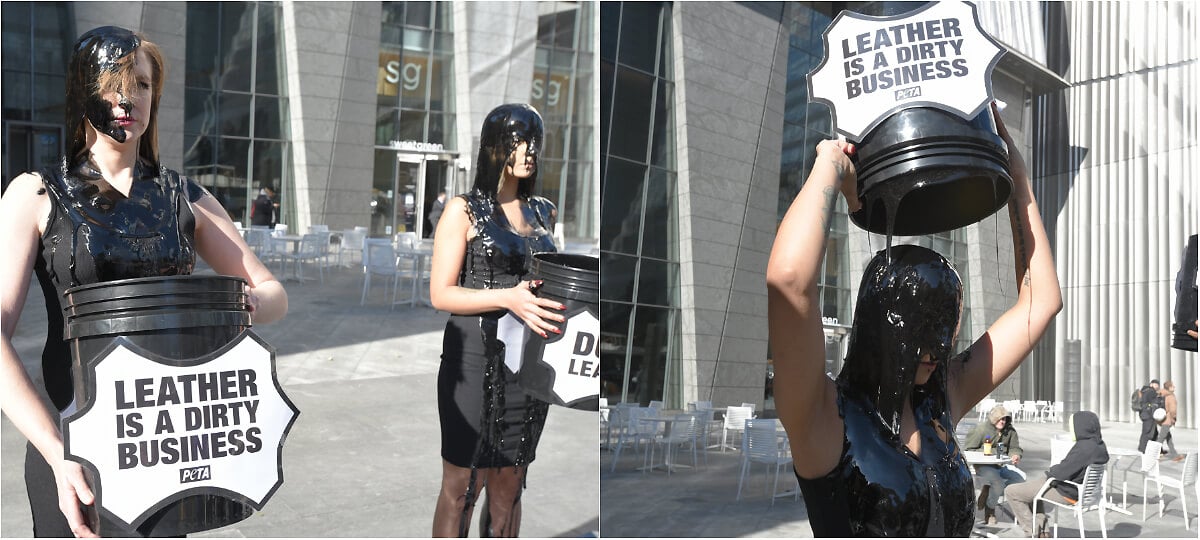 A group of PETA supporters pour buckets of black "toxic slime" over their heads outside the Leather, Compliance & Sustainability New York Conference to call attention to the harmful waste associated with the leather industry.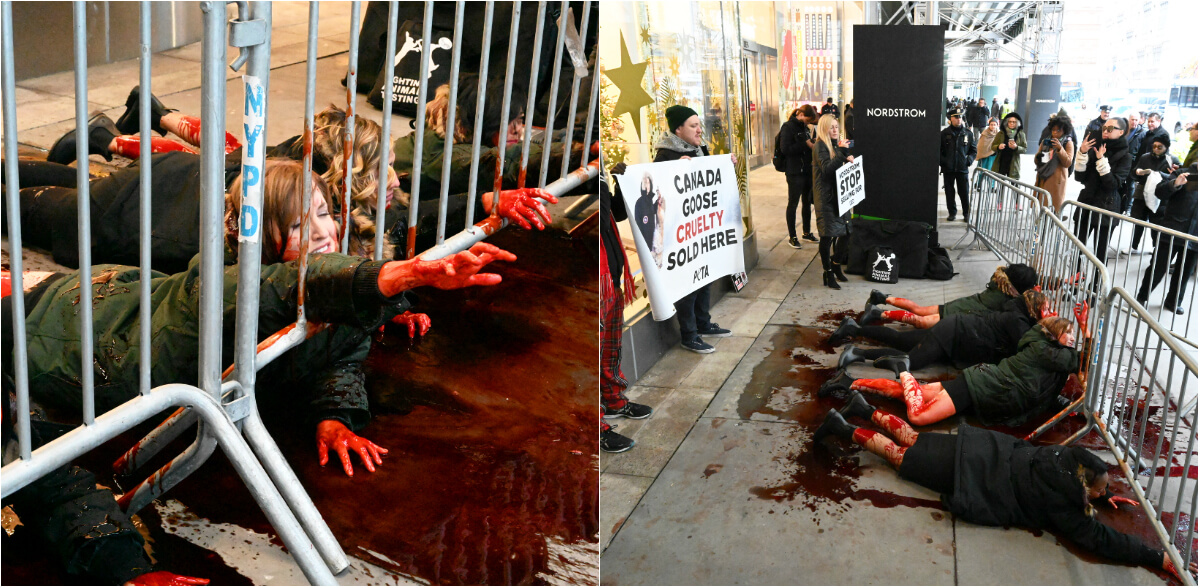 "Bloody" PETA activists storm Nordstrom, which carries Canada Goose jackets, at the Roosevelt Field in Garden City, New York, to make sure shoppers know that the brand—which uses coyote fur and goose down in its jackets—supports cruelty to animals.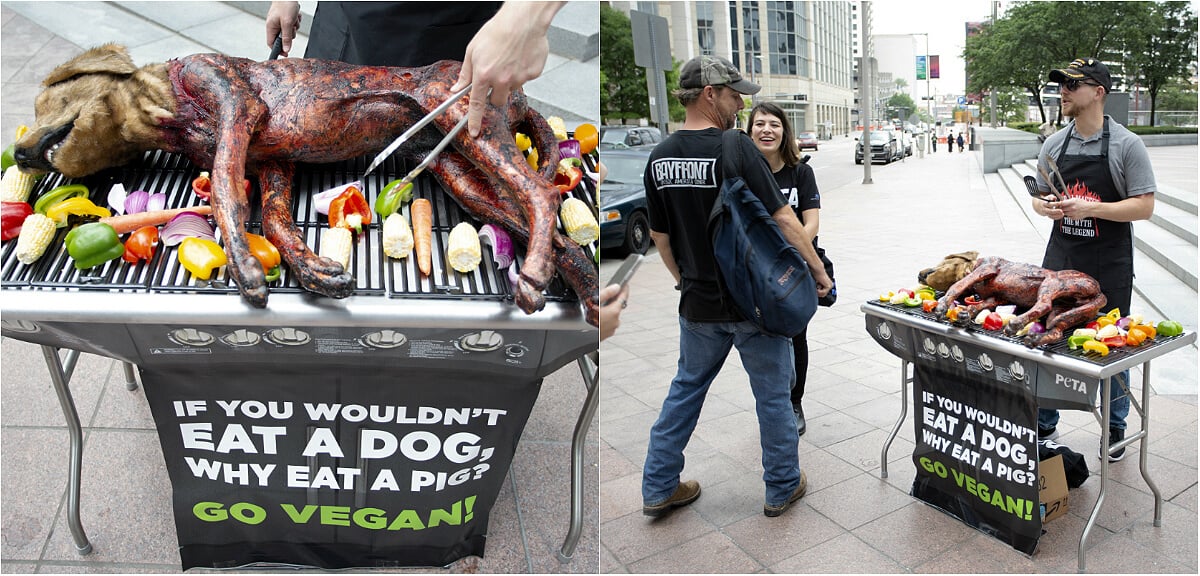 Just as shoppers were deciding what to put on the grill this Memorial Day, PETA supporters were barbecuing a "dog" above a sign proclaiming, "If You Wouldn't Eat a Dog, Why Eat a Pig?"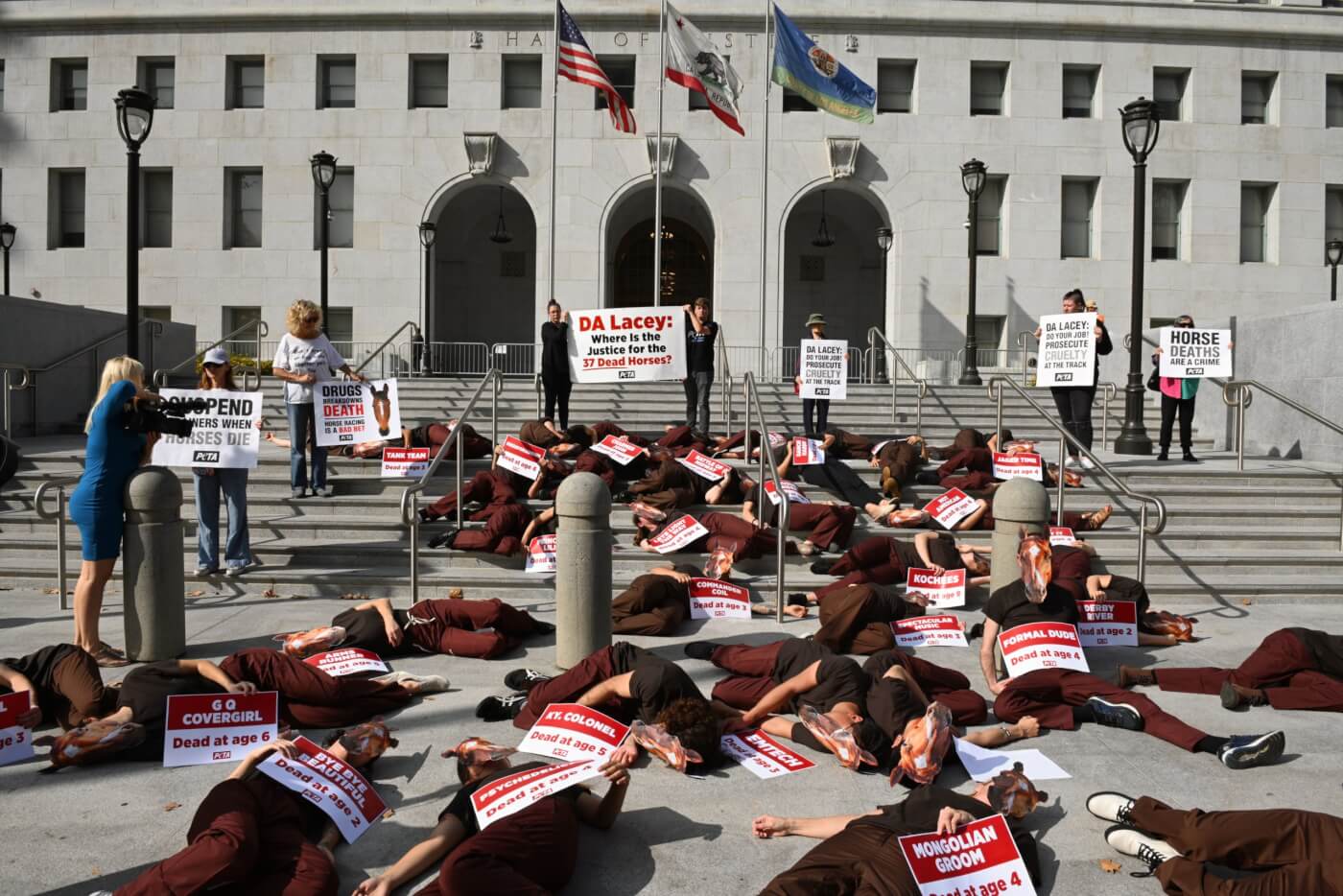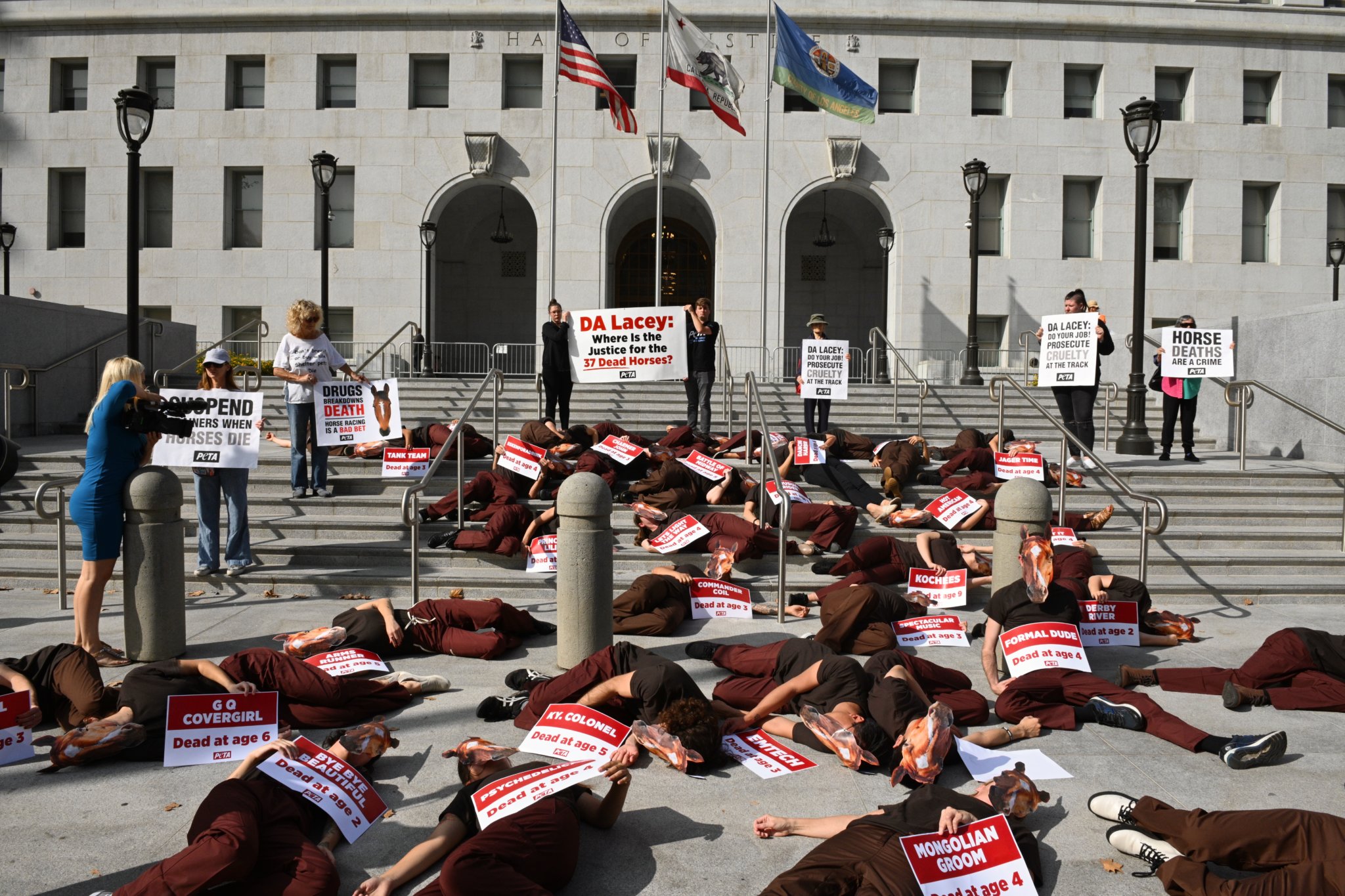 Wearing horse masks, 37 PETA supporters—each one holding a sign with the name of a horse who has died at Santa Anita Park in California in the last year—gathered in front of Los Angeles County District Attorney Jackie Lacey's office to simultaneously fall down "dead." PETA continues to demand that the D.A.'s office release the findings of its investigation into the deaths, the number of which has steadily mounted.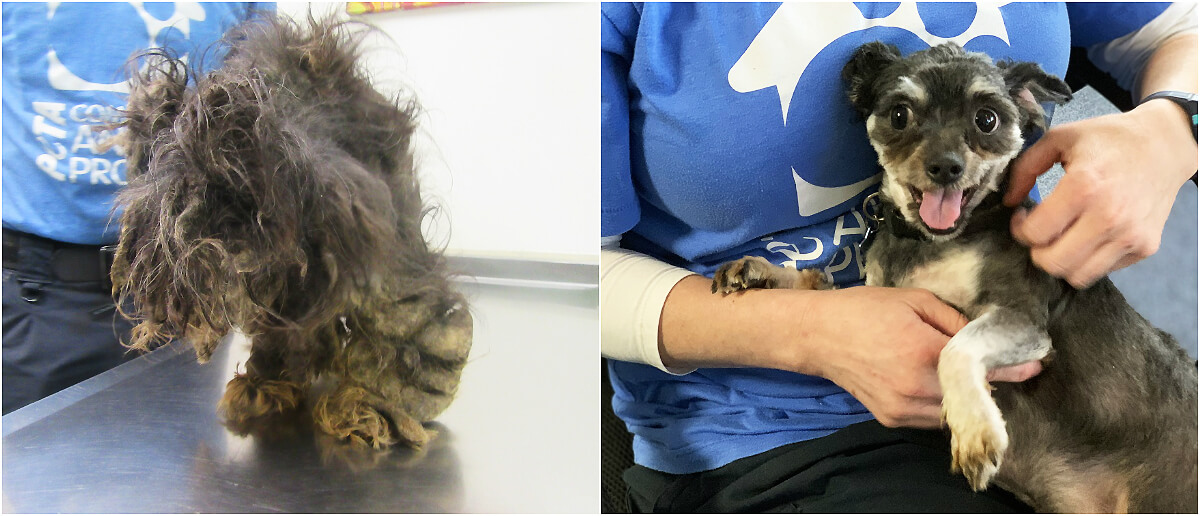 When PETA's fieldworkers first saw Murphy, they weren't sure what or whom they were looking at—all they could see was a sad, mat-covered little figure huddled all alone inside a filthy wire crate in a dark hallway. After he was rushed to a nearby animal hospital for emergency treatment, 2 pounds of matted fur were removed from his 7-pound body! Murphy was later transferred to the Norfolk SPCA in Virginia, where a loving and patient family adopted him.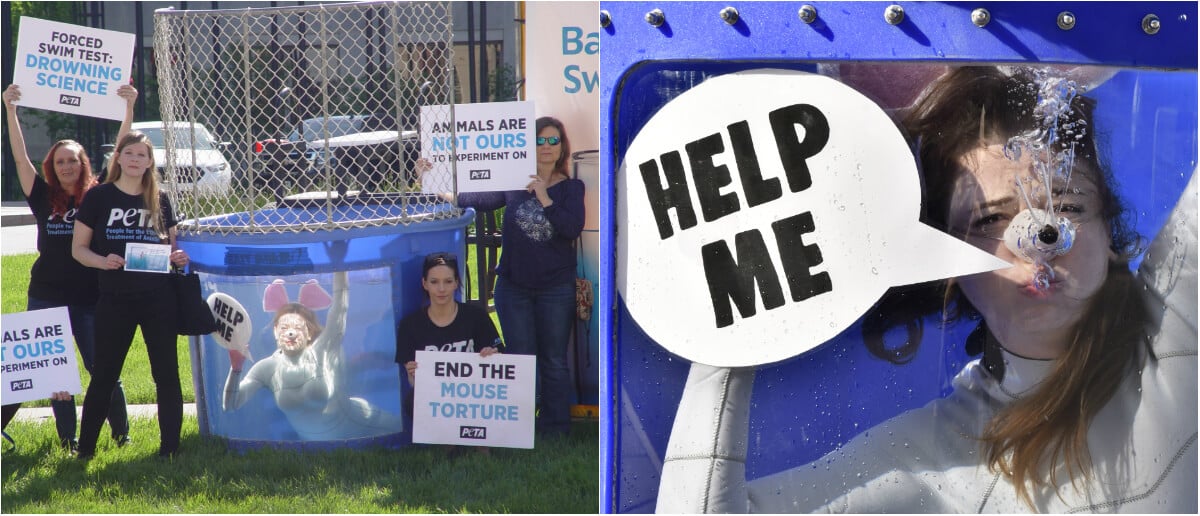 A PETA "mouse" tries not to drown in a tank of water outside the Pfizer building in Cambridge, Massachusetts, to urge the pharmaceutical company to ban the widely discredited forced swim (or "despair") test.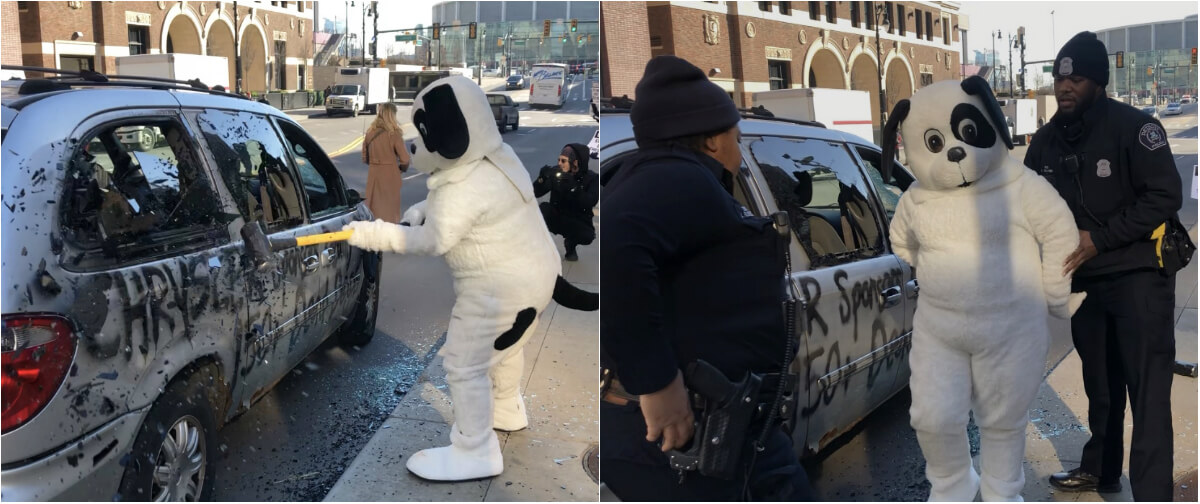 A PETA activist in a dog costume is arrested after taking a sledgehammer to a Chrysler car spray-painted with the message "Chrysler Drives Dogs to Death" outside the Detroit Auto Show. PETA is calling on Chrysler to join Coca-Cola, Jack Daniel's, Costco, Wells Fargo, and the many other companies that have cut ties with the cruel and despicable dog-killing Iditarod race.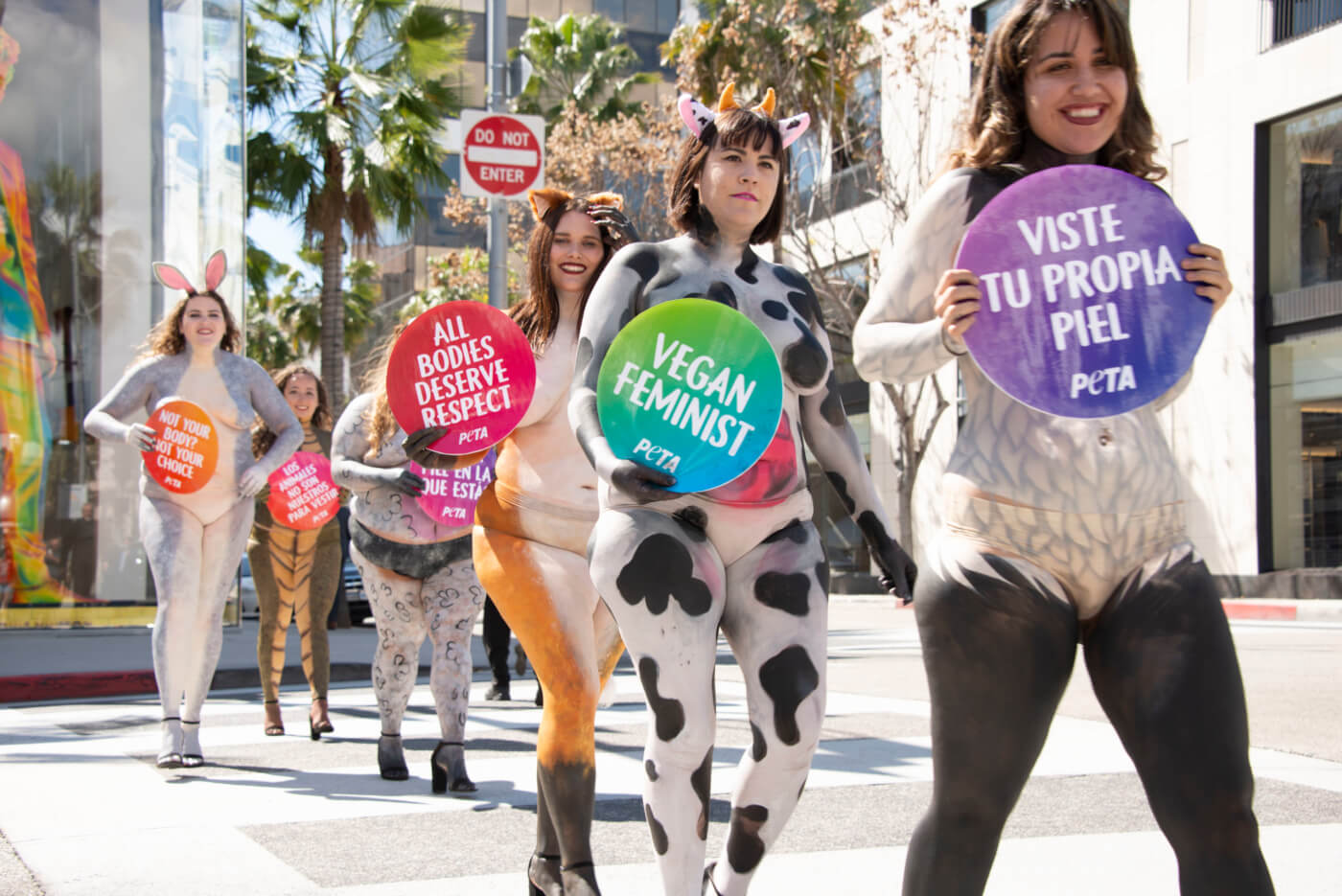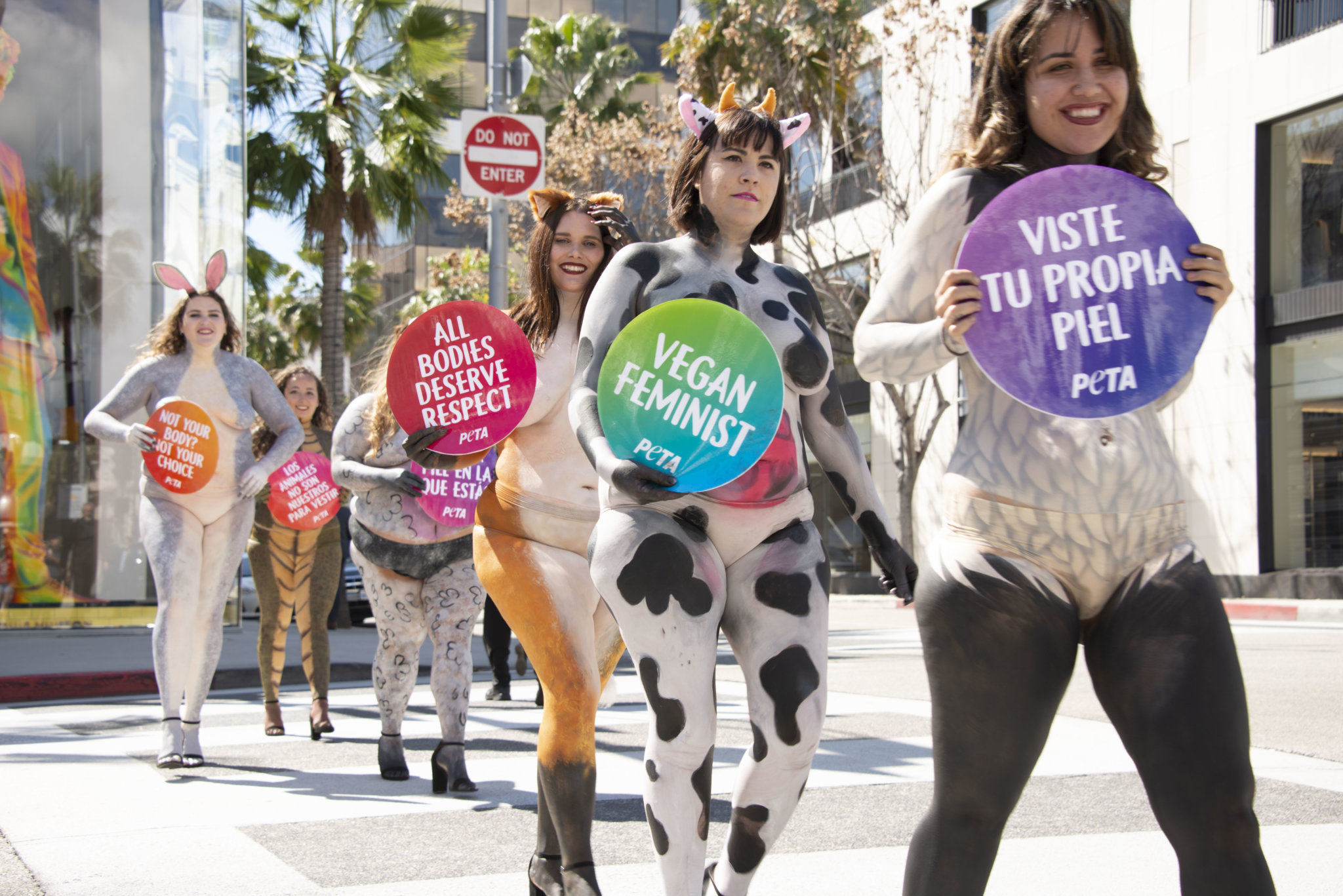 PETA members hold a body-positive, pro-animal celebration in honor of International Women's Day. Calling for an end to speciesism, their signs bare slogans including "All Bodies Deserve Respect," "Love the Skin You're In," and "Not Your Body? Not Your Choice."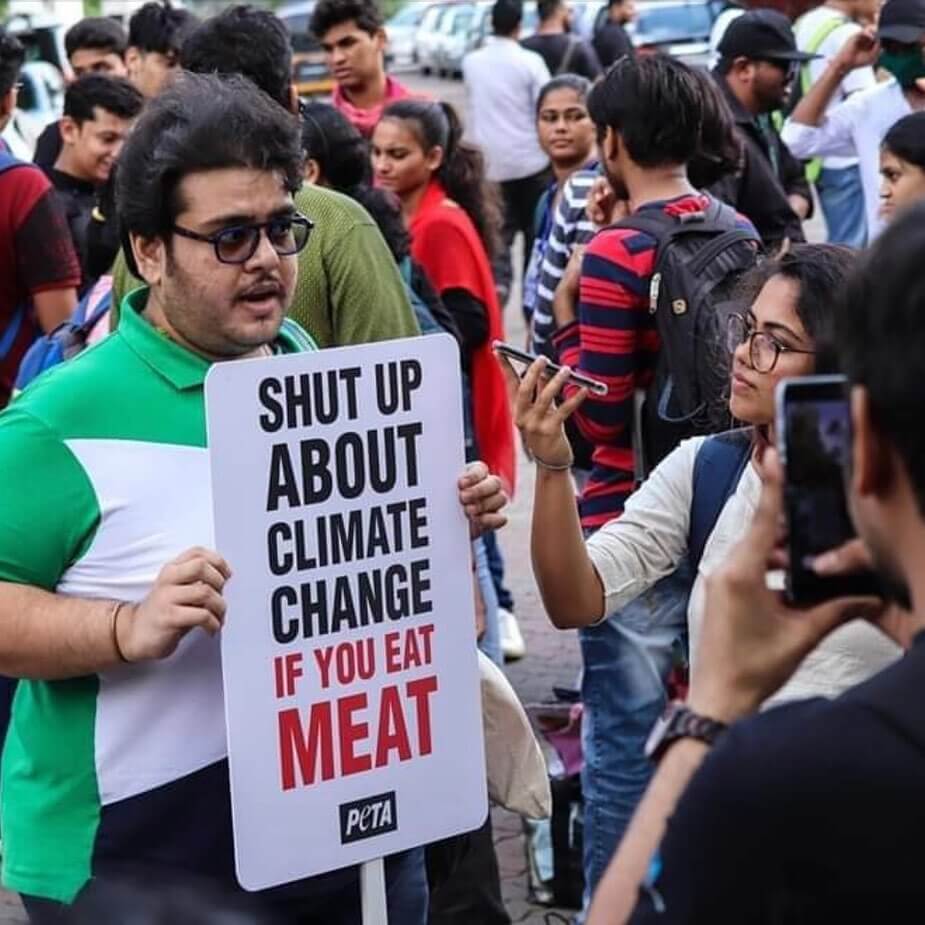 A teen concerned for animals and the environment carries a pro-vegan sign at this year's climate strike, opening eyes to the connection between eating meat and the massive fires that burned in the Amazon this year. This image resonated strongly with our dedicated Instagram followers, receiving over 55,000 "likes" and generating over 2,000 comments.
Make a Generous Donation Now
Stand Up for Animals in the Coming Year:
Together, we can make the world a better place for all animals in 2020. Your donation will go to work instantly to help those suffering and dying in laboratories, on massive farms, in the fur industry, and in circuses and for other forms of entertainment.
An annual donation of $16 or more entitles you to many member benefits. Members receive a free year's subscription to our lively magazine PETA Global, which is packed full of the latest news, delicious vegan recipes, and easy tips for stopping animal suffering in your own community.